User Review:
Gregory Makalu Pro 70
Rating:


Source: bought it new

Summary
The Gregory Makalu Pro is a tough, comfortable pack that can hold a lot of gear. It is designed for alpine adventures and boasts a slim profile and minimalist set of features.
Pros
Comfortable
Strong
High capacity
No bells and whistles
Cons
"Stretchiness" of water bottle pockets has loosened over time
Lack of features may turn some folks off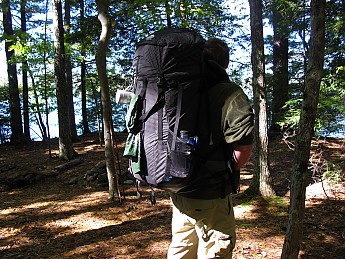 Gregory is reputed to make good packs, and the Makalu Pro is no exception.  I don't believe they make this one anymore. There is ample padding in the best places for when you need to carry up to 60lbs. I've carried only around 45lbs, which the pack held in surprising comfort.  
Gregory packs are not "one size fits all," so you must be certain to purchase a pack size that fits your body.  The hip belt, shoulder straps, and load lifters are all adjustable and it is easy to do so.  Sure, no one really enjoys huffing a ton of weight on one's back, but this pack does a great job of making the burden quite bearable.  Advertised capacity seems about right, although I've never actually measured this.
The Makalu Pro is intentionally short on features — you don't have much more than a large sack with a suspension system attached to it. This helps to save weight and to simplify your packing.  Some people like a variety of access points and pockets to help them organize gear, but I prefer this minimalist setup with a single top access point.  I thoughtfully stuff most of my gear into the single, voluminous compartment, and finally pack any "important" things like maps and trail bars in one of the side pockets or in the lid.  For certain, you need to be considerate in how you pack — don't pack your rain gear at the very bottom of the Makalu if there are thunderclouds about.  
The fabric is reinforced with Dyneema, which is apparently very strong.  I can't speak from experience because I've never punctured the material or even come close. The bottom and backside of the pack are made of a tough, rubberized material that seems very waterproof.  This is nice because you can set your pack down on moist earth and not really have to worry about the contents of your bag getting wet.  Gregory used to make many of their packs tough like this, but it seems that in the popular rush to make everything lighter, they've abandoned such features.  
On the front of the pack is a wide strip of a rubbery fabric with a slim bungee cord woven between two long sets of daisy chains.  This simple setup is great for lashing all kinds of gear onto the pack. I replaced the flimsy bungee cord with two nylon buckled straps that can hold quite a bit more gear.
The mesh back panel does not ventilate well, especially when compared to some of today's internal frame packs that offer a raised backpanel that essentially transforms the pack into a new breed of external frame. Comfort and simplicity are two big advantages to this pack.  It is marketed for mountaineering, but I use it for regular backpacking and treasure its minimalism and ruggedness.