GSI
H2JO! Coffee Filter
2

reviews

5-star:

1

4-star:

1

3-star:

0

2-star:

0

1-star:

0
Rating:


Source: bought it new
Price Paid: $10.66

Summary
Best backcountry coffee maker, so far.
Pros
Fits on Nalgene bottles
Takes up almost no space
Makes great coffee
Lightweight
No filters to pack out
Cons
Allows tiny amounts of grounds to leak through; less than a french press
So in my search for the ideal backcountry coffee maker I stumbled upon this one. My search had these criteria:
lightweight,
easy to use,
durable, 
packable,
inexpensive and
small. 
The H2JO fits all of these criteria. The H2JO screws in to the top of a standard Nalgene bottle and can be used two ways:
Infuser method:
Fill the filter with coarse ground coffee, pour hot water over it into the bottle, cap the bottle, invert the bottle and wait a few minutes for the coffee to brew. Then unscrew the H2JO, dispose of the grounds and drink the coffee. I liked this method best because it made cleanup very easy and the H2Jo doesn't leak; it's very well made. 
Cowboy Coffee method:
Put coarse ground coffee inside the water bottle, screw the H2JO into place and then pour in the hot water.  Shake the bottle, let it sit then pour the coffee into a mug, leaving the grinds behind in the bottle. This means you have to rinse the grounds out of the bottle later, but can make stronger coffee if you like it that way.
The instructions for each method came on a very durable plactic card, the H2JO had very little packaging (I appreciate minimalist packaging) and they were very easy to use. 
So to carry this thing in your pack you just leave it inside a Nalgene-type bottle. It takes up NO extra space and, how much safer could it be when it's inside an almost indestructible water bottle!! Using it requires no set up and the infuser method makes cleanup very easy. 
EXTRA BONUS! This company is based in Spokane, WA!! Two hours from me so I get to support local innovators and businessmen. The owner is an avid fisherman too, I like this guy. I can't say that about all the people who make my gear. 
I never thought I'd be so happy with such a minor product but maybe it's just the coffee talking. 
Now the pics can do some talking: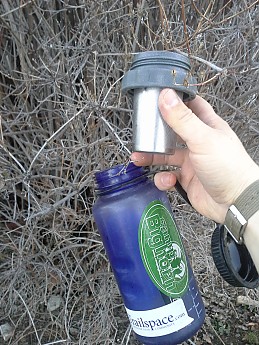 H2JO next to the bottle, notice the cool stainless steel basket. You can't see the tiny perforations in it very well, sorry.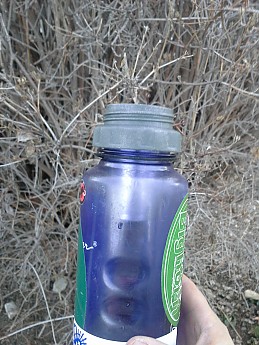 Ready for filling. The bottle's lid screws over the H2JO threads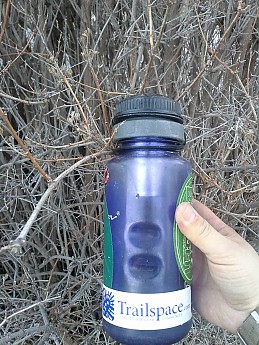 H2JO installed. It takes up almost no room and it's protected by the bottle, and the cool TS sticker.

Note: the hot water causes the plastic to expand. If you don't re-tighten the lid after filling with hot water it will leak.
Rating:


Price Paid: $9

Cool product. I gotta tell ya. Simple coffee filter, which is very cool. I've long tried to figure out the best way to make coffee on the trail. I'm kind of a coffee snob… so it's been a challenge. I used these draw string bags before that were intended for loose tea – which work well. But then I found this which is VERY great and makes good coffee, AND is simple. Nice.
Sure - Bialetti is the king. I use it daily at home because the coffee is superior. I can use it for car camping but backpacking I need something that's minimal (yeah - I'm a minimalist too). This does the trick, but gives a bit of a muddy coffee... until you perfect the grind : water ratio, I suspect.
Where to Buy
sponsored links
Help support Trailspace by making your next purchase through one of the links above.
Manufacturer's Description
Visit GSI's H2JO! Coffee Filter page.
Retailers' Descriptions
Here's what other sites are saying:
When all you need is a no-fuss way to get your morning coffee fix, then why bother with percolators, presses, and extra gear - the H2JO coffee filter from GSI Outdoors is simple and takes up little to no space in your pack. Just screw this filter on to your water bottle full of hot water, add grounds, close the lid, and you have morning brew.
- Mountain Gear
The easy solution for great camp coffee. Fill your water bottle with hot water, screw on the handy filter, add grounds and close the lid to make a no-fuss morning brew. Designed to fit 32 oz. WM Nalgene Bottles and other standard wide-mouth bottles. Weight: 1.8 oz.
- Vargo Outdoors
Just say no to crappy camp coffee! Instead, fill your water bottle with hot water, screw on the handy H2JO! filter, add grounds and close the lid to make no-fuss morning brew.
- EMS
Create great tasting, no-hassle coffee on your next camping trip with this GSI H2jO! coffee filter. It's simple-just fill your bottle with hot water, screw on the filter, add grounds, close the lid and let the magic happen. You can also choose to make "cowboy coffee" by added grounds directly to water, then screw the filter on and pour water into a mug. Filter effectively keeps grounds out of your coffee. GSI H2jO! coffee filter fits wide-mouth water bottles with 63mm openings; does not fit on Innate or Klean Kanteen stainless-steel wide-mouth bottles.
- REI
GSI H2JO! Coffee Filter
currently retails for:
$12.95
MSRP: $12.95

where to buy:
Specs
Weight
1.7 oz

Dimensions
3.20 in x 2.90 in x 2.90 in

Materials
Stainless Steel and Polyethylene