User Review:
Hennessy Hammock Ultralight Backpacker Asym
Rating:


Source: bought it new
Price Paid: $200

Summary
The Hennessey Hammock Ultralight Backpacker Asym is a high quality shelter that will help you cut significant weight from your gear load.
Pros
highly functional
comfortable
high quality
light weight
compact
cooler than a tent
Cons
slightly tedious setup
standard fly is a bit small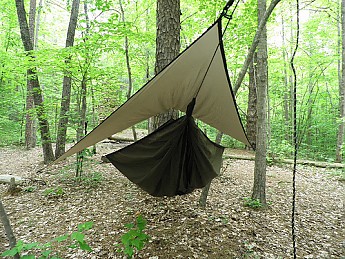 I have used the Hennessey for a couple of summers and I find that my summer pack is much lighter without sacrificing comfort.
This particular model will hold about 200 lbs capacity. It fits my 5' 9" frame, with room to spare. I find it a bit amazing because the suspension ropes are less than 1/4" in diameter yet are super strong and do not appear to stretch much at all.  
The kit comes with a nifty stuff sack with instructions printed on the side, two 1" wide nylon tree straps, a silnylon fly and a silnylon and net body. The hammock body contains full bug net suspended by a ridge line that creates a nicely shaped cocoon suspended off the ground. The whole thing weighs less than two pounds. 
I have added two stakes, and two longer 6' straps for grabbing those bigger diameter trees you find in mature NC forests. There is also a convenient 3 compartment net pocket that is suspended on the ridgeline, and a couple of mitten hooks for hanging stuff. 
Outside, the asymetrical fly is mounted using rings and mitten hooks on each end secured to the tent body by prussick knots. This system is ingeniously simple and very effective. The sides of the tent body can be staked to the ground  or attached to the fly via two small shock cords. This helps the hammock maintain its shape and keeps the sides of the netting off your face while you are blissfully rocking in the breeze. The fly can be configured many different ways depending on the weather condidions. 
This shelter has a great deal of versatility. I like the fact that I can leave my sleeping pad at home, and still use the hammock for a comfy bed, a comfy chair and even a nice lounge. When you do not feel like crawling in through the bottom, you can just lie on top of the netting. I find the hammock particularly comfortable to sit in while you are watching your food cook, or just enjoying the scenery. Even though I have slept in this hammock numerous times I am always pleasantly suprised at how comfortable this thing is after a long day of hiking. 
Some considerations: 
Back or side sleepers will be quite comfortable, the hammock design allows for one to lie diagonally across the beam for an almost flat position. Stomach sleepers will probably not find this arrangement comfortable.
Weather protection with the standard fly is adequate, but requires very careful alignment if you want maximum weather protection. You can acquire a larger fly from Hennessey but this means more weight and expense.  I am planning to experiment with a Kelty Noah's Tarp 9 that is a similar shape but a bit larger and heavier than the standard fly.
Set up can be made much quicker, if you add one of the many available after-market straps that allow for quick tensioning without having to use multiple lashing knots. Personally I prefer the knots, due to the weight concerns. If I were to keep adding accessories, then the weight savings would be diminished.  
Some hardy souls will gladly hang their hammocks in the dead of winter using special quilts and under-pinning. I am not one of these individuals. I use this tent strictly in warm weather and it excels in these conditions. The ventilation and comfort are far superior to a tent on those sultry summer nights. 
Practice setting up at home is highly recommended before venturing out on your hiking trip. This hammock has provided me many nights of comfort both in camp and on my back (due to significant weight savings). With some care in setup you can sleep comfortably in heavy rain suspended above the wet ground.
One accessory you may want to consider that I have not tried yet are sleeves that contain your hammock called Snake Skins. These "socks for your hammock" slide over the entire tent and fly containing it in a conveniently slim package that you can quickly pack. Very advantageous in bad weather. 
In summary my Hennessey Hammock has provided me some really good nights of sleep out on the trail and the weight savings has been wonderful. I can leave my tent, and my sleeping pad at home, in my case, netting me a 3 lb savings right off the top.  One caveat, though, if you are planning on heavy weather I strongly recommend a bigger fly.
Where to Buy
sponsored links
Help support Trailspace by making your next purchase through one of the links above.