Hilleberg
Jannu 2
1

review

5-star:

0

4-star:

1

3-star:

0

2-star:

0

1-star:

0
Reviews
Perfect 2-person winter tent. It is very lightweight…
Rating:


Source: bought it new
Price Paid: $785

Summary
Perfect 2-person winter tent. It is very lightweight for a "bomb proof" full protection winter tent with no compromises.
Pros
At ~6.8 lbs it is difficult to find a lighter winter tent
Its 3-cross pole design multiple guylines and quality construction enable it to withstand the most severe conditions
The inner-tent and fly are attached for quick and dry setup
Cons
Light for winter but heavy for the other three seasons
Vestibule is not part of the free-standing structure and must be staked-out
Expensive but worth it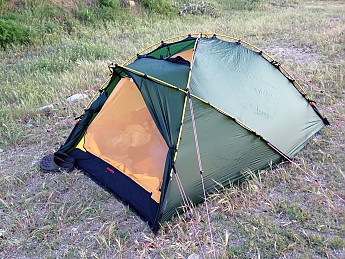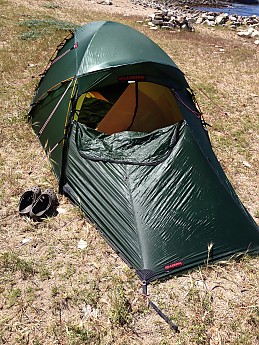 Setup of the Jannu is very easy since the fly and inner-tent are preattached. I have also left the footprint attached so that the entire tent is a single unit. The three poles are inserted into reinforced foot sleeves and then the hooks attached the tent to the poles.
I found that using 4 stakes, 2 in back and 2 at the front end of the vestibule, the tent can be set-up taut in a few minutes. The best part is that only the top of the fly is exposed to the elements during set-up.  I know of no other brand that offers this pre-attached design.
Stability is very good with just the 4 stakes mentioned above. With all guy-lines staked out I can't imagine a more stable tent.  The guylines are designed to wrap around the poles so that they are supporting the frame and not the fabric of the tent.
I haven't had the chance to test it in the extremes but imagine the design lends itself to provide optimal wind protection. The fly comes completly to the ground on all sides to provide warmth and added protection against weather.
The extremely large roof vent can be left open in severe weather since it has a seperate cover. But without a second door or any window (other than the vent) this tent is not ideal for warmer conditions.
I used it two nights in humid conditions on the beach on Catalina and found condensation to be minimal with the vent open and the door partially opened.  The footprint covers the vesibule area reducing condensation from ground moisture.
Space inside the tent is more than adequate for two full sized adults and the large vestibule can handle as much gear as two people can carry. There is plenty of head room for sitting up and pockets for storage of small items.
The tent is easy to pack although the stuff sack is a bit tight when leaving the footprint attached. 
A really nice feature is that the inner tent can be detached and packed without taking down the outer fly enablling you to pack it dry even if the fly is wet.  This design also lets you set-up the outer fly only and use it as a light weight shelter to wait out a storm. If your inner tent is already attached this might not be so practical.
The biggest drawback is that even at 6.8 lbs (8.4 including the full sized footprint) this tent is too heavy for me in most climates.  I find myself bringing a tarp or bivy on most trips or if I want to bring a tent I take my 4.5lb MSR Hubba Hubba instead of the Jannu.
But I can't wait until winter when I will surely be looking for opportunities to put the Jannu to the test.  Whitney in March anyone?
Where to Buy
sponsored links
Help support Trailspace by making your next purchase through one of the links above.
Retailers' Descriptions
Here's what other sites are saying:
Free Shipping. Hilleberg Jannu 2 Person Tent FEATURES of the Hilleberg Jannu 2 Person Tent Kerlon 1200 outer tent fabric and 9 mm poles with multiple crossing points make for an exceptionally lightweight yet stable tent with excellent snow-load handling capability Multiple guy lines on the tent and the vent cover afford even greater stability. Many of the guy line attachment loops on the tent are designed to be wrapped around poles or pole crossing points for maximum support The Jannu has room for two occupants and their gear A single entrance and vestibule afford easy access and plenty of storage space, but keep the weight very low The entrance itself is asymmetric, and allows you to enter and exit from either side or from the end, so you can nearly always get in and out in the lee of the wind The Jannu's ventilation system functions regardless of weather conditions, thanks to its integrated components Highly breathable yet water repellent inner tent fabric Inner tent door has a full no-see-um mesh panel covered with an equal sized, zipper-adjustable fabric panel for greater venting and weather protection options Roof vent in the inner and the outer tent are accessible from inside the tent Both inner and outer tent roof vents can be opened or closed completely The inner tent vent is no see - um mesh backed by zipper-adjustable fabric panel, and the outer tent vent has an integrated panel of highly water resistant, air permeable and snow-proof fabric, allowing for air-fl ow even if the vent is zipped closed A separate vent cover ensures that the weather stays on the outside, even if the vents are fully open SPECIFICATIONS of the Hilleberg Jannu 2 Person Tent Capacity: 2 Minimum Weight: 5 lbs 8 oz / 2.5 kg Packed Weight: 6 lbs 6 oz / 2.9 kg Inner Height: 40in. / 100 cm Inner Tent Area: 36.6 square feet / 3.3 square meter Vestibule Area: 13 square feet / 1.2 square meter Pole (9 mm): 2 x 144.9, 1 x 146.8in. / 2 x 368, 1 x 373 cm Pegs: 15 V-Pegs Moosejaw CANNOT ship Hilleberg products to Japan, Hong-Kong, Korea, or any country in Europe. Sorry about everything. Moosejaw CANNOT ship this product outside of the United States or Canada. Sorry about everything.
- Moosejaw
The Hilleberg Jannu is their strongest, ultra-lightweight dome tent model, and is in some respects the ultralight version of the Tarra, but with only one entrance. At the same time, it is very much its own creature. For while it is an Ultralight tent, it is nonetheless ideal for harsh, high altitude use, and both exposed and/or above tree line terrain and protected conditions in all seasons and all weathers. Its compact footprint shines in limited-space sites, such as knife-edge ridges and small ledges, and it is very stable, even in high winds. Yet it is also easily light enough for use on long distance trips where low weight is a high priority. The Jannus single entrance and vestibule favor lighter weight over absolute comfort, and its dome design gives it exceptional static strength for handling snow loading. As a result, it is a fine choice both for base camp situations, and for mobile adventures, where you pitch your tent every day.
- CampSaver.com
The Hilleberg Jannu Tent is that rarest of combinations tremendously strong and exceptionally light The Jannu is our strongest ultralightweight dome tent model and is in some respects the ultralight version of the Tarra but with only one entrance At the same time it is very much its own creature For while it is an Ultralight tent it is nonetheless ideal for harsh high altitude use and both exposed andor above treeline terrain and protected conditions in all seasons and all weathers Its compact footprint shines in limitedspace sites such as knifeedge ridges and small ledges and it is very stable even in high winds Yet it is also easily light enough for use on long distance trips where low weight is a high priority The Jannus single entrance and vestibule favor lighter weight over absolute comfort and its dome design gives it exceptional static strength for handling snow loading As a result it is a fine choice both for base camp situations and for mobile adventures where you pitch your tent every dayThe Jannu was designed to be the ultimate highaltitude mountaineering assault tent Yet it is still easily light enough for weekend hikes in the hills Thus while the Jannus strength and light weight has made it the tent of choice for alpine mountaineers its excellent snowloading resistance have made it extremely popular with winter campers hunters and high altitude trekkersFeatures The dome design is selfsupporting and its innovative short pole sleeve and clip system construction and linked inner and outer tents make for quick easy set up only the vestibule requires pegging out and in nice weather it can be completely rolled aside Ultralight materials Kerlon 1200 outer tent fabric and 9 mm poles Multiple guy lines afford even greater stability especially as many of the guy line attachment loops are designed to be wrapped around poles or pole crossing points Guy lines on the vent cover add yet another level of stability to the tent The interior is quite spacious thanks to a near vertical inner tent entrance and only mildly sloping walls A single entrance and vestibule afford easy access and plenty of storage space but keep the weight very low The entrance itself is asymmetric and allows you to enter and exit from either side or from the end so you can nearly always get in and out in the lee of the wind The Jannus ventilation system functions regardless of weather conditions The inner tent vents can be opened or closed completely and are noseeum mesh backed by zipperadjustable fabric panelsNOTE This product only ships to North America
- Bentgate.com
Hilleberg Jannu 2
currently retails for:
$884.95 - $885.00

where to buy: