User Review:
Jetboil Flash Cooking System
Rating:


Source: received it as a personal gift

Summary
It's a great stove and very simple to use. Extremely efficient and man does it boil water fast!
Pros
Easy to use
Boils fast
All in one
Everything packs inside
Cons
Limited use
Heavy compared to other options
When I first got into backpacking, I knew one of the key pieces of gear I needed to get was the Jetboil Flash PCS.  I like how everything packs inside the cookpot and thought that it was a very efficient system.  To date, this IS the fastest and most efficient stove I own. 
The JB Flash PCS that I received came with a canister stabilizer, cookpot, cozy sleeve, cup, and lid.
Here's a photo with everything packed up including the fuel canister (JB on left)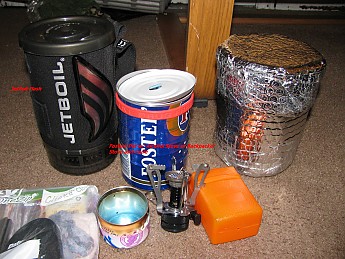 Some features of this system:
Ignition: Piezo
Flame Control: Adjustable burner housed in a built in windscreen
Cooking: Hard to cook inside but good for boiling or steaming
Boil Time: My average boil time of 4 cups has been under 4 minutes.
Fuel Efficiency: Very efficient, a 7 oz. canister can last 5 days (2 boils a day)
Stability: With the added canister stabilizer and how the pot snaps to the stove, it is very sturdy
Packability: As seen on the photo above, everything can be packed inside the pot.
Weight: In my scale this system weighs 15.5 oz.
This system is my go-to system on group and family backpacking trips.  Highly recommend this cooking system if you don't mind the weight.
Where to Buy
sponsored links
Help support Trailspace by making your next purchase through one of the links above.