User Review:
Kako IceTrekkers Diamond Grip
Rating:


Price Paid: $39.95 USD

My first impression of these was that I had accidentally bought some medieval torture device.  Spiked beads are threaded on steel cables to make up the "chains" on the soles of these, all held on with thick black rubber. Some users may have painful flashbacks from that scary girlfriend they had in college. 
These are the Hummer H1 of traction devices, tough and overbuilt. The link chains that hold the soles to the rubber welt are even welded at the seams. 
I have had Yaktraks and other similar devices and they all failed because the rubber parts touch the ground and wear through. The Trekkers don't have this issue though because the rubber part only holds onto the welt of your boot, far above the ground. 
I use these at work, when kick-sledding with the dog on frozen lakes and frozen roads. Shy of a set of crampons these are the best way to stay upright on ice. I could literally sprint or dance on a clear frozen lake and not slip with these on. 
Gas to drive to the frozen lake: $10
Ice Trekkers for your boots: $39.95
Not having the large-handed PA at the clinic have to reset your broken tailbone after a fall on the ice: PRICELESS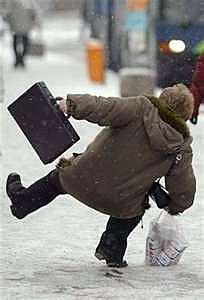 Where to Buy
sponsored links
Help support Trailspace by making your next purchase through one of the links above.