User Review:
Keen Men's Oregon PCT
Rating:


Source: bought it new
Price Paid: $136

Summary
Big toe box means great comfort. These boots took me to the bottom of the top of the world and kept me dry whilst doing it. From desert to the high Himalayas, this is a boot to own!
Pros
Comfortable
Durrable
Sticky treads
Great ankle support
Great foot support
Cons
Desert summer hiking gets pretty sweaty
Needs aftermarket insole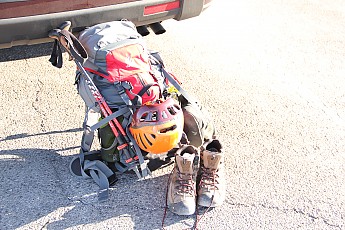 Boots at Red Rock Canyon, Ready to GO!

I have owned three pairs of these and not because the early pairs failed. I first got them in 2010 when I was starting back out to the trail after years of sedentary behavior. I hate it when my toes feel pinched so the very wide toe box was a great feature.
Unfortunately, I was not very good at fitting boots and bought the same side I would as a street shoe. As a result, I was having problems bumping my toes in the front. But even with that, the boot was very comfortable. I ordered two more pair in a bigger size and with my light hiker sock over a silk liner, the fit was great. My only other modification was a set of Superfeet. That helped snug down my heel a bit better and then things were absolutely GREAT!
I have worn these boots on hikes up Black Mountain in Las Vegas, Turtle Head in Red Rock Canyon, countless rock climbing approaches, Fletcher Canyon at Mt. Charleston, and among other weekly hiking outings, all the way from Lukla to Mount Everest Base Camp!
The fit, for me is perfect. The lacing system has three prongs on top for a full boot hight. I have big ankles and calfs and they still tie up with no gap. You can employ your personal lacing system to tighten bottom more or top more or balance. 
I wear the 9.5 in terms of a woman's size. Right out of the box, they are ready to hit the trail. No breaking in needed. I got no "new boot" hot spots. They just felt GOOD. I must say that in all my hiking I have only encountered a little bit of water, but was in a pretty good blizzard and snowy conditions on Everest. I never had wet feet. I cannot attest for crossing streams, however. Just don't encounter them in the region I hike regularly in.
The boot is designed to keep your foot dry and to wick away moisture with a Gortex liner. But hiking in 100 degree plus temps, I just get sweaty feet. I am not bothered by it and it doesn't impact me. I do make sure I have extra socks to switch to if I feel my feet get too pickled up.
I am a plus sized girl carrying a pack. So even with light loads I need boots for my ankles to be properly supported. Where my hiking companions are wearing low trail shoes or light hikers, I still wear higher boots for support. And support is what I get. My ankles are not sore as they are if I think I can forego the boot for the shoe. To me that is good evidence they are doing the trick! My foot is also well carried by the sole. It is a thick lugged sole...not at all like the more "barefoot" model Keens that you can also get.
I do a lot of my hiking at Red Rock Canyon outside Las Vegas and the boots hug the sandstone like a fly on fly paper! They do wear out faster than Asolo soles, but the price point is better and all the other features treat My flintstone feet better, so I will make that trade off.
Even when my feet are sweating in the Mojave Desert heat, my feet do not get uncomfortably hot. Things evaporate fast in the desert, but the amount of moisture my feet produce in these conditions outpaves the wicking power of the Gortex liner.
That being said, there is enough wicking and absorption by my socks that I don't get that feeling that me feet are boiled onions in a hot crate. HOWEVER...my feet were pretty dang cold at Everest Base Camp, though that was more a function of the socks than the boots. Not really a great below zero boot system going there for me.
Though some people have reported to me that they have trouble losing lugs, in the three pairs of these boots and the Erickson all leather PCT's I have, I have never lost a lug. I drag these boots across rocks scrambling up on approaches, jam and wedge them into foot holds etc and they hold up.
So, I have used these boots over three and a half years time, in hot and cold and snowy conditions, and not lost a lug or worn out a thing. The inside foot liner does need to go, as it really is nothing of assistance, not unlike most boots off the rack. They are good grippers and worth every penny.
If you have a wide foot, it is hard to find another that will do the trick. Narrow feet might swim around too much though.
Where to Buy
sponsored links
Help support Trailspace by making your next purchase through one of the links above.