User Review:
Keen Men's Pyrenees
Rating:


Price Paid: $140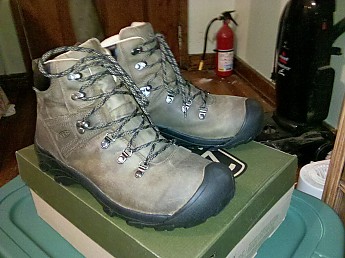 Initial impression of the Keen Pyrenees (Bison)- Build quality seems pretty good. No blemishes in the leather, stitching seems of decent quality, and overall my first impression of this boot seems quite favorable.
I purchased this model as a light duty day hiker. It is a full leather (nubuck) boot with a Keen Dry proprietary liner. The boot comes with a leather lined footbed(feels like pigskin) which is quite comfortable. Also the upper portion of the boot inner is also made of the same material as the footbed(leather/pigskin.) It does add to the comfort of the boot.
I have had the boot for roughly 4 months and I figured I put it thru enough in this short time period to give a pretty good over-all assessment of this boot. I am gonna keep it simple (pros/cons) so here goes.
PROS
-Build quality seems on par for the $140 I paid for them. No blown stitches, delamination, cracking or splitting.
-They clean up rather easily, I have gotten them very "muddy" to say the least. All I did let em dry, took a stiff brush to them, and then a damp rag. They look good as new.
-They are very comfortable, but then again they were when I pulled them out of the box.
-For me there was no break-in time. This may vary depending on invidual preference. They did soften up quite a bit by day 2.
-This boot is waterproof (I test all of my boots initially in the bath tub.) Mind you this is the second pair. My 1st pair were returned within 3 days because they were wetting out in the forefoot area of the left boot. Return was a no questions asked situation and the retailer was very kind. Keen has a 2yr warranty against leakage on its footwear with Keen Dry liners as well as a 1yr warrany on all of its footwear against defects.
-All of the metal hardwear (D-rings, etc) on the boot as far as lacing goes is quite solid.
-I personally love the wide cut in the boot. Sometimes I refer to my feet as flippers and this boot is great for me in that aspect.
-The lacing kept my foot secure on downhills and there was no smahing of my toes in the front of the toe box.
CONS-
-The sole. It has 4mm lugs which seem adequate for a day hiker. Grip on hard pack snow can be "interesting" to say the least. Picture walking on a floor of marbles. Wet logs? Find another route. Thank me later. :)
-Traction on slickrock wasn't too bad but I really didn't push it to extremes because of the other experiences I had mentioned above.
-Breathability is non-existant to say the least. I know I know, typical of a boot with full leather upper and a waterproof membrane but this is really pushing it. I wear Smartwool socks with liners and after about an hour my feet are damp. After 3hrs they are wet. Regardless of the temp. If subjected to anything below 32 degrees and I am stationary for anything longer than 10 minutes the chill sets in.
-The durability of the sole (not Vibram) is sub-par in my honest opinion. It seems as though it is an extremely soft compound and it wears down very fast to say the least. I personally feel that if I use them on a regular basis (3 days a week for me) that I would get 6 solid months use out of them before they would be rendered useless. I think for $140 that I could at least get a solid year out of them but from what I see there is absolutely no way this will happen.
-I would also like to note that you do feel alot of what is under your foot (no full length stability plate here) which could be a positive or a negative depending upon your personal preference and what ya plan on doing with this boot.
Would I purchase this model again? Probably not because of the issues I stated above. They are comfortable so I will still use them for short trips or just kicking around town. For anything with a pack I have other boots (Keen Oregons, Asolos, etc.)
***sorry if this review is a little "jumbled." I did it from my phone. :)
Where to Buy
sponsored links
Help support Trailspace by making your next purchase through one of the links above.