User Review:
Keen Men's Targhee II Mid
Rating:


Use: Dayhikes, 20 miles max.
Break-in Period: no break-in time.
Price Paid: $125

I had my Mid for about a month now. I use them only for day hiking and carry sling bag with 40oz of water.
I have put approx. 70 to 80 miles and had no problems. I only use them on the weekends and use work type boots during the week for training.
I live in Chula Vista, CA, and use the Mids at the Otay area. I have made 10 miles hikes and overall 3000 foot climbs, no toe problems, it has not come apart, the trails have been 50 to 60% rocks, hard pack dirt, and flour type dirt. I clean them once a week and only wear wool socks with the Targhees.
They feel great on my feet, they protect the bottom of my feet OK. When the raining season comes I plan to use gaiters and not go through streams.
The box that the shoes come in say 1 year warranty. I bought them at REI so if I have a problem I'll take them back.
I hope to get 1000 miles out of them, but only time will tell.
Update: September 19, 2010
I have a wide foot. I read reviews and went to REI to try on shoes after a 5 mile hike. I put these on and they felt great.
The shoe laces are strange but they are good. When you tie your shoes they give a snug fit and the toe box gives a lot of room.
I do clean the shoes every week and called Keen to ask if I could use mink oil. They told me no problems. When reading about the problems with this shoe it seems that if mink oil is used it could solve some of the problems. Also I think if your a large person, they'll break faster.
The sole has not come apart, and the reason I bought the shoes from REI at a higher cost, is because the shoes have 1 year warranty and I feel REI will help if the shoes come apart.
They are great on the trail, no problems with grass seeds getting stuck on the shoe, or feeling every rock. I had them now for 2 months and put about 175 miles on them. I use only wool socks with them, it's a little warm but I can deal with it. No blisters and no break in time.
One problem you'll find is, when they get wet it takes forever to dry, that is why I called about the mink oil. This fixes the problem.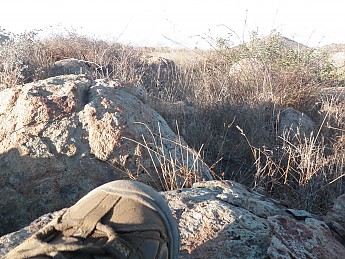 Update: December 2, 2010
This is a follow up about my Keen Targhee II.  I put about 400 miles on they before they failed.  The threads on both shoes started to come off.  I look at it and could see that the glue was not put on very good, which lead to the failure. 
The shoes fit and felt great. I read the reviews and didn't want to believe that there was problems with the shoes. I bought them from REI and they took them back with no problems.  This is a good place for the warranty. 
I also had problems with my laces which started to make coils. I change the laces and problem was gone. The shoes only went on the trail, and were clean and never left outside to dry. 
I wanted to get another set, but couldn't do it because I felt they would fail again in 4 months.  I'm trying Merrell boots now and will write a review in few months.
Where to Buy
sponsored links
Help support Trailspace by making your next purchase through one of the links above.