Kelty
Salida 2
5

reviews

5-star:

1

4-star:

3

3-star:

1

2-star:

0

1-star:

0
This is a great quality tent for a person who needs…
Rating:


Source: bought it new
Price Paid: $140

Summary
This is a great quality tent for a person who needs a lightweight low priced tent.
The Salida 2 has just the right amount of features for the solo hiker or the cozy couple.

Pros
cost
lightweight
tough, dependable, strong
simple self standing design
corner pockets and top mesh shelf
lightweight aluminum tent poles
Cons
small head room (narrow at the top, sides slope in)
single door (it is a two person tent)
vestibule area is small and its zipper is hard to reach
This is a great quality tent for a person who needs a lightweight low priced tent. The Salida 2 has just the right amount of features for the solo hiker or the cozy couple.
The simple crossed tent poles quickly snap to the tent with buckles. No tunnels to thread or pieces to tie. I can have the tent up in two minutes.
The self standing design means it's no problem relocating the tent to the perfect spot. No need to stake out the floor first.
The rain fly lacks air vents, but due to the ventilation of the mesh sides of the tent, it has never given me any condensation problems.
I've seen no leaks in multiple strong rain storms due to the factory sealed seams and good design of the rain fly.
The tent is strong and has stood up to strong winds and rains.
The headroom is enough for an average person. But the sides slope in a little, so two people would be uncomfortable sitting up facing the same direction.
The vestibule is small and the rain fly is low so it only has enough space for a backpack and hiking boots.
The zipper is way out there from the tent so you have to crawl out of the tent and stretch to unzip the fly. Or you could do what I did and tie a string to the zipper pull.
The tent has an oversized bag. No fussing around stuffing your tent in an undersized stuff sack. There is even enough room for a ground cloth or tarp.
The tent has corner mesh pockets to hold small items. And it has a mesh shelf at the top. I love that feature. Throw your phone up there and you have a night light.
I've used this tent for the last couple of years. Including at least a dozen rock climbing trips, a few kayaking trips, a handful of camping trips to the lake, and a week of hiking in the mountains. I bought it due to the size/weight/price/performance ratio was unbeatable.
Just starting to get into backpacking and was looking…
Rating:


Price Paid: $105

Just starting to get into backpacking and was looking for a good, sturdy, waterproof/resistant and lightweight tent for a reasonable price. Looked at a number of different brands and several different outdoor stores and  was originally going to purchase the Eureka Solitaire, but after reading several reviews about the tent on this site as well as others that the tent poles had a issue on breaking.
So, a friend recommended looking at some of the Kelty products. I just happened to go to Gander Mountain's website a few days later and found that they had a mail-in rebate sale on the Salida 2 and was able to purchase the tent for just over $100 (normally sells for $160) and it's safe to say I'm very happy with the purchase.
The tent is very lightweight and it certainly was much better purchase over the Solitaire. I will say for a two-man tent, sleep quarters are a little tight, but my brother and I were able to make due, I'm 5'11 and 150 and he's 5'11 and about 180. 
Took the Salida 2 on the Kekekabic Trail in the Boundary Waters a few weeks ago and slept solo in the Salida with plenty of extra room. One of my buddies had a Solitaire and he complained about not having enough room to change or keep some of his gear in the tent.
It was a little tough staking the tent down due to the rocky terrain of the Boundary Water, but made due using a few good size rocks when the stakes were not able to be put in. Kept dry with a light rain shower the first morning, but other then that, no rain which is extremely unusual for my camping trips when it normally pours.
Set up and break down were extremely quick and easy. Poles are lightweight, but strong. Then tent has good ventilation and didn't notice any moisture, however if there is no rain in the forecast and its a warm night, consider leaving the rainfly off or leaving the both flaps open as the fly holds heat very well making for rather warm sleeping conditions.
The only complaint I would have is the side door. If the guy on the inside of the tent needs to use the latrine in the middle of the night, he has to crawl over the guy sleeping by the door.
But other then that, a great tent and look forward to many years of use with it. I would recommend it to anyone looking for a good tent that doesn't break the bank.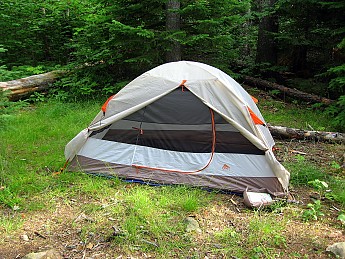 Light enough for backpacking, 3-season reliabilty,…
Rating:


Source: bought it new
Price Paid: $150

Summary
Light enough for backpacking, 3-season reliabilty, good construction, easy to set up, good color.
Pros
Fairly light for low price
3-season weather resistant
Roomy for a lightweight tent
Cons
A little heavy for backpacking
I was looking for a lightweight and weather proof upgrade to my fleet of old, cheap, beat up tents. The tent is easy to set up, the rainfly takes a bit more thought but still easy. My girlfriend approves of the colors (very important).
It's reasonably light and has stood up to mild wind and rain, no chance for severe weather testing yet. Tempted to do some light snow camping with the Salida 2... I'll post a review if I do. Oh and price vs. quality can't be beat.
I'm so impressed with the quality vs cost of this tent that I plan to stick with Kelty for all my camp gear upgrades.
Great tent for what we needed. Bought on sale to replace…
Rating:


Source: bought it new
Price Paid: $105 on sale

Summary
Great tent for what we needed.
Pros
Dome tent
Light
With attic and outdoor storage
Cons
One door on the side (have to climb over someone to get out)
Bit small for both of us and the small dog.
Bought on sale to replace my old backpacking tent that relied on being staked out to keep it up.
Nice tent, light, not florescent! Was small inside with 2 adults and our pup.  
Best Deal of 2011! I've been looking for a 2 man (solo…
Rating:


Price Paid: $114

Best Deal of 2011!
I've been looking for a 2 man (solo use) 3 season backpacking tent in the $100-$140 range for six months now. I had previously been looking at the Kelty Grand Mesa 2 (2010) and Kelty Teton 2. Both around the same size/weight. I liked the Mesa because of the complete rainfly. I likes the Teton because the door was on the wide side and the vestibule was larger. I didn't like that the Teton's rainfly came up on the side.
Kelty nailed it with the Salida. Not only does it have more screen than the others but it's lighter, has the best of both worlds and looks better in the new color scheme. I like the door on the side because I can be laying down on my side and look outside (when the fly is on). I can be laying sideways and reach out into the vestibule and access my pack easier. I didn't like my "tunnel tent" because to see out I had to turn on my stomach. To get into my pack I was on my stomach or knees ducking.
My friend and I bought our tents at the same time and they came the same day. He got the Grand Mesa because he found it for a steal on ebay $89. We put them up side by side and they are exactly the same size. Mine came with a gear loft and his didn't. Did i mention I got it on ebay fro $114 free shipping?
The Salida seams very sturdy. It was so easy to put up I let a very enthusiastic seven year old do it for me. No instructions or prior tent pitching, he just used intuition. I only had to help him turn the rainfly the right way because he was about to buckle it in the wrong position. I climbed in and its very roomy. I'm 5'9". No more claustrophobia for me in a one man cocoon. I can sit up without hitting my head.
I also researched several other tents in the same weight/size/price range and Kelty's were the best value. Glad I waited and shopped around!
Where to Buy
sponsored links
Help support Trailspace by making your next purchase through one of the links above.
Kelty Salida 2
currently retails for:
$159.95 - $169.95
MSRP: $159.95

where to buy:
Specs
Seasons
3

Number of Doors
1

Number of Vestibules
1

Capacity
2

Minimum Weight
3 lb 12 oz / 1.70 kg

Packaged Weight
4 lb 8 oz / 2.04 kg

Floor Area
30.5 sq ft / 2.83 sq m

Vestibule Area
10 sq ft / .93 sq m

Width
55 in / 140 cm

Length
88 in / 223.5 cm

Height
43 in / 109.22 cm

Packed Diameter
7 in / 17.78 cm

Packed Length
22 in / 55.88 cm

Number of Poles
2

Pole Type
DAC Pressfit

Wall Material
68D Polyester

Floor Material
68D Nylon 1800 mm

Fly Material
75D Polyester 1800 mm