User Review:
Kelty Salida 2
Rating:


Price Paid: $105

Just starting to get into backpacking and was looking for a good, sturdy, waterproof/resistant and lightweight tent for a reasonable price. Looked at a number of different brands and several different outdoor stores and  was originally going to purchase the Eureka Solitaire, but after reading several reviews about the tent on this site as well as others that the tent poles had a issue on breaking.
So, a friend recommended looking at some of the Kelty products. I just happened to go to Gander Mountain's website a few days later and found that they had a mail-in rebate sale on the Salida 2 and was able to purchase the tent for just over $100 (normally sells for $160) and it's safe to say I'm very happy with the purchase.
The tent is very lightweight and it certainly was much better purchase over the Solitaire. I will say for a two-man tent, sleep quarters are a little tight, but my brother and I were able to make due, I'm 5'11 and 150 and he's 5'11 and about 180. 
Took the Salida 2 on the Kekekabic Trail in the Boundary Waters a few weeks ago and slept solo in the Salida with plenty of extra room. One of my buddies had a Solitaire and he complained about not having enough room to change or keep some of his gear in the tent.
It was a little tough staking the tent down due to the rocky terrain of the Boundary Water, but made due using a few good size rocks when the stakes were not able to be put in. Kept dry with a light rain shower the first morning, but other then that, no rain which is extremely unusual for my camping trips when it normally pours.
Set up and break down were extremely quick and easy. Poles are lightweight, but strong. Then tent has good ventilation and didn't notice any moisture, however if there is no rain in the forecast and its a warm night, consider leaving the rainfly off or leaving the both flaps open as the fly holds heat very well making for rather warm sleeping conditions.
The only complaint I would have is the side door. If the guy on the inside of the tent needs to use the latrine in the middle of the night, he has to crawl over the guy sleeping by the door.
But other then that, a great tent and look forward to many years of use with it. I would recommend it to anyone looking for a good tent that doesn't break the bank.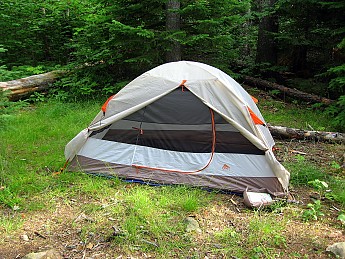 Where to Buy
sponsored links
Help support Trailspace by making your next purchase through one of the links above.