User Review:
Klymit Inertia X Frame
Rating:


Source: received for testing via the Trailspace Review Corps

Summary
The Klymit Inertia X Frame pad is an exceptionally lightweight pad designed for long distance hikers, bike tourists, or other backcountry adventurers who want light equipment, but are seeking a level of comfort different (thought not necessarily greater) than a closed cell foam pad provides. It's incredibly compact, easy to inflate (though not to deflate), and reasonably comfortable, though might not be as comfortable for the very short or very tall. This pad is best for light hikers, bikers, and runners who want to minimize weight and volume.
Pros
Easy to inflate (4-5 breaths! + 10-20 pumps of the bulb)
Reasonably comfortable
Light
Very compact
Cons
"Voids" make sizing important. Shorter folks beware!
Cold spots seem to coincide with voids
Leaking is possible with bulb attached.
Difficult to maintain high pressure.
Difficult to deflate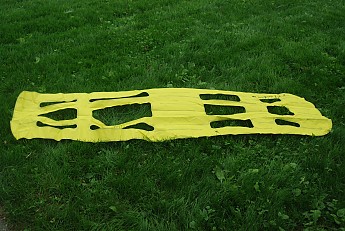 The Klymit Inertia X Frame sleeping pad deflated.

Ease of Inflation
This pad is a snap to inflate. At sea level in both cool (36°F) and hot (80°F) temperatures, 4-5 robust breaths of air into the inflation/deflation valve inflate this pad. At this point, instructions dictate using the detachable bulb to "top" it off until it's quite firm. This requires 5-20 puffs of the bulb.
Out of curiosity, I attempted to inflate the pad with the bulb alone. Not recommended: 275 squeezes later I lost count. Also, make sure to detach the bulb after topping the pad off. Leaving it on created a slow-leak situation for me one night, and I woke up with the pad nearly flat. When pumped up to high pressure, the pad did seem to lose a bit of air overnight. Certainly not enough to make it "soft," but enough air seemed to diffuse through the material so that it required another 3-5 pumps from the bulb in order to firm up again.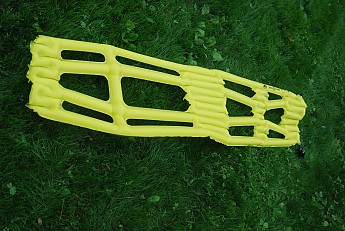 The Klymit Inertia X-Frame sleeping pad inflated
Ease of Deflation
Popping the mouth valve open releases a torrent of air that deflates the pad about 80 percent. Here, things get a bit tricky. I tried my standard deflating technique (folding in quarters and sitting on it), but this didn't work well. Instead, Klymit recommends that you fold it in half lengthwise and roll it towards the bottom. The mouth valve requires a substantial degree of pressure to release the air, and it took a bit of trial and error to get the pad to deflate fully.
Warmth
I tested this pad at 36°F, in the mid 40s, and at 65°F, all with the same EMS Velocity 35 men's sleeping bag in a Henry Shires Tarptent Cloudburst 2*. On the 36-degree night, I wore a full set of EMS Bergelene Base Layers, a thin synthetic cap, thin synthetic gloves, thin liner socks and wrapped my The North Face DIAD Jacket around my feet. I slept well that night, but did notice some cold spots that seemed to coincide with the voids in the pad.
Kylmit claims these voids provide the opportunity for the sleeping bag's insulation to loft underneath you, but I theorize that this doesn't occur with sleeping bags that don't have a lot of loft to begin with, like mine! I did sleep through the night, and didn't shiver, but certainly noticed these colder areas.
During the nights in the 40s, this pad preformed admirably with the same setup, minus the hat, gloves, and jacket-around-the-feet. At 65-70 degrees, the cool spots were nearly a blessing! Having ridden my bike hard for more than 20 miles to get to my favorite local camping spot, I was clammy and a bit warm when I went to bed.
The Velocity 35 only has a quarter length zipper, but I was still cool enough to get in. The ventilation provided by these voids meant that I woke up drier and less sweaty than when I retired. With my ordinary closed cell pad and the singe-wall tent, I ordinarily would have awoken quite clammy.
Comfort
This pad isn't less comfortable than a closed cell pad, its nearest cousin in weight, but it isn't more comfortable either. It is "differently comfortable." The pad is 73 inches long. At 5'7", I'm 67 inches long. This small difference in size led to some minor discomfort during the night, as I shifted about and different parts of my body aligned with the inflated portions (felt great) and the voids (not so great).
When my body was aligned with the inflated portions, this pad was quite comfortable. When I was not aligned, this system was less comfortable. If your height differs from this pad's length by more than six or so inches, this problem might affect you.
It occurred to me that this problem might be remedied by placing the pad inside my sleeping bag, and when I'm able to purchase a bag that will fit this pad, I'll report back.
It's worth noting that this pad did not skid around the slick nylon floor of my tent, a very welcome result.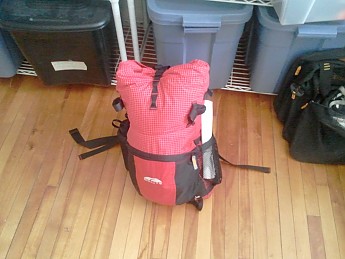 My pack, ready for my last test of this pad: bike camping!
Packability
This pad is supremely packable! Deflated and wrapped up in the storage sack, it is barely 8 inches long and 11 inches in circumference. Unpacking was an eerie experience, as it appeared that I had forgotten my sleeping pad until it emerged, so small as to be nearly invisible inside my pack!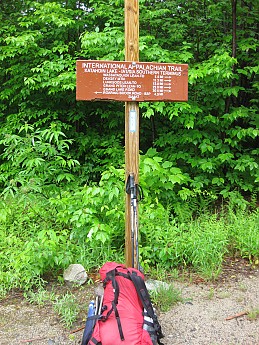 My pack during testing on the International Appalachian Trail
Weight
Stuff sack, pad, bulb, and repair kit weigh 11.1 ounces together. The pad and the bulb alone, the minimum useful configuration, weights 10.5 ounces and the pad along weighs 9.2 ounces.
Testing Conditions
I tested this bag camped north of Baxter State Park in late May, in temperatures down to approximately 36°F, in Mid-June in the same area, while backpacking a segment the International Appalachian Trail, and in early July in southern Maine, during a sub-24-hour-adventure bike camping trip.
* The author is employed by an organization that is the recipient of donations by Tarptent, and that provided this Tarptent to the author as a gift four years ago.
Where to Buy
sponsored links
Help support Trailspace by making your next purchase through one of the links above.