Klymit
Inertia X-Lite Recon
1

review

5-star:

0

4-star:

0

3-star:

0

2-star:

1

1-star:

0
Reviews
Small on size and weight, big on performance! Klymit…
Rating:


Source: bought it new
Price Paid: $90

Summary
Small on size and weight, big on performance! Klymit successfully set out to create air mattress comfort with the minimal weight penalty that is more typical with closed cell foam pads.
Pros
Minimalist small size when packed
Ultralight for an air mattress at 6.9 ounces
Only two breaths to inflate — Dry Air Pump not needed
3/4 length is fine
Works inside your sleeping bag
Klymit "body mapping" design seems very supportive and comfortable
Cons
There is a significant comfort issue — see details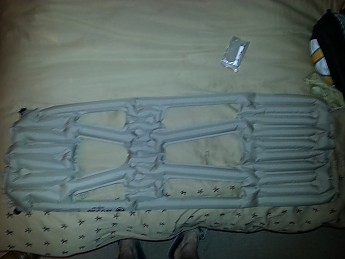 Klymit Inertia X-Lite Recon Inflated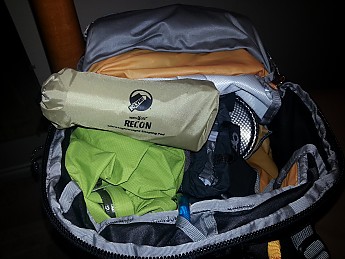 Klymit Inertia X-Lite Recon on top of the pack.  Man that is small.
I took a group of Scouts on a winter campout this weekend, and thought I'd give my new Klymit Inertia X-Lite Recon a try. This would be a nicely controlled test of its performance as I'd be in a lightly heated alpine cabin where I'd sleep in an unpadded bunk. This would give me a chance to see how the pad works without the variables of rocks or roots under my back.
First, the good:
Minimalist size and weight — This really does pack down small and weighs in at only 6.9 ounces. In an effort to follow "Minimalist" and "Ultralight" hiking theory, I've been trying to get my gear smaller and lighter. The Inertia X-Lite Recon certainly gets top marks in this respect.

As the manufacturer advertises, it takes less than two breaths to fill the pad. Nice. I'd also like to add, there really is no need for the Dry Air Pump. In some ways, I think it's useless and it really just takes up space.  YMMV.

The 3/4 length works from a sleeping pad point of view. From a thermal point of view, I can't be sure as I was also sleeping on a full-length 1/2" thick Evopad which has always kept me warm even in sub-20°F weather.

I used the 

air pad

 inside my sleeping bag and it seemed to 

work

 great that way... at least as I went to bed it felt good.
Now, the bad:
As I went to sleep, I was sure I'd be rating this pad as a 5 star. I was so comfortable and well supported.  I thought that the body mapping was wonderful from a spinal-support point of view. A few hours later I woke up with a terrible feeling in my spine.  It didn't occur to me that the pad was 

the

 issue, so I 

re-adjusted

 and tried to get back to sleep. Hours of this went by as I continually re-adjusted.  Finally I pulled the pad out of my sleeping bag. This quickly fixed the issue and I got a little sleep.
I am not giving up on the pad. I'm going to try it again and see if the bad experience was an anomaly. If there's an improvement, I'll gladly come back and alter my review.  For now, I have to say the pad is unusable and I don't know why. I very much hope I'm wrong.
Where to Buy
sponsored links
Help support Trailspace by making your next purchase through one of the links above.
Manufacturer's Description
You CAN believe your eyes, at 6.9 ounces the Inertia X-Lite is the world's lightest, most compact, and most technically advanced 3/4 length camping pad ever. Designed with body mapping technology it gives you support and comfort where you need it and not where you don't. Now offered in the Recon version with more durable fabric and in a military friendly color.
The Inertia X-Lite rolls up smaller than that banana in your pack, and can be inflated with as little as 2 breaths. It offers the adjustable comfort through the use of a dry air pump, which allows you to reach higher pressures than ordinary mouth-inflatable pads. The cut out regions of the pad not only reduce the pad's bulk and weight, but are the basis for Klymit's patent pending Loft Pocket Technology.
Loft pockets allow the insulation on the bottom of sleeping bags to maintain loft and warmth beneath your body, where it would normally be compacted and useless, while promoting breathability. Built with durable ripstop 30d top and 75d bottom fabrics, the Inertia X-Lite is also one of the toughest pads on the market.
Visit Klymit's Inertia X-Lite Recon page.
Retailers' Descriptions
Here's what other sites are saying:
You CAN believe your eyes, at 6.1 ounces the Inertia X-Lite is the world's lightest, most compact, and most technically advanced 3/4 length camping pad ever. Designed with body mapping technology it gives you support and comfort where you need it and not where you don't.The Inertia X-Lite rolls up smaller than that bannana in your pack, and can be inflated with as little as 1.5 breaths. It offers the adjustable comfort through the use of a dry air pump, which allows you to reach higher pressures than ordinary mouth-inflate pads. The cut out regions of the pad not only reduce the pad's bulk and weight, but is the basis for Klymit's patent pending loft pocket technology. Loft pockets allow the insulation on the bottom of sleeping bags to maintain loft and warmth beneath your body, where it would normally be compacted and useless, while promoting breathability. Built withdurable ripstop 30d top and 75d bottom fabrics, the Inertia X-Lite is also one of the toughest pads on the market.?Technologies:Loft PocketBody Mapping
- Klymit
Klymit Inertia X-Lite Recon
currently retails for:
$89.95
MSRP: $89.95

where to buy: