User Review:
Light My Fire Spork
Rating:


Source: bought it new
Price Paid: Less than $5 for a set of two

Summary
The biggest possible bang you will ever get for your buck when it comes to a lightweight, durable, multifunctional eating utensil. I bring this with me every place I go, and eat every meal with it, and it still looks and performs the same as the first day I used it. If you can find a better way to spend a couple dollars, I'd like to hear it, because for me? It doesn't get better than this.
Pros
3-in-1, spoon/fork/knife, multifunctional design
Won't scratch non-stick cookware
Heat-resistant
Dishwasher safe
Lightweight and easily packable
Durable
Cons
Zero. Absolutely none. Does everything it should, and does it well.
Short. Better tilt those MH meal bags to reach bottom.
Until you're making the big bucks and can afford the titanium equivalent, this is the best possible utensil you can get for your money.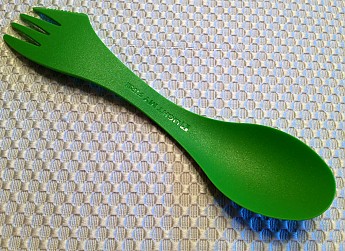 The LMF spork isn't just that. It's a fork that's, well, a full fork. No truncated, frustrating prongs to poke pointlessly at your steak with. Legitimate tines.
Better yet, one of those four tines has a serrated edge to it. Yep, it's a knife, too.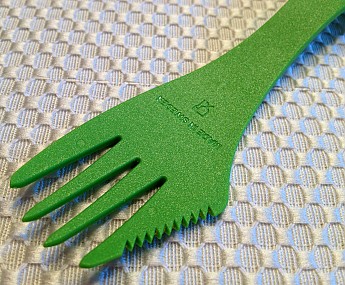 Now, I know you're wondering, "Why in hell would I put a cutting blade in my mouth?" Don't sweat it. The serrated edge isn't surgically-sharp. It simply puts some teeth there to make it easier to cut things with the side edge of the fork. You'll never cut your mouth, and for all the meals I've eaten with this, and for as quick as I've eaten them, I've yet to suffer an injury.
Naturally, you've can't have Larry and Curly without Moe — there's a full-sized spoon on the other end of this double-sided utensil. Much the same, I like that it is only spoon and nothing more. Eating soup with a spork is more of an unnecessary challenge than it needs to be. LMF makes sure that's never a problem you'll suffer from.
I've eaten every meal I've ever had while camping with this utensil. 
Heck, if I don't feel like doing a lot of dishes, I even use it to measure and stir and cook with.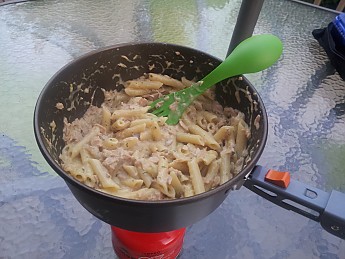 That said? Don't leave it sitting in a hot pot or pan. Or leaning against one (mine is stuck straight into the food in the above photo). It is heat-resistant, but not heat-proof. The Tritan Copolyester is durable, the finish is matte, and the texture is almost micro-pebbled so it doesn't slip out of your hand (especially convenient when using it to cook). Moreover, since it isn't metal, you can move this thing however the heck you want about in your non-stick pots and pans, and it won't ever scratch them a bit. Unlike metal, it doesn't conduct heat, and is safe to the touch, too, when cooking.
For your number-counters and math folk, it measures 6.6" X 1.5" and weighs .2 oz. I always keep a spare tucked inside my GSI Crossover Kitchen Kit (nested inside my Pinnacle Backpacker cookset). It nests in with the rest of those cooking accessories as if it isn't even there. There's simply no excuse not to pack one of these with you.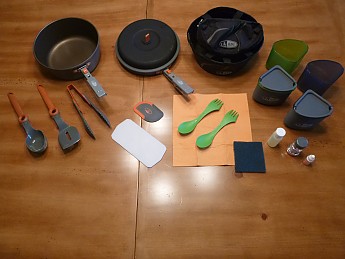 The heat-resistance is also a bonus in that it makes this sport dishwasher-safe, so you can just toss it in with your regular dishes when you get home from your trip.
This is literally a one-piece cutlery set you can fit in one hand, and is so well made and built that mine looks as good as the day I bought it.
REI has these on clearance for less than $2 each currently. You'd be hard-pressed to find another spork at that price that does as much and lasts as long as this one does. Quite honestly, probably the single biggest bargain a beginning backpacker can score.
Only drawback to mention is the length (again, it measures 6.6" X 1.5"). If you're hoping to make your Mountain House meal good-to-the-last-drop, tilt that bag to the side and get at it that way. Better than having to get all "Medieval Times" about it and get food on your hands.
Everyone should own one.
Well, two.
You wouldn't let a friend eat with anything less than this, would you?
I didn't think so. 
Where to Buy
sponsored links
Help support Trailspace by making your next purchase through one of the links above.