User Review:
Marmot Limelight 2P
Rating:


Design: three season; free standing
Sleeps: 2
Ease of Setup: Very easy
Weight: less than 5 pounds
Price Paid: $99.99

I actually purchased a Marmot Nyx on E-Bay and they sent me a Limelight by mistake. I'm not upset by the substitution.
I'm not able to give a full review, however what I have experienced so far is great; and I haven't even spent a night in it yet!
This past weekend I spent a night in my sister's Kelty Grand Mesa tent during a backpack trip on the AT. Not a bad tent, and take down was fairly easy. My Marmot tent didn't arrive until the day after my hike.
Just playing around with it today, I was very impressed. I set it up in probably about 4-1/2 minutes, including the fly. My wife crawled in and we found that it would indeed have enough space for two with decent room for gear in the vestibule. All the seams are sealed well, and it included both a gear loft and a footprint! Those two items would have added another $40-$50 to the Nyx.
The quality appears to be top-notch and it packs down to 6"x18" with a packed weight of about 4-3/4 pounds. I can also use just the footprint and fly and keep the weight to just a few ticks above 2 pounds.
I hope to submit a more complete review in the near future, but I probably won't get out on the trail for at least a month or so. I guess I'll at least set it up in my yard and sleep out in a heavy overnight rainstorm. But I'm confident that this tent will fit my needs perfectly!
Update: February 10, 2010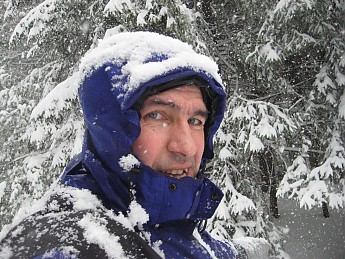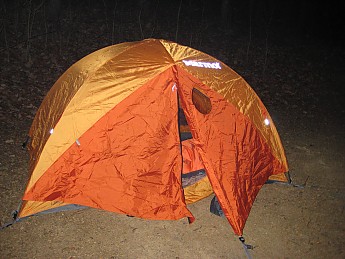 As I had stated a few months ago, I wanted to submit a more thorough review on this tent. This puppy rocks!
I have slept in it in the middle of July during a hellacious thunderstorm that dropped 2" of rain overnight. I have been more than comfortable in it just last month when it was 5 degrees F with a -15 degree windchill and I awoke to 3" of new snow on the ground.I felt safe in it when a bear investigated me at 3:00AM on the Appalachian Trail in PA. on December 18, 2009. (Yes, black bears don't completely hibernate!)
In short, this thing has taken everything I've thrown at it.
Every once in a while, you buy something and you say, "Boy that's the best $100 bucks I spent in a long time." Well, in my humble opinion the Marmot Limelight fits that description. It does everything I could ask of it and more. No, it's not a true four-season tent (I'm still considering one), but I'm truly impressed with it! You could do far worse than the Limelight, but probably not any better for the money. And that's what I call a great value.
Where to Buy
sponsored links
Help support Trailspace by making your next purchase through one of the links above.