User Review:
Marmot Limelight 3P
Rating:


Source: bought it new

Summary
This is a solid, waterproof, dependable shelter that is incredibly easy to setup. The 3P is good for 2 people who want a some extra room in which to stretch out. The vestibules are enormous, almost too big. This tent is luxurious for a couple who bring a good deal of gear.
Pros
Simply designed
Waterproof
Windows
Easy to set up
Footprint + gear loft included
Plenty of floorspace (for 2)
Cons
3P would be tight for 3 people
No vents
On the heavy side for backpacking
Not much headroom, but enough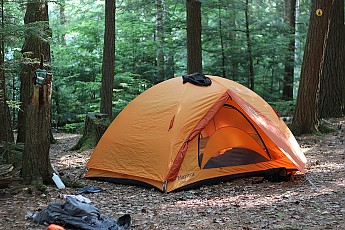 I had tried a couple of higher-end tents but found that the savings in weight did not justify a more difficult setup and tighter living space. With the Limelight 3P we were looking for a happy medium between floor space, weight, and cost.  
Definitely wanted 2 doors/vestibules, which we've come to appreciate in the wee hours of the forest night when one or the other needs to slip out for a tinkle or spray. The floor space is great for two people, but would be cramped for three. The headroom in the tent is a little lacking compared to more expensive tents with complicated pole structures, but the savings in weight and time to setup is worth it.  
The tent is extremely easy to set up. Footprint and gear loft are included, which is a very nice feature.  With the dome design, the shelter is very stable in wind. The fly is made of polyester, not nylon, which means that it does not sag with moisture. Polyester is slightly heavier than nylon, and marginally more vulnerable to laceration, but we've had no trouble. On the contrary, it's nice to be able to pitch the tent taut and have it remain taut in the morning. The little things like this are worth the weight.
The seam-taping is quality, and shows no signs of wear after a couple of years' use. We've had zero rain enter the tent. Once we camped out on hard earth when it rained overnight, and some of the rain had splashed underneath the rainfly and misted the mesh of the tent, but no water entered the tent body itself.  The floor and rainfly are solidly waterproof.
Lack of ventilation is almost an issue, as with any tent if the conditions are just right (or wrong), but is somewhat impressive for a tent with no vents at all. Condensation has never been much of a problem, though, because any condensation drips cleanly down to the ground off of the rainfly. Due to the non-sagging polyester fly, which remains taut, you don't have to worry about contact with the tent body, or drips coming in from above.
The tent is not the lightest out there and does not pack small, and may be better suited for car camping, but we enjoy a more luxurious shelter and don't mind the extra weight and space because we know when we get to camp we'll have not only a dependable sleeping chamber, but also a reasonably-sized habitat in which to sit out a rainstorm or play some cards. It has held up very well after a couple years' normal use.  
Where to Buy
sponsored links
Help support Trailspace by making your next purchase through one of the links above.