User Review:
Marmot Men's ROM Jacket
Rating:


Source: bought it new
Price Paid: $150

Summary
I love this jacket. I've been living in it for a few months now. It absolutely blocks the wind, but breathes really well. Fit is outstanding! Best uses would be anything active, really.
Pros
Great fit
Excellent breathability
Stretchiness feels natural, not cheap
Excellent protection from wind
Great warmth when it's just cold enough to need a jacket
Cons
Very limited water resistance (like a few minutes)
Tad heavy/bulky, but it's worth it
Let me start by saying that I've never really liked softshells. They seemed to not really do enough for me, and I'd just end getting rid of them in favor of something else due to their cost. I had also never owned one with a hood. Well, I don't know what got into me, but I tried this one on in REI, and just didn't really want to take it off!
Here I am on a backpacking trip a couple weeks ago in the Big Frog Wilderness wearing the ROM Jacket.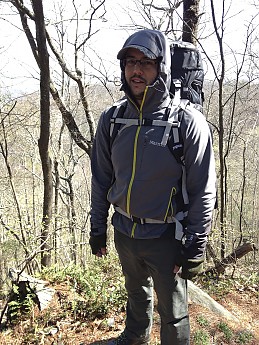 Fit, Comfort, Layering, and Adjustability
I tried it on with just a tee: fit well. Tried it on over my Primaloft layer: still fit well. Really well. Hmmm. I'm usually in between a medium and large, so I'm glad I was able to try it on (I'm 5'9.5" 185lb). I went with the medium because I knew I'd usually only have a base layer on underneath, and even with an insulation layer, it still fits well (attributing that to the stretch, which is super-nice). Sometimes a medium jacket will be too tight under my pits and around my arms, but this one stretches and feels perfect.
Adjustability is fine, though I'll admit, for most things I usually just set it and forget it. The one thing I do adjust is the hood's drawcord. I'll tighten that down when it's windy and cold, and it feels really nice. I really don't mess with the cuffs a lot because the stretch fabric goes over gloves really easily without the need to readjust. Also, I really like how the forearms are fitted. Nice and snug.
Breathability, Warmth, and Wicking
I wondered: would it keep me warm (but not too warm)? I wore it around the ~70° store for a while and I wasn't even hot. I figured I'd give it a shot, and I wasn't disappointed.
On long hikes under 60° or so, I usually don't take it off at all. It's not that I'm cold, but rather, it feels fine on, and I just kinda forget about it. That's pretty much the perfect amount of breathability in my book. If I'm active, I'll wear it alone with a base layer into the thirties and feel just fine. Sweat gets wicked away quickly, and the Gore Windstopper fabric really does an excellent job stopping the wind. Just outstanding.
The coldest I'll go when I'm not active in this jacket alone is probably mid- to high-forties. Colder than that, and I'll throw an insulation layer underneath.
Function and Ease of Use
I love the way the zippers feel. Nice and tight. Not too hard to pull, but not loose either. The chest pocket in kinda invisible, which is cool, and the hood is shaped really nice. Not funky or obtrusive in any way. If I ever buy another softshell, it will surely have a hood. I love that feature, especially with it being Windstopper.
None of the zippers have snagged at all, and once you get used to how the hood adjusts, it makes a lot of sense and feels natural to just pull the cord down to tighten it. There's also a drawcord inside the pockets for the waist, but I haven't really used those much. They seem to function fine.
Construction & Durability
The jacket is built really well, and the fabric feels silky-smooth. There are a few different fabrics used, but they work well together. All the stitching is very clean and finishing is beautiful inside and out. Most of the lining of the jacket is a soft material. Not sure what it is, but it is great. Not too soft and mushy, but just soft enough to feel nice.
After several months of almost daily wear, the soft lining started pilling a bit in high-friction areas (upper-back, sides of the neck, upper arms), but it's not bad at all. I won't even give it attention to remove the pilling for another year or so I'm sure. That could be a durability concern, I suppose, but I bought the medium knowing it was close-fitting, so I think it's a small price to pay for such a great fit, and a nice, soft interior.
The outside shows no signs of wear, except for stains. The Windstopper fabric seems to like holding onto stains in general. I've washed it multiple times, but the stains just kinda linger. I'm not really concerned enough to use stain remover; it's just a note.
Water Resistance
So, here's my gripe. I had to have at least one, and that is that this jacket is not meant to be used in the rain is any way, really. Sprinkling? Sure, no problem. Drizzling? Yeah, I guess. Raindrops coming down? Absolutely not. 
Before our last trip out, the most I had tested in the rain was short walks/runs to the car or only a block or two. It would be fine if it was barely coming down, but if I walked casually in a downpour, the jacket would be soaked, and the shoulders would be leaking within a few minutes. Still warm, but just wet.
I decided to buy some Nikwax wash-in Softshell Proof, along with Tech Wash to prep it. The initial process went fine, and I took my newly "proofed" ROM jacket into the wilderness on a really wet Friday. It was pouring when we got out of the truck, and we headed for the trail. I noticed the water beading up on the jacket better than it had before, and I was optimistic.
Well, after 20 minutes or so, the jacket was wet again, and I could feel my shoulders getting wet as well (and of course the fabric on the sides of the jacket lets water right in). The rain eventually let up, and the jacket dried up while I was wearing it, but it really did next-to-nothing as a rain jacket (because it really isn't a rain jacket at all).
I learned my lesson and bought a super-lightweight rain jacket to replace my bulky Columbia one, since I knew I'd usually have my softshell on, but would also need to rely on always having my rain jacket handy.
Conclusion
This is an amazing jacket that does what it says it will do. Sometimes I like to put too much faith in things, and I'm disappointed when it doesn't perform to unrealistic standards. That was surely the case with the rainy experience, but that was really my fault for believing in a magic water-proofing product. 
This jacket does exactly what it says it will, and it does it with ease and comfort. All around, five stars.
Where to Buy
sponsored links
Help support Trailspace by making your next purchase through one of the links above.