User Review:
Marmot Men's Zion Jacket
Rating:


Source: bought it new
Price Paid: $298

Summary
Lighter and better-fitting than I expected, I look forward to cold weather.

This started as a preliminary review about fit and features. I am updating after wearing the jacket on a number of occasions. I plan one more update after the winter.
Pros
Great fabric for a waterproof soft shell
Lighter weight than I anticipated
Good hood adjustment
well-sized for layers
Cons
Big hipbelt might interfere with pockets
Shoulder decorations of questionable utility
mildly sticky waterproof zippers
Saving gifts and a summer sale conspired to bring this jacket in. I have been eyeing softshells that absolutely keep water out after the one I am using now....didn't, and turned into a cold, soggy sponge last winter. 
These are my initial impressions of a new arrival best suited for cool/cold and potentially wet weather; it's way too hot in DC to wear this baby in the near future.  I chose black, but it comes in some very bright colors.  I like the blue zippers.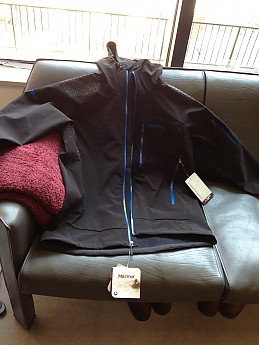 I tend to purchase on the large side to enable layering. This jacket fits me well in size XL with some leeway for a fleece or a couple of thinner layers underneath; I wear a 46 suit jacket. The hem falls about 3-4 inches below my hips; the sleeves are on the long side. Notably, though, the jacket barely rises when i raise my arms up, which has been an issue for me with some jackets. 
The fabric feels fairly lightweight and, like all soft-sided jackets, is 'quiet' — no crinkling like you get with a typical hard shell.  because this is waterproof and has a membrane, I expected it to be kind of stiff and on the heavy side.  Happily, it is significantly lighter-weight than my other softshell.  it has a decent amount of stretch, though not quite as much as some that I have tried.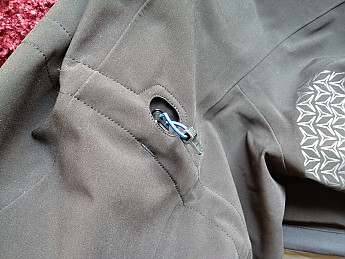 The hood adjusts from the back and via pulls on either side of your face.  they are all fairly easy to grab and adjust without looking, and I'm sure that will get easier as I wear it.  the hood has plenty of space to accommodate a hat.  I'm not so sure how it would do with a helmet, it might be a little confined for that. 
You can see from the photo the the shoulders have some pattern, a series of little triangle-stars.  feeling them with my hand, they appear to be stuck on there and almost indistinguishable from the rest of the shell.  i don't quite understand their purpose, but they look a little strange and don't appear to have much use.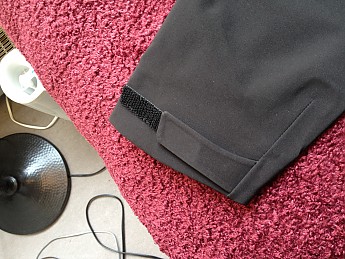 The cuffs close with a narrow hook/loop strip, and like many marmot jackets, the part that extends over the back of your hand is a little longer than the part inside your wrist. whether that is good or bad is probably personal preference.  it tends to keep your hands a little more dry if you are wearing glove liners in damp weather.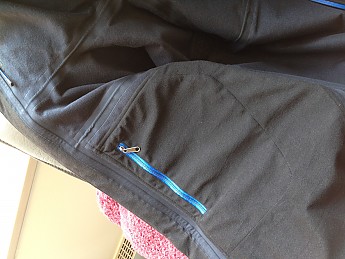 the inside has one small pocket.  to the extent you care, there is a small port between the inner and adjacent outer pocket if you tend to hike, climb, cycle or ski plugged into an ipod.  also, the interior of the jacket has a very thin fuzzy lining that i imagine would impart a little bit of warmth.  it also means you can probably wear this with a short-sleeved baselayer comfortably.  all the zippers are fairly easy to use; the outer ones are water-resistant and a little more "sticky," though in my experience that goes away for most jackets with wear.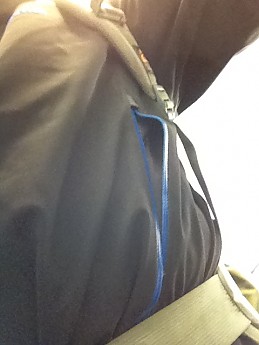 The front of the jacket has two relatively large pockets that are probably intended to be accessible if you are wearing a backpack or a harness.  As you can see, most of the pocket is accessible above a light hip belt.  the bottom inch or so of the pocket is covered by the hipbelt.  a thicker belt might cover 2-3 inches of the zipper.  fortunately, this zips from the top, so the pocket should still be partially accessible.  the hem is elastic and can pull tight via toggles on either side. 
I'm particularly excited to use this because it is made with polartec's new waterproof/breathable neoshell fabric.  this is not a hot weather option, so i am hoping for cool evenings when I'm in Maine this summer, or for unseasonably cold and rainy weather! i should have more opportunities to truly get a sense for the function of this jacket later in the year, though. 
Field observations
This jacket has now accompanied me on a number of rainy and cool morning hikes.  My main observations:
First, the waterproof/breathable aspect of the jacket is great. the membrane does a great job allowing moisture to escape, as well as any waterproof jacket I have tried. 
Second, rain absolutely does not get in. also, the DWR coating is great - rain rolls right off.
Third, this jacket has more warmth than any hard shell i have worn, and my other soft shell. I found myself only wearing a wool t-shirt underneath when I used it the past months. we'll see how that progresses into the winter. 
Fourth, the waterproof zippers keep the water out, but they are fairly stiff and sticky. This isn't much different from other waterproof zips, but it is noticeable.    
Fifth, it has been under pack straps a fair bit, and no discernable wear. also, nothing else about the fit and finish has emerged. so far, it looks to be well-manufactured. 
Finally, in the category of overall opinion, it's a comfortable jacket to wear. usually, wearing only a short-sleeved T under a hard shell isn't ideal. the softer inside of this is a plus in this respect, similar to the other soft shell jacket i have worn.  to have this kind of comfort in a jacket that can handle a hard, steady rain is fairly unusual.
Where to Buy
sponsored links
Help support Trailspace by making your next purchase through one of the links above.