User Review:
Mountain Hardwear Lightpath 2
Rating:


Source: bought it new
Price Paid: 156 US on sale

Summary
I have had this tent for a month and could not be more impressed. The Light Path Two is a semi lightweight, two-pole tent that requires four stakes to stand up. It's great for two people on a light four-season and all three who don't mind the snugness of the tent. I would Highly recommend this tent.
Pros
Light weight
Easy setup
Two door vestibule
Perfect for 1 person + gear or 2 people snugly with gear in vestibule
Packs down small with or without compression sack.
Window to check weather with having to go outside
Two poles - non-complicated pole design
Great fly
Cons
Not free standing
Requires stakes
Needs to be staked out for optimum performance
Low interior height
low down on the lightpath 
This tent has preformed very well in all of the situations that I have thrown at it. 
Set up
The tent has two poles with connect easy, after putting these together you lay the body out and stake out the four corners tautly. This is easy to do in almost all environments but it can be quite tricky to get a secure setup in snow. The poles attach easily but you have to clip the left the n the right following this order or vice versa to get a non-stressful pitch on the fabric.  The fly goes on easily enough attaching with six points on the lower and with tow clips on each pole. You then attach the fly to the poles with 4 clips and velcro and by clipping it on to points of the bottom of the tent. Next I stake it out. I has 12 stake out points and I normally use all of them. To see where they are look at the picture below.
* on a side note I used snow stakes in the photo below to stake out the inner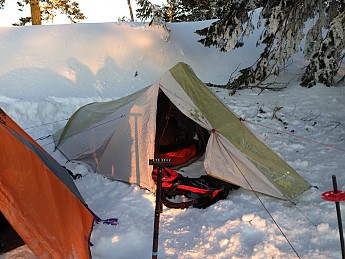 Room and Storage 
The one door was only a minor problem as because the tents set up a a arrow shape you don't have to crawl over any body to get out. The vestibules two doors help with ventilation in summer months. However the vestibule is only enough for about two packs plus boots but given that it is a two person tent this shouldn't be a problem. The tent isn't very tall so in a storm it isn't that conformable if you have to sit up and move around. This could be a problem for tall people in just general use during bad weather when you have to spend any length of time in the tent. The tent is 36 inches from floor to top of the tent inner. I am 5-5 feet tall and I run 33 inches from my waist to the top of my head and my head almost touches the top when sitting , I have about 2.5 inches of clearance to the top of the tent.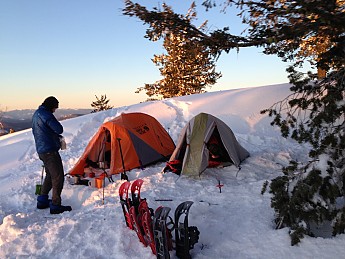 * My Father next to the lightpath, he's 5 foot 9, also the tent to the left is the mountaine hardwear nightview 
Weather Resistance 
The lightpath 2 has great weather resistance in all the testing I've done. I have used it mostly in four season conditions then 3 season and each time I stay dry and safe from wind. Condensation can be a issue in participatory wet environments but this happens with most tents. On my recent trip the high wind from the wind would blow large chunks of hard ice and snow from the tree ,which you can see to the left of the tent , and they would land on my lightpath 2 tent. The tent was fine in the morning and the light snow had all fallen off the tent. In a rain storm the angle of the tent allows water to fall off easily. Under heavy snow loads however I believe this tent would collapse but this is why it's a three season tent. The lighpath two tent could handle any three season storm that doesn't involve tons of snow load.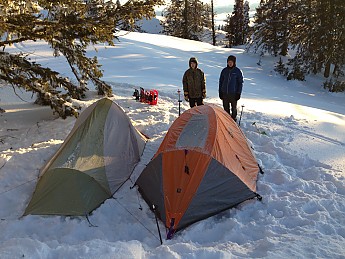 Ventilation

This tent has great ventilation when fully guyed out ( has you should with all tents and especially tunnel tents ) Okay ventilation when not and amazing ventilation with no fly but if its raining you will be wet anyway. The Guy out point at the bottom mid section of the tent , which you can see in the above picture, allows the most cross flow so if you only have two stakes to guy out the fly put them there. In my experience below zero just under the fly has a thin coating of ice  on it and tiny patches of frozen water on the mesh also. However on my recent trip my dad placed his tent to close to mind and I couldn't guy out two points on the left has much as I liked and the fly almost touched the inner. This caused more frost   and ice patches on the inside of tent and if i bumped them my sleeping bag would get wet.  You can see this in the picture's  below.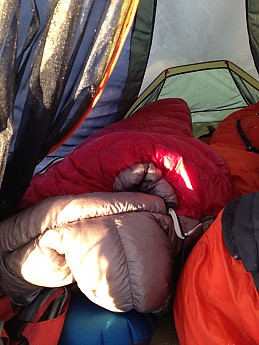 * look to the left of the red sleeping bag at the wall of the tent notice the condensation 
* Zoom in on left side to see condensation

Packability 
The tent packs quite small but the stuff sack it comes with didn't allow to pack it as compact as I'd like. I measured it to pack about 9 liters in the stuff sack it came with and down to 6 when squished a little. I bought a Outdoor Research compression sack ( the 8 liter model ) and use that as it's stuff now I can compress it down to about liters. The poles fit in a stuff sack and are 24 by 4 inches. The stakes fit in a stuff sack and are 11 by 5 inches.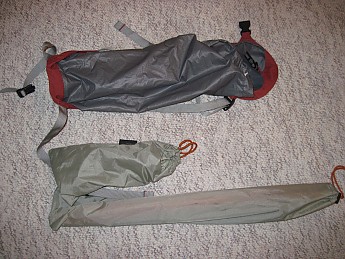 * Apologies for not stuffing the tent into its sack, it just drying after a recent trip 
Ease of use 
This tent goes up fast and comes down fast. In 3 season conditions it can be put up in 5 minutes. In 4 season or I a storm it may take longer. I have had not have too have used the instructions since the first time i put it up and the simple 2 pole  designs makes it even easier to use. 
Summary
Overall this is a great tent and the addition of MSR carbon fiber stakes and or compression sack make it a five starts out of five stars for its intended use. Without these improvements I give this tent four and a half stars out of five because it worked admirably in the condition I threw at it and then some ( four season camping ).