User Review:
Mountain Hardwear Men's Phantom 32°
Rating:


Price Paid: $232

Rarely does a sleeping bag live up to its temperature rating. This one surpasses its rating.
In my search to reduce weight but maintain comfort, I wanted a sleeping bag with a rating of around 30 degrees figuring I can use my extra clothing on nights that dip below 30 to keep me warmer. I also wanted this bag to be less than 1 1/2 pounds. This bag fits the bill perfectly. It is advertised as 1 pound 7 ounces and 32 degree temperature rating.  It is filled with 800 down.
I weighed this bag on my digital  scale and it held true to the 1 pound 7 ounce weight. I was surprised. Then I used the bag and my surprise was even greater. This bag is roomy and comfortable. I had plenty of room in the bag for myself and on cold nights my water bottle, camera and gas canister. It packs down small without compression (I carry mine in a 4 liter dry sack).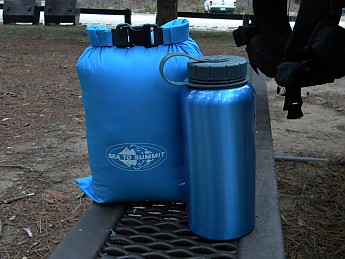 The best thing though was when I slept in the bag on nights below freezing. First, I will say I am a warm sleeper. I also like to sleep in nothing but boxers, although I bought this bag with intention of wearing clothes to aid its insulation ability.
The first night I used it when I knew it would be below freezing I decided to try it in my boxers, and if I got cold, add clothing through the night. I was amazed to find this bag comfortable down to 27 degrees. I have used the bag on about 7 nights that were 27 and 28 degrees without having to add extra clothing. The only thing extra I used was a 4oz silk bag liner. I cant say enough good about the ability of this bag to keep me warm.
One problem I have with the bag is it does lack a draft collar (this is how the weight is kept down). This causes you to use the hood and night cinched down tight to keep the insulated air inside the bag. For some reason, the I have found that the outer shell seems to get very wet with condensation from breathing when you use the hood (much more so than I have ever noticed on any other bag). The down however, has stayed dry even as the shell had drops of condensation rolling off of it. I have solved this problem by using a good knit hat and tucking the hood under my head. And, as with every lite weight gear, you have to treat it with care because the material is thin.
All in all, I find that for my needs this bag is perfect. It is lite weight, warm and packs very small.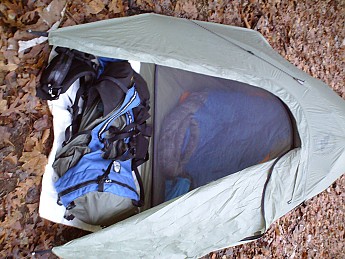 Where to Buy
sponsored links
Help support Trailspace by making your next purchase through one of the links above.