User Review:
Mountain House Beef Stroganoff
Rating:


Source: bought it new
Price Paid: $5.95

Summary
I love the taste, but the ingredient list is as long as my...arm.
Pros
Good flavor
Good mix of protein, fat, carbs
Super easy to make
Very little cleanup
Light weight
Easily available
Cons
Hydrolyzed protein?
Guar gum?
I prefer foods with less complex ingredients
Expensive
When I'm hungry they don't fill me up.
I don't often eat Mountain House (MH) foods because I find them to be too expensive compared to things I can make myself or buy off the grocery store shelves. Saying that, I occasionally eat this stuff on the trail when I want something VERY LIGHT and something that makes NO DIRTY DISHES. This simplicity comes with a price but when I need to simplify my cooking (no dishes) with as little weight as possible, I bite the bullet and bring Mountain House meals along. 
I hate doing dishes, I'm lazy. Eating the reconstituted meal straight from the pouch makes me happy. Sometimes I am also in a place where doing dishes is difficult where washing water is scarce so it can even be a necessity, at least that's what I tell myself.
The pouch these meals come in are extremely tough. I have been eating these meals occasionally for about ten years and I have never punctured one accidentally. When I am done eating the pouch makes a good garbage bag and seals to keep the stink inside. 
One of my issues with these meals is that the ingredient list is long, complex and may contain things that aren't especially good for me. Protein that has be hydrolyzed: digested in acid, makes me worry about how healthy this stuff is. Of course I eat glow in the dark mac n' cheese and gummi bears on the trail too so maybe I'm just picking on MH unfairly. 
The other issue is cost. I can buy a LOT more food for the price of one MH meal but it won't be as light or easy to prepare so I guess convenience has a cost.
One more thing I DO like about MH as a company is that they are headquartered here in the Pacific NW, in Albany OR. I like local when I can get it.
Taste:
I almost forgot this important category.  I love stroganoff anyway and I am not a picky eater so take this with a grain of salt, but I really like the taste of these things. I wish they were about 1.5x the size they currently are though because I get HUNGRY when I hike or climb. SERIOUSLY hungry. The idea that this pouch is 2 servings is laughable for me. In the field I could easily eat two, but I don't because that would equal the price of a dinner at a decent restaurant. I'm lazy and cheap.
I keep one or two of these meals in my desk at work and when I am starving and have no cash for a lunch off-site. This occurred the other day. Here are some of the pictures:
I can even find these at that great outdoor gear supplier: WalMart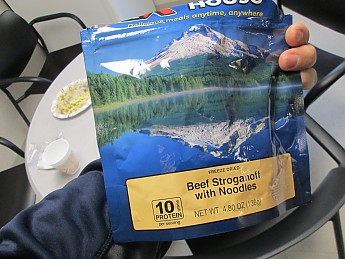 It looks almost like real food. The sauce falls to the bottom so stir it up well before eating.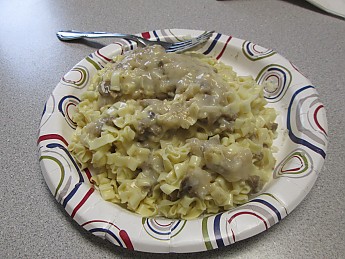 Any stroganoff near my mouth doesn't stand a chance.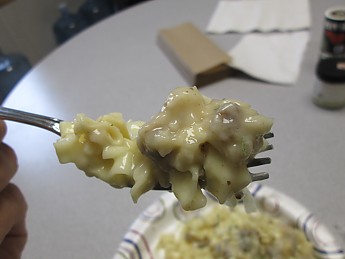 Conclusion:
If you need energy, fat and protein in a light package that cooks easily with little cleanup AND you have the coin to splurge for this stuff, go for it! Not all of their meals are as yummy as this one though, so try them before you go someplace so you won't get stuck eating something you hate.