Specs
Weight
4 oz / 113 g

Lumens
50

Height
10.8 cm

Diameter
12.7 cm

Lights
10 LED's

Reviews
This small, inflatable, solar powered light is fairly…
Rating:


Source: bought it new
Price Paid: $15

Summary
This small, inflatable, solar powered light is fairly quick to charge and provides hours of light for your campsite or tent. While deflated, it can be strapped to your backpack or placed on top of your gear in a canoe in order to charge up during the day. It is also inexpensive and would be a great addition to an emergency kit.
Pros
Lightweight
Compact
Inexpensive
Quick to charge
Waterproof
Has high, low, and flashing options
Cons
Plastic hanging strap feels flimsy
When fully charged and on the high setting we were able to light up an area with an almost 10 foot radius. The first time we used it, we were camping in a field with no trees to hang it from but we were able to hang it from one of our hiking poles which helped a lot in our cooking process.
The light cannot be focused since the LEDs reflect off of a mirrored surface in order to create a wide area of light. Because it is solar powered, there are no batteries necessary.During the day just place it in the sun for a few hours in order to charge it. At night, simply blow it up and turn it on.
We have kept it on for about 4 hours and it didn't seem to dim, but have never used it long enough for it to go out completely. It can also charge if not in full sun on a cloudy day.
It has straps on both ends to hang it from a branch or pole or it can be placed on a table. On our first use, we used the plastic strap to clip it to the back of a backpack facing the sun in order to charge it. At one point we bushwhacked through some tall grass and I guess it got pulled off the pack.
We noticed it was missing when we emerged but luckily someone else in our group picked it up when they saw it on the ground. The plastic strap does not seem strong enough to hold it in place and it would be better used with a carabiner or some string.
We have used it in rainy weather and that did not seem to affect it at all since it is waterproof. I have not yet had the opportunity to use it in very cold weather, but would not foresee that making a difference.  
The light has a high beam, low beam and flashing mode which would be good for emergencies. Other than the strap, the plastic on the main light seems extremely strong and tear resistant. Inflating it is easy, and only takes a few breaths. To deflate, you need to squeeze the mouthpiece in order to open the valve to let the air out.  
Overall, this light is extremely impressive and is great for hikers, canoeists, campers, or even in an emergency kit for natural disasters.
A lightweight, easy to carry, waterproof solar-powered…
Rating:


Source: bought it new
Price Paid: $15

Summary
A lightweight, easy to carry, waterproof solar-powered lantern useful in the backcountry or at home during emergencies.
Pros
Solar powered
Lightweight
Low cost
BRIGHT
Cons
Very bright even on dim setting
I saw this while standing in the checkout line at a local Eastern Mountain Sports, and figured "what the heck, it's only $15!" Then I figured "what the heck, it's only $30!" and got one for a friend as well. Meet Luci:
Luci weighs 4 ounces and collapses to a disc that's 1" thick and 5" in diameter. Luci's LEDs are powered by a rechargeable 3.7V lithium battery and have a bright, dim, and flash setting, each successive push of the switch (in the middle of the PV panel) will change the setting.
According to the FAQ Luci takes 8 hours to fully charge in direct sunlight, and will provide up to 12 hours of light on a full charge. I haven't used Luci long enough to drain the battery yet. 
Luci is bright! Here are two pics comparing Luci with my Black Diamond Orbit lantern. The first is with both lights set on their low settings, the second is high. On the left is the Orbit, in the middle is Luci with the LEDs at the top, and on the right is Luci with the LEDs on the bottom. I was standing approximately 6 feet from the lights while taking the pics.


Because Luci is very bright, she may be better suited to task lighting or hanging several to provide perimeter lighting for a large area, rather than for use inside a smaller tent. I bet she'd work well for attracting bugs by hanging her away from the group, too. There's a Luci Aura mood light with colors you can choose or just allow to cycle, and a frosted Luci Lux for a softer light.
Luci is waterproof.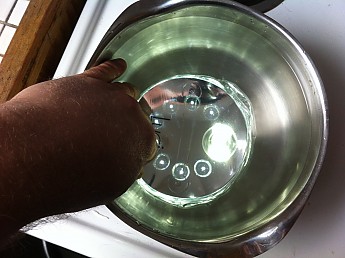 I have Luci chillin' in my freezer now, to see what effect cold has on her. 
After about 8 or 9 hours of being left on in the freezer. I'm going to leave it overnight and check again in the morning.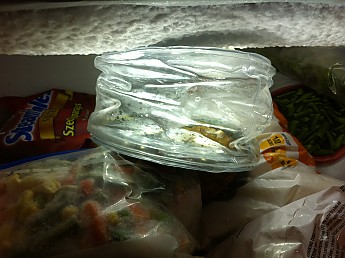 The only con I could find with Luci is how harsh the light is, but like I mentioned earlier there are colored and frosted versions for softer lighting. Leaving Luci deflated, or partially inflating her, will result in less illumination. Luci is one of the coolest gadgets I've seen in a long time, and her low price makes it easy to keep several on hand for a variety of uses.
Luci is an inflatable, solar-powered lantern that…
Rating:


Source: bought it new
Price Paid: $14.95

Summary
Luci is an inflatable, solar-powered lantern that can provide 6-12 hours of light. It weighs only 4.5 oz and collapses down to less than an inch. It can be hung from a tiny branch or the ceiling of a tent.
Pros
Bright light for an area or tent
Lightweight
No batteries
Waterproof
Inexpensive
Cons
Doesn't provide directional light, like a flashlight
Low setting could be lower
Luci is a lightweight, inflatable lantern from MPowerd. When inflated, it is a 4" tall cylinder, 5" in diameter. Nine LEDs shine from one end and reflect off of reflective surfaces inside both ends of the cylinder.  Clear sides allow the bright light to fill the space.
A full charge takes 8 hours, but it can hang from your pack while you hike and you will not notice it is there. When the sun goes down, you will have 6-12 hours of light that can hang from the smallest branch, that loop at the top of your tent or sit on a rock next to you.
Two brightness levels and a flashing mode allow you to choose your light level or get attention.  Its 80 lumens can light a tent or a 15 sq ft area.  It is not a good replacement for a flashlight as focused light is not its intended purpose.
It is simple to use. One button controls the light modes.  Blow up the lantern as you would a pool toy. All electronic parts are sealed in one end of the cylinder.  The body of the lantern is made from clear PVC film.  Thin handles on both ends allow the light to be hung either-side-up.
I have used my Luci for several months on several different Boy Scout camping trips. It has held up and shows no sign of wear.  Some rechargeable things experience reduced battery life as they are used.  It has been charged and discharged many times and there is no change in now long it lasts.  It only cost $14.95 when I bought it.  It isn't fragile, but if it were ever damaged, I would definitely buy another one.
More information is available on their website, just Google mpowerd luci.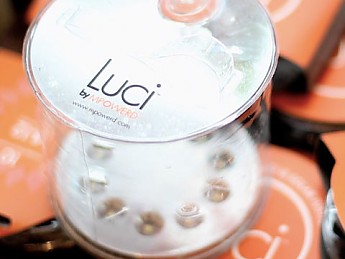 Where to Buy
sponsored links
Help support this site by making your next gear purchase through one of the links above. Click a link, buy what you need, and the seller will contribute a portion of the purchase price to support Trailspace's independent gear reviews.
MPowerd Luci Original
MSRP:
$14.99

The MPowerd Luci Original is not available from the stores we monitor. It was last seen April 20, 2018 at SunnySports.
Recently on Trailspace