User Review:
MSR Denali
Rating:


Source: bought it new
Price Paid: $139

Summary
Tough, suits any size of person or body weight, great on packed trails or in deep snow. Inexpensive, but will last for many years.
Pros
Excellent integral crampons.
Easy binding system
Flexible for any body weight
Natural gait when wearing them — no more duck walks
Extra tails can be carried for different snow conditions
Cons
Squeeky on packed snow (and so what?)
Careful with the elastic straps - can cut off circulation to toes!
Possible fragility of plastic in very cold conditions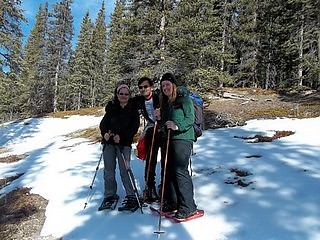 (Denalis on Coliseum Mountain)
Sorry to see the Denalis have been discontinued, but the new Evo line seem to be almost identical.
I've used my Denalis for a few years, under all kinds of conditions, from short dayhikes to longer walks, and have had the opportunity on group hikes to compare them with many other brands. Others flip snow up your back, or are too cheap and flimsy (try walking out for a few km with one busted snowshoe!), or are way too large for comfort. The Denailis always come out on top.
Unlike the old-fashioned tennis-rackets, the 8" wide Denalis let you walk with a normal gait - no more duck-walks - and can be tailored to suit snow conditions. They work well in soft powder or hard-packed snow, and the plastic deck shakes off any snow that gets on top.

I have the 4" and 8" tails, but since I only weigh 155 lbs, I have rarely needed the longer ones. Since most snowshoeing trails are already packed down a bit, I'm usually just fine with the bare snowshoe, making it only 22" long, which is short enough for a comfortable walking step.
I'm not impressed with the up-sells that sales people will try to push you on. For an extra $30-40 you can get a version with a little metal clip that holds the snowshoes at an angle away from your foot. Sold as the 'ascent' version, few people will be doing a long enough climb to warrant the extra cost.
The metal crampons work very well. The ones under the toes provide a good 2" of metal to dig in on slopes, and the full length metal rails stop the snowshoe from slipping out from under the foot when crossing a slope. Bindings are easy to use; just one good tug on each and they lock into place. Unlike the ratchet style, they don't plug up or come undone easily.
I would also comment that pretty much every school board in Canada uses the Denalis as their standard snowshoe for outdoor recreation. They are adjustable enough to work well for kids of almost any age, and they are indisputably tough enough to handle any abuse. I carry a repair kit, but I've never had to use any of it.
Suggestions: get the repair kit just in case, and buy a proper bag to store the snowshoes in - those crampons can cut!
The only concern I have is that, after chasing down people in the snow at very cold temperatures (less than -25°) I've noticed a whitening of the plastic, boot prints hammered into the snowshoe material at the points of highest impact. The snowshoes are still working fine, but I wonder if they're not made for a slightly warmer climate than I have at Latitude 53°. I'd be interested to see what MSR has to say about this.
If and when my Denalis fail, I'll just move over to the Evo. As I said, it's pretty much an identical model, and I would expect it to perform the same.
Where to Buy
sponsored links
Help support Trailspace by making your next purchase through one of the links above.