User Review:
MSR Fury
Rating:

(I am using the upgraded 2010/2011 Fury without the pole sleeves and instead using the pole clips-—much better).
NIGHT FALLS IN THE BLACK CAVE CAMPS
It's a clear night sky with a bright moon overhead and such a night shows the immediate advantage of this tent over the Hilleberg tents I have used in that I'm supine on a pad inside a tent that DOES NOT need to be covered by the double wall of a fly.  So, my shelter sits exposed to the dry night air without the addition of a fly to trap condensation. 
It feels good to put up half of a tent and have the other half waiting nearby in case of rain.  For 25 years I camped this way and remember all the nights I had to get up and scramble at 3am in a sudden rain to put a fly over a tent.  But on clear nights with no rain the fly can stay off and sit on the ground outside and be ready just in case, although many nights can sometimes go by when there's no need for it.

THE FURY'S FLY
This fly requires a fourth pole to support a small hoop vestibule and so I have the pole inserted and the fly sitting nearby ready for instant use if need be.  If not, morning pack up will be very fast as a flyless tent is easy to pull apart, especially when only using four stakes as the Fury unflyed is self-supporting.

FERN CAMP FURY
The wonderful tent is set up and I can see no real problems with it yet but time will tell.  The only minor negatory is the inner tent's door arch which is too low as it always hits your head when sitting and leaning out or pulling back in.  It's a nasty poorly thought out feature on an otherwise well thought out design. 
Here are some positives:
There are four large web pockets with each having a back behind pocket for extra stuff.
There is a fantastic wedge pocket, a fifth pocket, on the inside by the door zip which is perfect for holding my eyeglasses(though I believe it's meant to store the door when unzipped).
The fly vestibule has two more wedge mesh pockets and could hold stakes or a spoon or something small like socks or stuff sacs.
There's a mesh loft on four elastic rings which is great for wet clothing or the headlamp.
The Fury is very long inside at 94 inches and has plenty of stretch out room to keep the bag foot dry, a bugaboo of the Staika.
There are no elastic connectors so the inner tent stays rigid and tight no matter what.  The three poles with clips see to that as the old Fury tent sleeves are gone which caused some amount of cursing.
A minor drawback is the fly pole which must be inserted and fumbled with before the fly can be attached.  If there's a question of midnight rain just go ahead and put the fly on before retiring.
The overall tent footprint is very small and yet there's plenty of room inside for all clothing and even the pack.
The vestibule door zipper is sad, tight and easily stressed when the fly is pulled tight with the two head end stakes.  Here the Hillebergs are much better.  And the zipper is inverted or upside down so it's more waterproof and it better be as it has no flap like on the Staika or the Keron.  A flap is very nice when everything's frozen.  Further zipper report pending.  BTW, during cooking inside it has three zippers which can easily vent the vestibule. (I do not recommend cooking inside any tent, and probably not even inside a tent's vestibule).
One argument for Hilleberg: The blasted Fury is made in Taiwan and is saturated in outgassing flame retardant which stinks.

THE FURY STUFF SAC
Here's another negatory of the Fury tent in addition to its possible carcinogenic flame retardant coating: the strange and for me useless stuff sac, with its awkward top closure flap, carrying handle and two cinching buckles.  Please.  So of course, I'm using my Keron tent stuff sac thank you, and I put the Keron into the Fury sac for storage.

PREPPED AND LOADED
The tent is up and ready for the storm, and here's a technique I discovered to have the fly ready to go if it hits: buckle it down in the back and on the two sides, thread the pole into the fly vestibule sleeve, and then pull it all back and drape it over the tent and let the pole hang off the rear of the tent.  Then, when the first rain drops hit, all you have to do is pull it over the tent and push the pole tips into the two front grommets and stake it out in front.  Voila!  Instant protection.  No fumbling with a pole or a sleeve or a fly.

TEN HOURS OF RAIN
It has stopped for awhile but will probably kick back in whenever it feels like it and I'll be prepared in this fine little tent.  It's like crawling into a gopher burrow, the squeeze in is small but the home-den is large, sort of like an Inuit igloo.  So far, the tent inner sanctum is bone dry but the floor hasn't been tested with a one inch pooling "lake effect" yet. 
Here's another Hilleberg plus: Their floors do not have perimeter seams—very smart—while the Fury has a seam running all along the bottom, completely around the inner tent.  This is stupid.  Actually, it has two seams, taped of course, and the top one seam sealed, little help as the bottom one is not sealed, so in a lake, well, we'll see what happens. (Note:  It did well in several Mt Rogers rainstorms with "lake effect").

So let's review: CONS
Floor perimeter seams.
Low head banging tent entrance.
Thin low denier floor.
No flap on vestibule door zipper, so zipper leaks into vestibule---stupid oversight.
Flame retardant stink.
Dual end large plastic pole clip-hooks which stay open and sometimes let a crossed-over pole free in a windstorm.
PROS
Lightweight for size, inner is long with a near vertical end wall to keep sleeping bag dry.
Separate fly and inner, great for rain free nights.
Rigid poled inner with clips and no sleeves and no Hilleberg elastic holding up the inner, better therefore in the wind.  No slapping and deforming.
Twelve great mesh pockets (counting four back panels and the top mesh loft).
Vestibule door hook at the bottom pulling the thing tight and making zipping it easier.  Great idea.
Plenty of headroom once you're inside.
Pole clips and no pole sleeves making for easy setup.
Ample and overkill guyouts for true kick ass windstorms, although MSR failed miserably on supplying adequate attached guylines with decent runners (a la Hilleberg).  Total pegs needed are 21 for a serious blow.
Foot end closeable mesh with zipper for outside opening, allowing trapped bugs to get out thru the back "door".  And the back has a vent that can be propped open.
Fair sized vestibule for boot, stove and food storage, while the pack and gear can be stowed inside the tent.

The Fury is a simple wedge tent with a middle pole pull out although the wedge is not your conventional two pole top crossover as the two poles crossover in two separate places fore and aft, and the third pole links thru these two poles for a bombproof setup.  The clips pull the canopy tight and voila, you have a rigid non-sagging inner. 
The third pole pulls the middle part of the inner tent many inches away on both sides giving you a lot of extra inner space for storage and living, and the two wedge poles are plenty high for headroom. The fourth pole is only used to make the vestibule for the stoutly thick and guyed and coated fly and the fly attaches around the six corners with plastic clips on webbing that can be of course tightened.  

Two stakes are required to pull out the fly on the vestibule end after the pole has been put thru the sleeve and tensioned into the bottom stake loop inner tent's grommet.  So when setting up the inner tent it's important to remember to put the two front poles into the back grommet so the fly pole can sit in the front two grommets.  Easily done, no sweat. 
This tent review can't be complete until I get a real gully washer in a low sump camp "mud pit", the kind of campsite so common in heavily used areas.  When you're camped in a one inch lake, well, then you'll know the true quality of this tent's floor.

CLOUDS AND WINDS END DAY 7
My backpacking day ends with something afoot and certainly rain.  Maybe more, maybe much more.  This tent doesn't budge and rarely flaps, the inner is like a rigid umbrella and the fly is bolted down presently with seven pegs not counting the six buckle down points to the six tent pole grommet points. 
In addition, there are eight mid high guylines attached and running off the tent but so far hang lose and unneeded.  These would be needed in a serious blow---a very serious blow when the rigid shell begins to sway and give, not likely in my present circumstance.  Here are the complete peg numbers:
The inner tent can take six stakes but get by with four (to keep it from blowing away).
The fly has room for five:  seven low pullouts and eight high guys.
A total of twenty one!  This is a lot.  Total Keron is 18.  All this sounds like sanskrit to the Seedhouse and TarpTent users out there, so disregard and turn the page.

FURY LEVELS
The first is the white three poled inner set up with six stakes (or just four).
The second level is the fly hooked on the back and the sides with the pole inserted in the vestibule and the whole of this flung back to rest atop the rear of the tent, ready for level three:
A fully flyed tent with seven pegs.
Level four is with all eight guyouts pegged as in a Bob blizzard hellstorm.  Or that Snake Mt storm I got on my last trip in the Keron on the North Fork.

FINALLY
With three poles crossing at four different places, this is a very rigid tent, although there is a slight defect they missed when going to clips from the sleeves.  It concerns the four big black plastic clips---one on each end and two in the middle. 
The end clips do not close with a gate like on some Mt Hardwear tents, and so occasionally the crossing poles pull out or at least one of them does, and instead of staying inside the clip and crossing the other pole, it jumps out and stays parallel.  Careful adjustment before putting on the fly can fix this, I think, but these two clips need pressure release gates, otherwise I have to tie the poles together using cordage.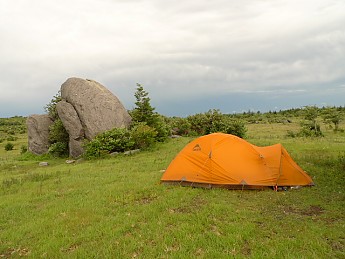 Where to Buy
sponsored links
Help support Trailspace by making your next purchase through one of the links above.