User Review:
MSR HyperFlow Microfilter
Rating:


Price Paid: $100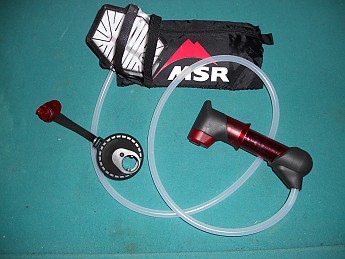 This is the third filter my buddy and I have used. The first one was nasty, screwed to the bottle, killer to pump, low flow and cheesy filters (we'd have to pack two spare, and we pump from clear streams and lakes). 
So he gets this ceramic filter pump and it's nice, we use it one season and I think it's kind of a hassle: the pump takes two hands to use, the line to the bottle causes you to find a place a bottle can balance by itself, and the in-take line has this funky float that always moves the pick-up against the bank, or in a fast moving stream, up to the surface so you're pumping air.
I mention all those things because this one doesn't do them, none I can see.  Pop that cap on your Nalgene bottle, put on the pump, cast the pick-up line, and pump, one hand on the bottle and one pumping away. 
The flow is like, "Hey, is there a filter in this thing?" I've had the pick-up float up to the surface but got very little air, mostly it seems to pull into the heavier current.  If you don't watch out the bottle will fall off the pump, that's why I hold the cap and bottle kind of together. 
This really, just a two handed set up allows for access to stream sides that wouldn't have enough flat spaces for uncoiling two lengths of hose. Also, when you're putting it away, there's none of that, "This is the clean hose, this is the dirty hose, this one goes here and don't let it touch this other one."
When I first saw this thing I thought it looked cheesy. It does, I keep thinking I'm going to break it, but I haven't' yet. And taking it apart to back flush had me following the directions like those Christmas cartoons about Dad putting together Junior's swing set. You know, "Place tab A through the cone of left-notched filter receiver unit carefully not damaging the seat of delicately-made valve G."  Yeah, that part was a pain, but with practice I'd get better at it, kind of like telling my right from my left; I've almost got that one down. 
Where to Buy
sponsored links
Help support Trailspace by making your next purchase through one of the links above.