User Review:
MSR Men's Lightning Ascent
Rating:


Price Paid: too much for what they are worth

I had reviewed the Lightning Ascent as well. My review was to the "new" model binding more so than to the shoe itself.
The new adjustable toe, middle strap heel strap binding is something you should shy away from.. I had numerous problems, pin wouldn't stay registered, had to readjust constantly, the pull strap for the adjusting pin broke off and I had to use pliers to get it back in the hole. The middle strap has a new binding hook that continually falls out..
MSR totally over engineered this binding, way too complicated, too many things to go wrong.
Now on with the "new shoe" and the "old binding system." I would have given it a 5, and may still do so, but time will tell. I have done 3 hikes since the change over through some really deep powder, I'm 260 without a pack and needed the 30" model and it does have the ability to do the 5" tail.. no problems attaching it and easily packed if you don't need them.
The ascent bar makes you feel like you're cheating, we went straight up the side of a snow field. It felt like stairs, fantastic...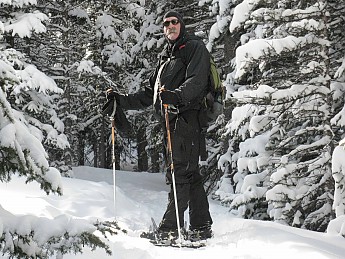 Update: April 3, 2011
Well this is the third review on the Lightning Ascent. I made a mistake on the first two reviews as that shoe was the MSR Axis.. still a shoe i would shy away from..
Now on to the Lightning Ascent. wWell, not happy, the rubber decking is tearing on both the right and the left shoe. on the outside, probably due to the stress from walking at an angle to the slope and the pressure from my weight.. 255..
Paid a buttload of cash, probaly should have gone for the EVO. damn I hate wasting money, and then when you go to the website.. under warranty repair..
What is not covered
Normal wear, abrasion, misuse, alteration, abuse, taking apart of the product, or improper washing and drying are not covered. This warranty does not cover damage caused by improper care, accidents, prolonged UV exposure, or the natural breakdown of certain materials over long periods of time. Cascade Designs will not be liable for incidental or consequential damages. Some states do not allow the exclusion or limitation of incidental or consequential damages, so the above limitation may not apply. Shipping charges to Cascade Designs for a defective product are not covered.
Makes you wonder what is covered????? 5 treks.. torn rubber decking.. arg..
Where to Buy
sponsored links
Help support Trailspace by making your next purchase through one of the links above.