User Review:
MSR PocketRocket
Rating:


Source: received it as a personal gift

Summary
A great small canister stove that work in most 3-season activities, but that can be pushed to for season use for day or short trips. It is perfect for the fast and light adventurer who needs a stove that can just work with out any priming required in temp from 50 Celsius to about -7 Celsius. This stove is not for mountaineers or people who spend all there time below freezing on long expeditions.
Pros
Easy ignition — no priming required
Boils water reasonably fast
Lightweight
Compact
Comes with carrying case
Has easy to use flame control
Uses multible brands of canisters
Inexpensive compared to other stoves
Cons
Poor pot support
Effected by cold
Only uses canisters
The MSR Pocket Rocket is a great stove for general backing packing, big wall climbing in warm conditions, adventuring in the mountains or day trip in any weather. I have used this stove in the higher areas of the kootenays in BC and on the coast near Vancouver from temperature of 10 degrees Celsius to -10 degrees Celsius. It has boiled water every time except when I was backpacking in the snow and the cartridge got too cold.
Setup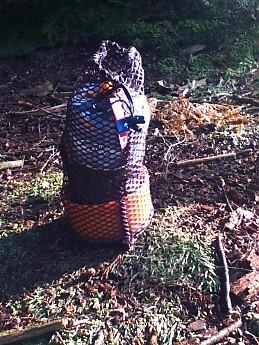 This is my cooking set up with the Pocket Rocket
The setup of this stove is very easy first remove it from its case which you can see below.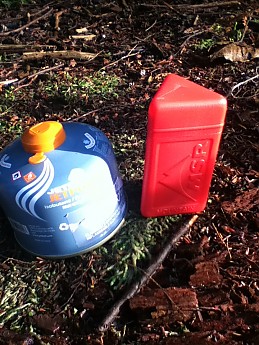 Then you screw it on the canister making sure you don't strip the screw threads. You can see it on the canister below.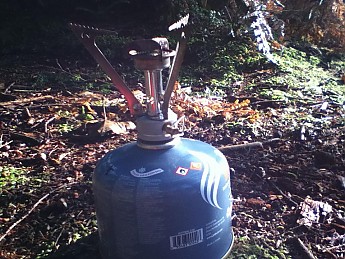 As you can tell this is very simple. Now let's talk about how easy it is to pack this stove. It is very easy! It fits right in the case and you can put in any wear in your pack but I choose to put it in my pot which is the excellent Snow Peak Ti mini solo cook set. Check out my review of this excellent product also. It fits in its case with the GSI spice missile a lighter a candle and a folding spork  in a plastic bag so I give it a 4.5 stars of of 5 for pack ability.
Cooking 
The stove lights very easily with a lighter or matches and is resistant to wind to a certain degree but a natural wind screen can go a long way to keeping the flame lit. In my experiences one third of the burners  usually goes out and the other two keep going but the stoves efficiency is greatly decreased. The burner that goes out is usually the one facing the wind also. 
After lighting the stove and putting you pot on as you can see below it boils water fairly fast. In boils in about  2 minutes and thirty seconds on fuel blast in good conditions but in cold conditions it can take four minutes when the valves open all the way.  
Cooking can be difficult also which may be surprising as it has simmer control which work but it is not as efficient at simmer control as some other stoves. But it's fine for making soup, stew or oatmeal but not quite good enough for frying or baking. 
The stove is uses fuel very efficiently. Since you don't need to open the valve all the way to get the most heat if you find the balance point where it burning all the fuel and not letting any escape. Then it will last for about 60 minutes in good conditions. This is with a 230 g Jetboil 4 season mix, which I believe is the best fuel for four seasons with this stove. 
The stability is ok. It's fine with my snow peak pot but the two liter pot I tested it in you had to be careful. I wouldn't recommend this stove to any one using it for pots 2 liters or over most of the time. 
Here it is with the Jet boil ti mini solo cookset pot 
Conditions of Use
I used this stove from minus 10 to about ten degrees Celsius. I first used an MSR canister with it, which worked ok. It failed to boil water before the fuel got to cold to work properly. You can tell when this is happening when the wind screen in the middle becomes orange in stead of the pot supports. The fuel is starting to liquidize and it doesn't flow put very easily any more eventually it goes out.
When the canister becomes too cold this happen one way to fix it is to keep the canister warm. I keep it in my shell beneath my in insulting layer. The best fuel I have found through is Jetboil 4 season mix, it works much better in colder temperatures. The flame spread better and colder temperatures so now it's my go-to fuel for every trip. For these reasons I don't recommend this stove to mountaineers looking for a stove for use on mountains.
Conclusion:  
This stove is great for general backpacking and day trip or overnighters in the winter but somewhat poor wind resistant, poor pot support, and poor performance in the cold keep it from being 5 out of 5 stars. This is not just a canister thing as Jetboil and some MSR models of canister stoves work much better in the cold (MSR Reactor, Most Jetboil models ) . However its price its a notable thing to consider and this could be the perfect stove for beginning back packers.
I highly recommend this stove for its intended propose. 
Where to Buy
sponsored links
Help support Trailspace by making your next purchase through one of the links above.