User Review:
MSR SuperFly
Rating:


Source: bought it new
Price Paid: $33.99

Summary
Robust pot supports and a wide burner head bridge the gap between minimalist trail cooking and gourmet campsite cooking. My go-to canister stove, even if I'm car camping.
Pros
Robust and wide pot supports
Wide, dispersed, controllable flame
Compact and packable size
Fuel efficient
Cons
Pot supports warp with use and heat
Large burner head and pot supports mean less packability
SIZE AND PACKABILITY
4.9 in x 4 in
4.6 oz
MSR stuff sack included.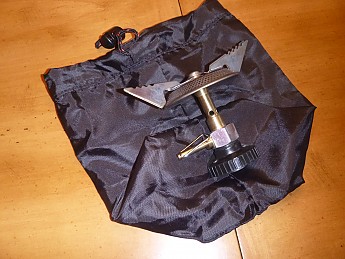 I actually prefer a stuff sack to a hard carrying case.
It not only takes up less room in your cook kit or pack, but it's flexible and items can be tightly packed around it, if need be.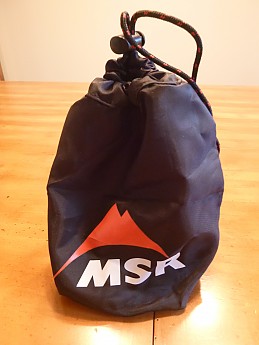 ASSEMBLY
Easy as easy can be:
Screw the plastic mount collar all the way down the threads.
Slide the plastic collar over the canister valve.
Tighten the stove down, holding the collar in place, until flush with the canister.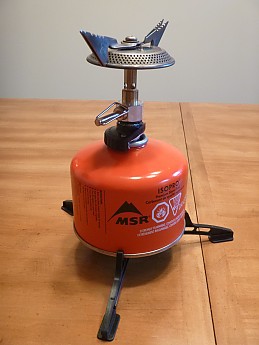 Turn the pot supports 90 degrees to evenly support all four quadrants of the pot.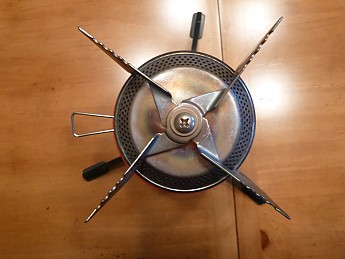 Flip out the fuel adjustment toggle, and done.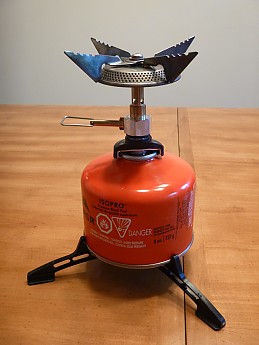 STABILITY
The pot supports are large and robust.
I don't worry about a meal tipping over if it's cooking atop these. Stable as stable can be.
I don't know if MSR makes a more stable, upright canister, backpacking stove.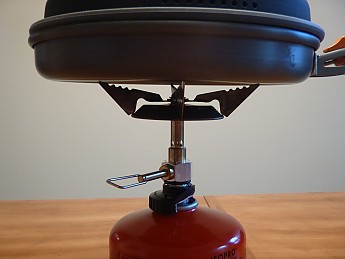 DEXTERITY
(This stove has no trouble finding a groove to dig into)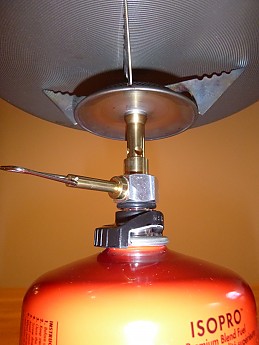 IGNITION AND WIND-RESISTANCE
Ignition's a cinch. I've never once had trouble lighting it, or keeping it lit - even with 40 to 50MPH winds that ripped grommets from my tarps! Although an "autostart" piezo igniter's a nice idea, I'm a firm believer in "The Less Moving Parts, The Better" school of thought, and a BIC (or even a match) works just fine.
FLAME CONTROL AND DISPERSION
The burner head is large and better disperses the heat more widely than some of MSR's smaller models (PocketRocket, MicroRocket). This is a matter of preference and cooking needs, but I like that I can simmer meals on this stove. The large, wire valve control is conveniently large enough to use if operating the stove while wearing gloves (even if you've gorilla-sized mitts like I do).
BOIL TIME
If you're in a hurry, it'll boil a liter of water in 3 minutes and change.
If you're not, it'll do it anyhow! There are worse problems. 
FUEL USE AND EFFICIENCY
It sips fuel, and frugally at that. I can't tell you how many meals I cooked on this thing after I was absolutely certain I was out of fuel. One stove and one eight-ounce canister of IsoPro will easily get a couple backpackers by for a weekend trip, especially if they're only boiling water for freeze-dried meals and morning coffee/cocoa.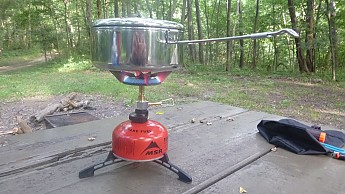 DURABILITY
However, after cooking over a hot flame and after getting some miles put onto this stove, you'll find the pot supports will warp. Now, by "Warp," I mean the metal will expand and make the supports a little harder to turn. Keep the unit clean, and they'll move freely again with a little elbow grease. An adjustable center screw can also be loosened or tightened accordingly.
MY TWO CENTS
This stove probably ranks right next to my tent as far as favorite gear goes, and proved to me why the MSR name is as popular and long-lasting as it is.
TIPS
I actually own TWO of these SuperFly stoves, bringing the second along with me on car camping trips.
I consider them a detachable two-burner stove.
This allows my cooking partner and myself to divide the picnic table in half and give us each our own prep areas. Moreover, since we're operating on two separate fuel bottles, if one unit runs out of gas, we can still continue to cook on the other.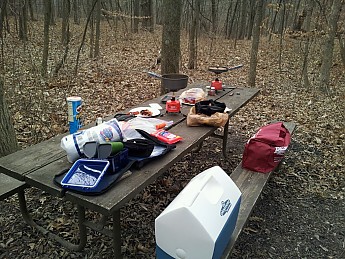 Where to Buy
sponsored links
Help support Trailspace by making your next purchase through one of the links above.