NEMO
Astro Air Lite
Reviews
The Nemo Astro Air Lite 20R is a compact, lightweight,…
Rating:


Source: received for testing via the Trailspace Review Corps (Sample provided by Nemo for testing and review)

Summary
The Nemo Astro Air Lite 20R is a compact, lightweight, well-designed backcountry mattress. A great choice for those minimalist warm weather trips without sacrificing comfort. If you don't need the extra weight of an insulated pad, this pad is a great choice.
Pros
Stable
Comfortable
3 inches of cushion
easy to inflate and deflate
very high comfort to weight ratio
Cons
not insulated
limited temp range
Years ago, when I first began my backpacking adventures I did not use a sleeping pad. I would make do with just my sleeping bag on my tent floor. Then one day I read an article about sleeping pads, and purchased an inexpensive closed cell foam model. I found that it made a drastic difference in warmth and comfort and I was much better rested.
Since then I have used various closed cell foam pads, and self-inflating foam mattresses. With each upgrade I experienced a real improvement in warmth and comfort. Now I have had the opportunity to test the new Nemo Air Lite 20 R sleeping pad and have found it to provide great comfort and stability.     
As you can see below, I have room to spare on the 72" pad.  I am 5'9" and the pad supports my 200 lb frame quite nicely.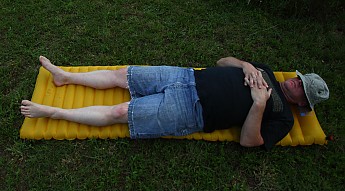 Measurements:
The mattress, when inflated, is true to its 72 x 20 x 3 inch dimensions. The packed dimensions are a diminutive 10 ½ inches long by 3 inches in diameter. The super compact size allows many packing options.
You can store it on the outside of your pack, rolling it up like the more traditional sleeping pads. You could fold and roll it as seen in the photo below and basically stuff it anywhere on or in your pack where there is space. You could roll it up, and omit the stuff sack and use only the retention strap provided by Nemo, thus omitting the weight of the stuff sack.
I prefer to use the strap and the stuff sack together and store my pad inside my pack. The pad, stuff sack and strap weigh 14 oz.
Features:
The mattress comes with a basic repair kit, glue, patches, stuff sack, and strap. The hook and loop strap holds the deflated mattress tightly when rolled up. Using this strap, ounce counters could leave the stuff sack at home as an option. There is an elevated baffle at the top of the pad providing extra cushion for the head.
Packed size is very small. Nemo claims 8"x3", but my measurements after repacking came out to 101/2" x 3".  I suppose with extra effort you could pack it down to factory size. The pad fits easily in the stuff sack.   
Construction:
The fabric is called Air Lock Elite Laminate. Nemo claims it maximizes strength and durability while being the lightest possible option. For me I was confident to put the pad on the ground with a silnylon sheet underneath.  One could probably, with some care avoiding sharp sticks and rocks, use this pad directly on the ground without a lot of worry. 
Comfort and Performance:
I counted 14 breaths to fill this mattress. I have inflated and deflated the mattress multiple times and it consistently requires 14 breaths from my lungs to fill it. Other users may vary in their inflation efforts, but mine were consistent. 
The inflation valve makes it easy to pause between breaths without letting air escape. The valve has a push-pull action for filling, then a twist will lock in place for inflating and deflating. For those who prefer using a pump,  one could employ Nemo's Disco Pad Pump and save the lungs.   
I am 5'9" and I weigh about 200 lbs. When side sleeping, the mattress conformed nicely to my body contours and supported me well off the ground enhancing comfort. There were no pressure points or instability issues when back or stomach sleeping.
I especially liked the elevated pillow at the head of the mattress. While not a full pillow, the extra volume there helped enhance my improvised stuff sack pillow. The mattress stayed flat, not curling around my body.
For the three nights sleeping on it during a 40 mile backpacking trip, the nightly temps were in the upper 50's low 60's F. Nemo's stability claims are valid and the mattress is stable and comfortable when properly inflated.  I noticed that I woke up in the morning feeling no soreness from pressure points at my shoulders and hips. When comparing it to my 1" self-inflaters and foam pads, the Nemo pad is more comfortable to me. I prefer the extra 2" of cushion over the other pads I own and how it elevates me off the ground.
I also noted that the pad is resistant to slipping, and I had no issues staying on it with my synthetic summer weight sleeping bag. The pad stayed in place on my slick silnylon tent floor.
Note that there is no insulation installed in the mattress, therefore it is rated for warm weather only. Nemo recommends that the Astro Air Lite 20R comfort limit is about 35 degrees F, but I do not believe I could stay comfortable on it in these temps. I would be comfortable using this mattress in the warmest weather down to about 50 degrees F. In fact, my tests during nights in the upper fifties had me sleeping cool and comfortable. If it were any cooler, I am certain I would feel the chill. 
The larger baffle at the head is a nice feature as seen in this view.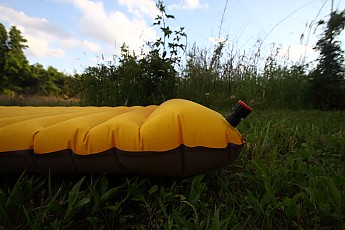 Top view of the pillow baffle and air valve.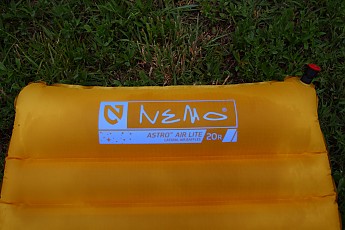 Nemo Astro Air Lite 20R in the tent.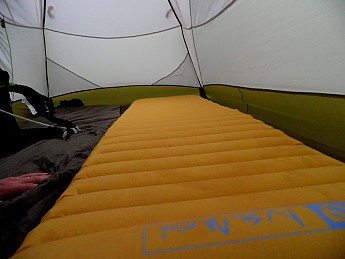 NEMO Astro Air Lite
currently retails for:
$109.95 - $129.95