User Review:
Optimus Crux Lite
Rating:


Source: bought it new
Price Paid: $30

Summary
It weighs 2.3 oz and boils water in 3 minutes flat. What's not to love about this micro stove?
Pros
Tiny
Ultralight
Easy to use
Consistent burn
Price
So some complain about the lack of flame control etc. Thing is that the canisters of isobutane are what change as the fuel flows and canister cools, the rate of feed fluctuates. You will even see condensation build up on the can, don't blame the stove. I screw mine onto the fuel canister, crank it on close to full blast, and wait 3 minutes and I have 2 cups of boiling water.
I have used it over 10k foot elevation and in snowy 20 degree conditions without fail. Even in breezy conditions I was fine without a wind screen. 
Recently at home I did a test at sea level. I boiled 2 cups of cold water 10 times, back to back and weighed the stove and canister each time. It averaged out to .20 oz of fuel per boil which would equal out to 40 boils from one 8oz MSR Fuel Canister if I was camping in my house. lol.  I'll lowball it and say 30 boils in the mountains, but that will be determines on the JMT later this month. This is going to be my 3rd year with this Crux Lite and with over 120+ boils, it isn't showing any signs of slowing down. 
This packs down into a 2 cup Ziploc bowl that I store in my pot and is ridiculously easy to set up or take apart. 
With the big 8oz or 227gm MSR fuel canisters, this is a pretty stable platform to cook on. I haven't tried the mini 4oz fuel cells, but would assume accidental spills would occur based on how small the base area is. 
For $30 you can have this pocket jet engine to whip up meals in a matter of minutes. Two cups of water is enough for a cup of joe and oatmeal, or pasta and hot cocoa.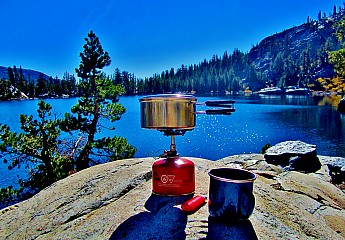 Where to Buy
sponsored links
Help support Trailspace by making your next purchase through one of the links above.