User Review:
Optimus Hiker+
Rating:


Source: bought it new
Price Paid: $160+shipping

Summary
A very stable stove that puts out a lot of heat when needed but will simmer too!
Pros
Very stable base
Excellent heat control
Cons
Rather bulky when folded for packing
Not the lightest or most compact stove
I have a Nova (NOT plus) and love it so decided to try this one out as it essentially the same burner.  I purchased new on eBay with some hesitation after reading the other comments about trash in the tank and blockage in the fuel delivery system.  Upon receiving, I looked carefully in the fuel tank and didn't find any debris so put some fuel in it. 
So far I've only run it on Coleman fuel/white gas. I prime with alcohol to avoid the excitement if over primed (the downside is the blue flame is hard to see in the daylight). It has been running great — I've been cooking some older backpacking meals in my backpacking cookware on this stove to both use up some older meals and more importantly make sure it works.  I want it to fail at home rather than in the middle of the woods when I need it most.  So far no problems and I'm satisfied that it won't fail me on a trip. 
I can't attest to the wind blowing out the flame issues as I've only used it in my kitchen to date. When I take it on a trip, I'll edit this review to reflect that. 
It produces plenty of heat for boiling water if that's what you want but even better for my style of cooking, it will simmer the same as my Nova. I find it easy to light but it does not have a windscreen as does my Nova. 
It's easy to use.  Just open the lid and slide the tank/burner out.  Doing this causes the magnetic cleaning needle to preform its function (same as the Nova but this happens every time the tank/burner goes in or out).  Make sure the fuel control valve is closed and the fuel tank refill cap is on tight and give it a few pumps.  I normally use about 25 pumps but that varies depending on how much fuel is in the tank.  Prime and light and just before the priming fuel burns out, open the fuel control valve. 
Yes, it's definitely a "roarer burner" but the sound doesn't bother me.  BTW, I also have Svea 123R, 8R's, and 111B and they all make the same sound/noise. 
When done cooking and the unit has cooled down, open the tank fill cap to bleed off any pressure, push the pump in fully and open the fuel valve and then GENTLY close it and the tank fill cap. You can then safely put it in your pack as all the fuel openings are higher than the fuel level and closed and should not leak.
Here is the mystery and if anyone knows the answer, please comment. One of my Svea 123R's was purchased used on eBay and I'm confident it was made in Sweden as it's an older model. The newer one was purchased new and the box says made in Taiwan. The Nova was purchased new and the box says made in China.  The Hiker+ was purchased new but the box says made in SWEDEN! 
Did they move the manufacture of these stoves back to Sweden due to manufacturing problems in China?

Update 2/23.2013
I used a Nova, Hiker, and 111B on an overnight camping trip to a lean-to shelter overlooking the Atlantic Ocean with temps in the mid 20s and all three stoves worked just fine.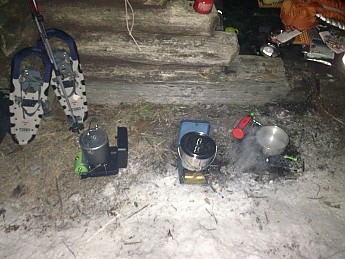 Where to Buy
sponsored links
Help support Trailspace by making your next purchase through one of the links above.