User Review:
Osprey Aether 85
Rating:


Size: 5200 CU. IN.
Max. Load Carried: 75lbs
Height of Owner: 6'3"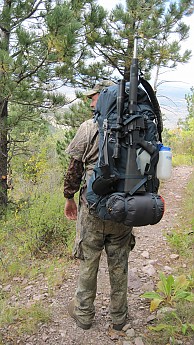 I never take the time to write a review, matter of fact this is the first time. I used the reviews on this site and others to help point me in the right direction. I purchased this pack for a deer hunting trip.
When I went to my local outdoor specialty store I learned a great deal about the advancement in pack technology as I had an older pack which did not fit correctly. I am tall and have a long torso...this pack is infinitely adjustable to any body type....after the adjusting, it fits like a glove.
The store I went to had weight sacks which I used to test all the makes of the packs they sell....this is a must do!! As a note, the reviews I read about the Kelty's and the shoulder adjustment slipping because of a 2 inch piece of Velcro is TRUE as it happened when I tried it on with 60 lbs.
I used this pack with 45lbs and hiked up a rocky mountain with an elevation change of 4000 feet. On the way back I added an extra 30 lbs of meat...at 75 lbs it was a difficult hike down the mountain but I must say, the pack was as comfortable as could be for 75 lbs...meaning it did not hurt my waist or shoulders...the hard part was the strain on the legs and hip carrying that kind of weight.
There is no magic pack that will make this kind of weight seem light but the trick is to find a pack that can carry this kind of weight with out pain to where the pack attaches to the body...this did it for me...I am impressed.
As an important note....I upgraded to the thicker IsoForm hip belt and shoulder straps which I think made a huge difference.
The pic shows how you can attach a rifle to the pack.
Where to Buy
sponsored links
Help support Trailspace by making your next purchase through one of the links above.