Bag Balm
2

reviews

5-star:

1

4-star:

1

3-star:

0

2-star:

0

1-star:

0
Reviews
Awesome product that surpasses any other balm I have…
Rating:


Source: bought it new
Price Paid: $10

Summary
Awesome product that surpasses any other balm I have used.
Pros
Softens and protects very well
Long lasting
This product was recommended to my wife by a rancher's wife. She stated it made her husband's hands unbelievably soft and smooth after use. The product was originally intended for use on the udders of milk cows to prevent chafing, chapping, and minor abrasions but found use for humans as well as it performs the same way on people. It can be found in most feed/country stores and some pharmacies.
More info on their web site- http://bagbalm.com/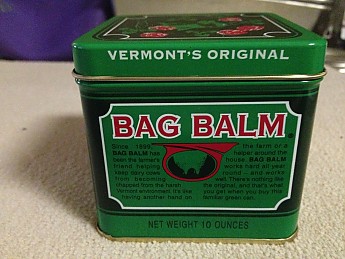 I suffer from severely chapped and cracking skin on my lips and hands during the winter months. I have tried all sorts of herbal and regular over the counter products but none have performed as well as Bag Balm. The smoothness and softness of my skin after use is unparalleled by other products and the pain associated with chapping and cracking is almost immediately negated. Also, depending on conditions, one application has lasted me as long as several days. So as far as function goes, I am very pleased with this product.
It does however have one drawback. The smell. It has a smell that reminds me of an old barn. Once the balm soaks into the skin the odor is pretty much gone, but a little improvement could be made here.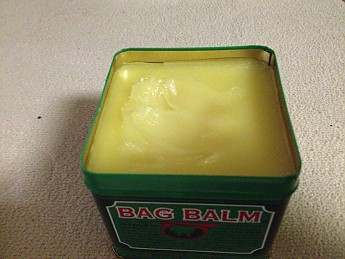 I would certainly recommend this product for anyone who suffers from chapping, chaffing, or cracking skin.
Works great in the treatment and prevention of chapped…
Rating:


Source: bought it new
Price Paid: Don't remember

Summary
Works great in the treatment and prevention of chapped hands. Is very greasy.
Pros
Bag Balm is very durable and protective.
I've used Bag Balm for years to treat and prevent the severe cracking I experience on the tips of my fingers particularly during the cold months. The best course has been to grease up with Bag Balm and immediately put on gloves. Other products also work well when combined with gloves so I tend to believe that the crtiical element in addressing my chronic problem is the wearing of gloves.
I often must wash my hands repeatedly throughout the day and I have determined that wearing latex gloves when possible works well because I just leave them on for hours at a time and wash the gloves while wearing them. They essentially become a second skin.
Manufacturer's Description
Bag Balm has been the farmer's choice for treating tough chapped skin and minor abrasions since 1899. No one sees more cracked dry skin than a farmer. Safe for both people and pets, Bag Balm works to soften tough cracked skin while protecting it from further damage. Simply massage into the skin allowing ointment to remain on the surface for full softening effect.
The petrolatum lanolin base is similar in texture to petroleum jelly and contains 8-hydroxyquinoline - a natural antiseptic and disinfectant. Easy to apply, Bag Balm stays put to provide relief and a temporary waterproof barrier. Apply to your pet's paws to soften dry, cracked pads. Also perfect for treating hock sores on horses and other animals with dry skin.
Not for use for deep cuts or injuries. For treating dry skin and minor abrasions, there is nothing like the original Bag Balm. Available in 1 ounce and 10 ounce sizes in the familiar green can. Made in the USA.
Bag Balm
reviewers paid:
$10.00

The Bag Balm is not available from the stores we monitor.
If you're looking for a new first aid/hygiene product, check out the best reviewed current models.