Eastman Outdoors Food Dehydrator
Reviews
A low priced dehydrator that has a few features normally…
Rating:


Source: bought it new
Price Paid: $49

Summary
A low priced dehydrator that has a few features normally found on the higher priced models. After a couple months of usage, this unit has already paid for itself, and I am making meals far superior to the dehydrated meals sold by Mountain House and Backpacker's Pantry.
Pros
Variable temperature control
Power switch (often missing in cheap models)
Price
4 Trays
Cons
Noisy fan
Low wattage
Round trays are not as efficient as square ones
Tops out at 160°F
One of my first Trailspace reviews was on the Harmony House Backpacking Kit. While I remain a fan of that kit, I have spent more and more of my time seeking to expand my dehydrated food recipes. After researching numerous models in various price ranges, I settled for this Eastman Outdoors product. In the sub-$100 price range, I feel it offers some of the best options.
This dehydrator operates on 245 watts. This is fairly low, considering there are 700-watt units in the same price range. However, in my research I have learned that more watts does not necessarily translate into more efficient/shorter drying times.
A feature not always present in cheaper dehydrators is a variable temperature range. This unit has a thermostat of 90-160 degrees Fahrenheit. This is the perfect range for my needs, with 140°F being optimal for fruits and vegetables. 160°F is the necessary for jerky making. One con is that poultry is to be dried at 165°F, which this unit does not go to. However, as I have no desire to jerky poultry, this was not a negative in my selection.
Another added benefit is the lighted On/Off Switch. Surprisingly, this is not a common feature on lower-priced dehydrators.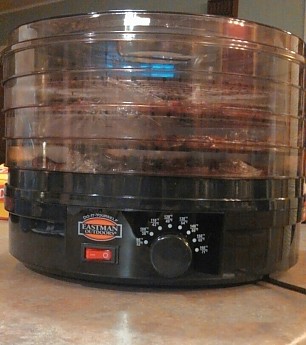 The unit comes with four stack-able, round trays, measuring 14" across. Diehard do-it-yourselfers will tell you that square trays are more space efficient. However, I find I have plenty of room for my needs. The picture below displays enough Apple and Cranberry "Fruit Leather" to last me a few trips.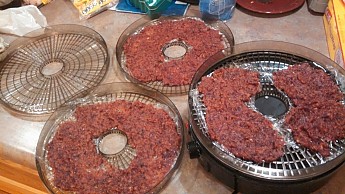 (My rotten teenager ate the other apples I was planning to dry out in the fourth tray!)
Once stacked, the dehydrator's noisy blower fan convects heat up through the center. As initially moist food dries, I peel it off the plastic wrap and lay it on the slotted trays to speed the drying process.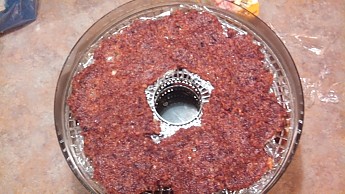 In my cooking experiments, I have taken to grabbing leftovers from dinner and seeing how well they dehydrate and, later, rehydrate. My wife's Campanella pasta and homemade sauce is a winner at home and as a dehydrated meal on the trail.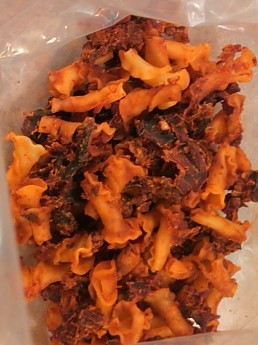 1.5 cups of water will rehydrate this dried bag of stuff into mouth-watering goodness!
I will end this review with a delicious recipe I prepared in the dehydrator. Unfortunately, I ate it all without taking any pictures.
Mango Curry with Rice & Lentils (spicy)
1 cup cooked Rice
1 cup cooked Lentils
1/2 cup dried Mangoes
1tsp dried Onions
1tsp Curry Powder
1/2 tsp Garlic Powder
1/4 tsp Ginger
1/8 tsp Cayenne Pepper
1/4 tsp Cumin
1 Tbsp Cornstarch
1 Chicken Bullion Cube
1 1/2 cups water
AT HOME: Mix and cook all ingredients. Drain thoroughly. Dehydrate until completely dry. Store in freezer until trip (Meal will keep for several weeks if not stored in freezer.).
IN CAMP: Bring 1.5 cups of water to a rolling boil. Remove from heat. Add water to dehydrated meal. Cover for 10 minutes, or until meal is re-hydrated
Eastman Outdoors Food Dehydrator
reviewers paid:
$49.00

The Eastman Outdoors Food Dehydrator is not available from the stores we monitor.
If you're looking for a new kitchen accessory, check out the best reviewed current models.