Sterno Folding Stove
Reviews
A real back pack-able solution to your food cooking…
Rating:


Source: bought it new
Price Paid: $5.97

Summary
A real back pack-able solution to your food cooking problems. A simple folding design that folds flat for easy carrying. Stove will hold a heavy pot. Front door and sides protect flames from wind. Burns Sterno, other canned heat or chaffing fuel. Low cost camping stove for the beginner.
Pros
Compact
Easy to clean
Easy to light
Great temp control
Light weight
Very inexpensive
Stable
Rust proof
Cons
Adds some weight
Needs to cool off before packing
Sharp edges
Could warp or bend
WHATEVER HAPPENED TO THE GOOD OLE' FASHIONED STERNO STOVE???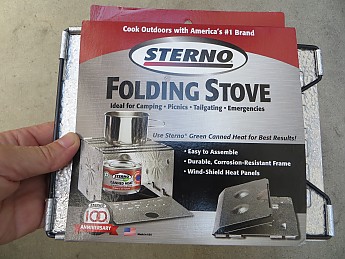 It's crude and not perfect, but its definitely "good enough" for a budget conscious camper or weekend hiker. I don't think the size or style is any different than the Coghlans folding stove. Also, made in USA. America's #1 Brand. I have always had a folding stove for emergencies. You never know if a thunderstorm zapps the electricity or a quake drives you to turn the gas off. Use it on the tail gate of your truck for hot lunch or @ jobsite or in the mountains.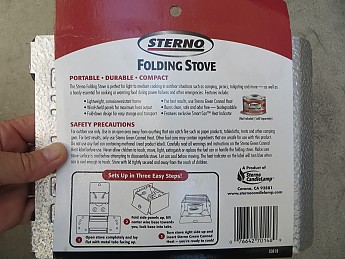 The folding stove is packaged with safety precautions and instructions. Easy to read and understand. It is low tech, easy to use, easy to clean, easy to set up, sturdy and stable, fuel flexible and will stay folded with a rubber band. You can't go wrong for buying this for keeping food warm. (note: does not come with sterno fuel, sold separately or can purchase kit)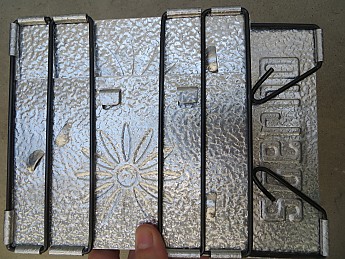 Stove removes from packaging easy. weight: 1.2 lbs. can store BOB or trunk or in a drawer. It is solid well built. Even thou it looks like it is made from a soda can. Has the logo design embedded in the flap of the stove. This stove is light weight & decently folds to small enough size. Has a platform to cook on. Can set up in 3 minutes.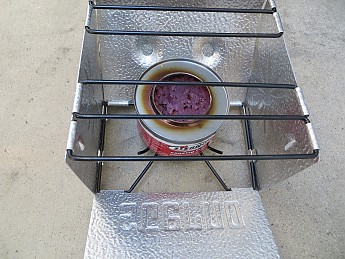 The sterno stove folds out into a mostly square box with a place to put the fuel & a metal grate for cooking on top. measures: 6" 3/8 X 6" 3/8. The front flap closes and the heat from the sterno will cook anything. It is a useful grill for cooking.


Virtually, this stove is designed to only heat water. Sterno is not a major heat source. I find that one can of sterno will easily pack into a pack and work a 3 day camping trip easily. The flame control on the burner is not adjustable but does stay lit, and the side panels keep any wind from blowing out the flame.
I'm not sure how cook time would change in colder climate. I have put a lil butter in the pan to show how the flame can melt. I normally would not carry butter on a backpacking trip. Nor would I carry a frying pan. Best to cook food with a mess kit.  Within 2 minutes butter started to melt.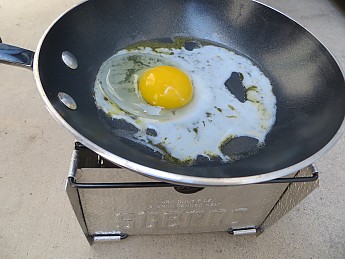 This stove is ideal for cooking food with small fying pan because it covers the entire top of stove and captures all the heat. You can cook enough scramble eggs for 3 people or fry an egg in about 18 minutes. It's a little slower than a stove and home but what the heck... if you're out on the trails, plenty of time to soak in the beauty of the forest!
The sterno keeps food warm for a long period of time without burning. (note: I wouldn't be backpacking with fresh eggs in my pack) The stove carefully balances your pot or pan... no worry about it collapsing or falling over. Be sure to use the stove on a flat surface away from anything that would catch on fire. I think this stove is perfect for boiling about 2 cups of water, must have patience for a rolling boil, good for hobo coffee.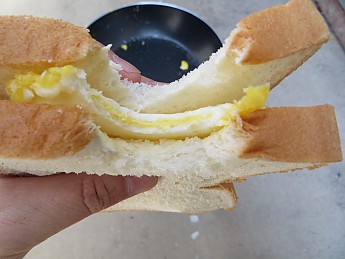 I ate an egg sandwich for lunch! Took about 18 minutes to cook and it wasn't runny! I ran inside my house for some bread, lol. It was tasty. I definitely recommend this stove.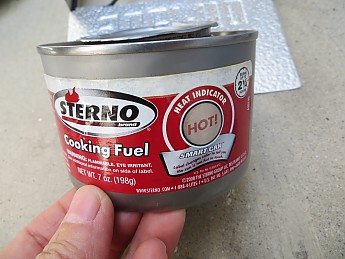 I still have plenty of fuel left for a few more cups of coffee. Be sure to extinguish the flame by covering the opening with a lid and notice the heat indicator, HOT! ... the sterno stove is also hot. It takes about 5 - 10 minutes to cool down before packing. When the indicator is cooled down and no longer reads HOT then I suggest the stove would not be neither. Also, be sure to seal the canned heat (sterno) perfectly so that you can reassure it will not dry out.
Funny, I don't use sterno much, just keep in case of emergencies. I learned to make my own chaffing fuel in girl scouts when I was a little tyke. You take a tuna can, and wrap some cardboard type material in a spiral inside the can. Then you fill in the melted wax in the can & light it and put a coffee can over it. We cooked that way.
This Sterno stove gave me no problems. This stove could be a big luxury while your out there. Wherever there is. (smiles)
Sterno Folding Stove
reviewers paid:
$5.97

The Sterno Folding Stove is not available from the stores we monitor.
If you're looking for a new solid fuel stove, check out the best reviewed current models.