Patagonia
Hybrid Sleeping Bag
Specs
Weight
490 g / 1 lb 1.3 oz

Insulation
850-fill-power Traceable Down

Reviews
The Patagonia Hybrid Sleeping Bag is an "elephant…
Rating:


Source: received for testing via the Trailspace Review Corps (Sample provided by Patagonia for testing and review)

Summary
The Patagonia Hybrid Sleeping Bag is an "elephant foot" style bag designed to minimize the weight a climber carries by insulating only the bottom half of the bag and relying on insulation already required (a jacket) to keep the torso warm. The combination of high lofting 850 fill traceable down, impressively constructed baffles/footbox and 1.2-oz 15-denier 100% nylon ripstop upper (the same fabric as their famous Houdini wind shell) makes for an incredibly packable and warm nights sleep. This bag is best for anyone looking to go fast and light and who is willing to sacrifice a little wiggle room in their bag.
Pros
Weight
Versatility (temperature range)
Packability
Ethically Sourced Down
Reduces redundant insulation
Cons
Stitched through construction
No small interior pocket
What do I do with my hands?
WARMTH
This is a tough section because the comfort rating is highly variable dependant on what jacket it is being used with. There is no way to assign this a EN rating, for example, as the warmth of the jacket your wearing largely determines how low you can go with this bag. I saw a mention of somewhere in the -9 to -12C (10 -15f) as a lower rating and thought that to be about right (albeit a little conservative if anything). The coldest I've had it out in was -22C (-7.6F) but that use should have an asterisk on it as I also wore insulated pants while in the bag. I probably wouldn't want to push that -12C to much with just standard weight long johns on, you could shiver through a miserable night probably with your backpack on your feet and push it to -15C maybe if you want a miserable bivy.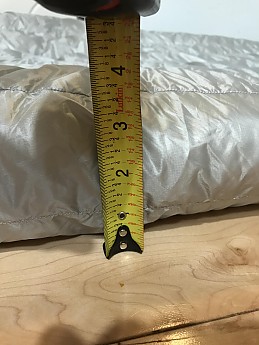 (about 3 1/2 inches of loft throughout the bag, more than enough to say conservatively in the -10C range)
The temperature range of this bag really is impressive though. By switching your top insulation, taking off, or adding insulation it can take you comfortably through a much larger range than most sleeping bags can. On one hand I see this as a very small niche climbers market, and then the other side of me says it could be a very useful bag for someone trekking through various climates.
I've been able to test the bag in varying conditions and with different upper insulation levels, from a heavy weight wool sweater to an michelin man style Mountain Equipment Co-Op puffy. All worked equally well, but make sure than your insulation is longer cut, having the overlap ensures that no exposed skin wiggles free. There is a cord and cord lock that encircles the body to ensure that the heat in sealed in on the bottom.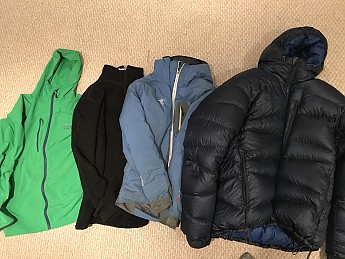 (Jackets have ranged, from L-R- unlined soft-shell, 600 g/m² wool sweater, Primaloft jacket and Michelin man sized puffy)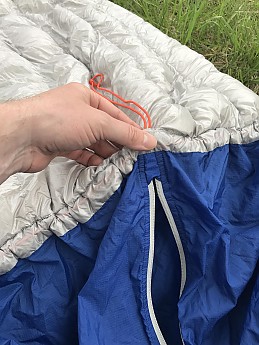 (the cord lock around the waist effectively seals in heat and doesn't allow for any cold spots)


A big issue here is for all those people who don't like hoods. Are they crazy? Yes. Do they deserve to suffer? Maybe,... I am firmly in the "No Hood, No Good" camp but for those who aren't- be aware of the huge effect head insulation can have, as this bag has none.
My other "major" obstacle was my hands. I'm a side sleeper, often with my hands tucked under my head. With there being no insulation on the top of the bag your hands get freezing. You either have to cram them down to your sides, tuck them into your jacket pockets or wear mittens. I felt like I was a vampire lying in a coffin with my hands by my sides and sleeping on my back so I opted for mittens. It felt a little weird at first but I got used to it. Also, make sure they're clean. 
FIT AND COMFORT
To get the weight of this bag as low as it is, and compact as it is, the Hybrid is cut very slim. This is not the right bag for the claustrophobic. A bag that is over sized, or has too much space, will actually feel colder as there is more dead air for the body to heat up, so the closer fit aids in the warmth. The bag feels especially tight from around the knees, hips and down to the ankles. Not so much in the feet and the upper half is more than large enough as it is designed to accommodate large puffy layers. Even with a large jacket on I never felt restricted in the torso region, which is really important as you don't want to have of that down compressed. The length is more than adequate for me (I'm six foot and 165 lbs) even in the regular size, but there is also a tall and short model available.
One of the most impressive parts of this bag is the design of the footbox. I have perpetually cold feet (and hands, see above) and have found this to be one of the more generously stuffed footboxes of any bag I've used. The cut of it is pretty impressive too. Even with no one in the bag you can see how it sits up straight. They've designed the baffles in 3 dimensions so the interior of the baffle is smaller that the exterior, which makes for a cylindrical shape for the down to loft within.
Another small quibble is that when sleeping with a jacket that has a cord lock on the back of the hood (which many do) it makes it very uncomfortable to lie on your back. You can feel it dig into the back of your head, not a big deal if you flip to your side, and not necessarily the bags fault, but it is a result of this system.
ENTRY AND EXIT
The half length centre zip cuts weight and allows you to take your hands out to do simple tasks while still in the bag with the caveat that it is harder to get in and out of. It takes a little extra wiggling to get your self fully in the bag and can be made more difficult by your jacket twisting as you try to slide down. Don't ask me how I know, but it'll sometimes end up half backwards. This isn't a big deal at all if your sleeping under the stars or a larger basecamp tent but getting under a small tarp or bivy can be made more challenging.
Having your top layer on and warmed up already is a joyous thing, and it certainly makes middle of the night bathroom breaks easier. TMI- if you've got the ever handy pee bottle close by the two way zipper means you lose little to no heat.
WEATHER RESISTANCE
The entire bag is coated with a DWR so light splashes of water or the errant coffee spill won't collapse the insulation, but the down is untreated so I wouldn't go soaking it. I've had the sideways rain bouncing inside a minimal 6X8 tarp and woke up completely dry. Light snow brushes of easily the next morning. A quick hang in the sun and the bag is dry before breakfast is finished.
My concern for a bag like this isn't from external moisture, but internal. When you climb into this bag you are hopefully wearing clean, camp clothes BUT if you are using this bag you are also most likely to be going full on spartan kit. That means often wearing the same jacket you wore during the days snow storm, or the long johns you sweat in all day. This can effect the loft of the down as much (if not more) than the weather. Be as prudent as the trip allows at maintaining the cleanliness of the inside!
The upper half of the bag is made from the same material as their Houdini windshell and is surprisingly warm, and obviously wind proof. For any open air bivy this comes as a welcome design.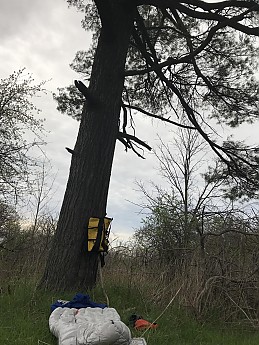 (some storms clouds came in, nothing more than a sprinkle, but remained totally dry with tree cover)
PACKABILITY/LOFT
Now we're cooking with fire. A -10C bag that packs to the size of a 1L Nalgene (about 11 inches by 6 inches). It's so rewarding to throw this in a pack and have it barely even make a dent in pack space. It is of course only half the insulation that you need to carry but you'll need to bring a jacket anyway. The weight of the bag is listed at 17.3 Oz on their website, 18 Oz on the actual bag and 18.7 on my scale…..and 9.6 Oz of that is down! The Pertex Quantum lower and ripstop nylon upper are both uber light, so over half the weight your actually carrying is warmth trapping down. The 850 fill power down both packs down next to nothing but also balloons out of the stuff sack once you let it go.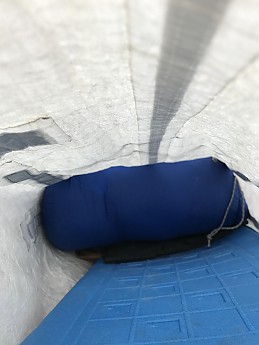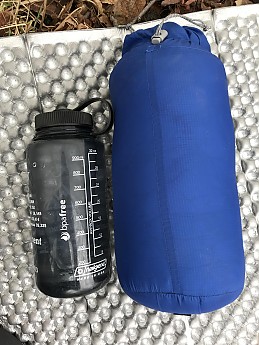 (it's somewhere between a litre water bottle and a foot ball in size, it will disappear in your bag)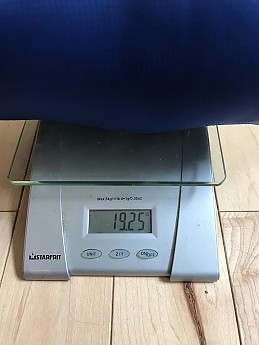 (with stuff sack)
CONSTRUCTION & DURABILITY
While Patagonia is new to the sleeping bag market (what took them so long?) they are veterans of the outdoor industry. The quality of materials and construction of the Hybrid is exactly what you would expect from a premium brand. No loose threads, straight stitching, no cold spots, quality down.
850 fill European Traceable down is used throughout the bag. From an ethical standpoint that means that I, as the end user, can be assured that no birds were force fed or live plucked for the making of this sleeping bag. I would expect nothing left from a company known for its stance towards both the environment, and the animals within it. From a quality standpoint an 850 fill power is about the highest I see an advantage to. Anything higher and your kinda splitting hairs in terms of weight and un-necessarily increasing price.
Patagonia has a wealth of knowledge in textiles and fabrics and has chosen to use the same fabric as in their acclaimed Houdini wind shell. The goal here is a windproof layer, to maximize the effectiveness of the DWR and to keep weight as low as possible, check, check and check.
I love the vertical baffles throughout the body of the bag that switches to horizontal on the footbox. With the horizontal baffles on the torso of some sleeping bags I hate it when you wake up with a chill in the middle of the night only to find the down in your bag has all shifted to the underside. Doesn't happen here. The bag is also amply filled so there isn't much rom for it to go anywhere, anyway.
Both a large cotton storage bag (stores the bag uncompressed) and an ultralight stuff sack were included with the Hybrid.
One thing I would like to see is some box baffling added even though I am aware that there would be a weight penalty. The stitching is sewn through and while it minimizes weight, it's also an entry point for cold air. It's certainly less noticeable than on a regular bag, or say a jacket, as you are wearing additional layers underneath, not sure how much weight that would add though.
The zippers and cord toggles all work well as expected, although if I'm being finicky (I am) they are a little long. The hood opening is rather large and having a peanut head I always have to have the cords cinched down all the way.
I'd love to see a small interior pocket for those little things that I routinely lose throughout the night…I'm looking at you lip chap.
CONCULSION
The Hybrid Sleeping bag is exactly what I'd expect from a company with the pedigree of Patagonia's. Quality materials (and design input from people like Steve House) make sure that every function of this piece of highly specialized kit is made to work. When you are at the point of skimming gear, including your sleeping bag in half, it is of the upmost importance that everything works, as your wiggle room, your safety net, is gone. This does. What I came away most impressed with, and intrigued about, was the possibility for versatility, not only in alpine climbing, but for backpacking. I also thought the price was surprisingly affordable. For somebody looking to buy one sleeping bag, and already likely owns a variety of jackets, this is worth a look.
TESTING
The Patagonia Hybrid has been used for a total of 13 nights under a variety of conditions. 4 nights under a RAB Siltarp, 4 in a Hilleberg Unna, 3 out under the stars and 2 in a MEC bivy. Temperatures has ranged from -22C to +9C. It has seen its fair share of snow, rain, been packed away wet and still smells like campfire but functions as new. I primarily use a Thermarest Z-lite Sol under rocky conditions, or an Exped downmat 7 if a little indulgence is called for.
Where to Buy
sponsored links
Help support this site by making your next gear purchase through one of the links above. Click a link, buy what you need, and the seller will contribute a portion of the purchase price to support Trailspace's independent gear reviews.
Patagonia Hybrid Sleeping Bag
MSRP:
$299.00

The Hybrid Sleeping Bag is expected in stores as part of Patagonia's spring 2017 product line.
Recently on Trailspace