User Review:
Platypus Big Zip SL
Rating:


Source: bought it new
Price Paid: $35

Summary
Originally purchased as a backup, this has become my favorite hydration option. Easy to fill. I like the bite valve on this a fair bit better than the leading competitor. Clear plastic body leaves no doubt about what is inside. Heavy-gauge plastic seems built for the duration.
Pros
Great bite valve
Swivel interface between hose and reservoir
Clear plastic reservoir — easier to see and heavier gauge
Secure opening and handle are advantages
Cons
Heavier than most
Narrow opening requires brush for cleaning
Having encountered some issues with a competing hydration reservoir, i turned to Platypus as an alternative.  It became my favorite. I logged 40-50 hours of trail time with the Big Zip over the summer, mostly day hiking in hot, humid mid-Atlantic weather. It performed as one would want and expect. It didn't leak, it was easy to use, and nothing broke or failed or malfunctioned.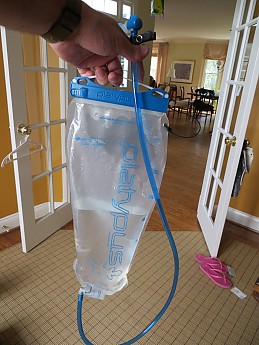 Note the top handle. It is relatively easy to hold and can attach to loops at the top of a backpack if you prefer to 'hang' your reservoir. The thin top handle is flexible, which I think is an advantage.  i have broken the hard plastic 'hang tabs' on a competing product. The handle is part of a hard plastic top piece that keeps the reservoir closed. I like the extra security of having that hard plastic slider.  I will try to illustrate how it works.
As you can see, the way you fill the Platypus is via the top, which is a heavy-gauge ziplock closure. Anyone who has used a ziplock bag knows that they can 'blow open' under pressure.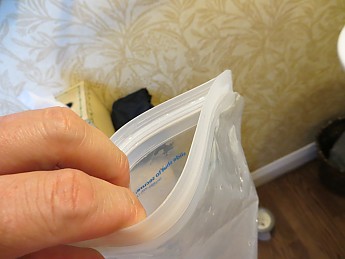 Platypus attacked this challenge by adding a hard plastic slider that keeps the zipper closed.  The slider is attached to the reservoir via a small black elastic.  Filling the reservoir, you can let the slider dangle without dropping and losing it.  That said, having a piece of plastic dangling which you fill the bag can be a little annoying.  The zipper opening is very firm — much more than any freezer bag.  Because the opening is firm and fairly small, you would need to have child-sized hands to clean the interior of the reservoir.  I cleaned it a few times using a small bottle brush.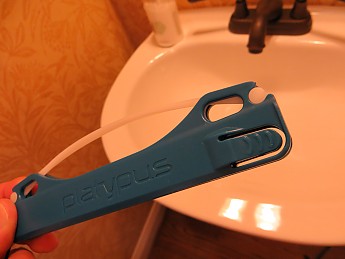 Once the reservoir is full, you slide the blue piece across, locking the bag shut.  It works well.  I used this reservoir about 75% of the time on my hikes this summer, and it never opened accidentally.  The downside of this assembly is that it weighs a little more than competing products i have used.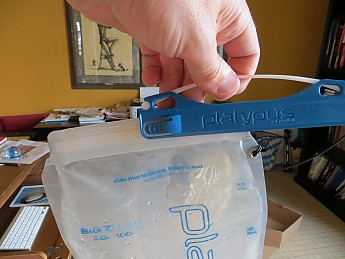 The Big Zip SL holds 100 ounces of water - 3 liters.  The bag has a helpful measuring guide on the side to show how full it is.  You will note that with the reservoir stuffed into a sleeve or pack lid repeatedly over the past 3-4 months, some of the blue print has already worn off the bag, so it remains to be seen what will happen after 5 years.  In my view, the bag itself is one of the big advantages for Platypus.  
I like that it is clear plastic, so i can see what is inside, especially if I am drawing water from sources of the less clean and clear variety.  I also like the heavy feel of the plastic because it feels like it will last a long time and helps inhibit 'sloshing' — that feeling that the water in the bladder is moving around while you walk.  
A competing product that uses a softer plastic has resorted to inserting a baffle in the bag to limit sloshing; it's simply not an issue here.  To be fair, all the hydration reservoirs I have used have been extremely durable.  I have been using reservoirs for years and have never had a bag fail on any brand.  
Another nice feature is the hose attachment to the bag.  It swivels so the hose can extend in any direction easily.  The joint itself is fuss-free and did not leak all summer.  I was very happy about that, because a slow hose joint leak was a significant issue I encountered with another reservoir I have.  I like having the swivel because one of my backpacks holds the reservoir in the lid, so the hose tends to be at a different angle than in a hydration sleeve.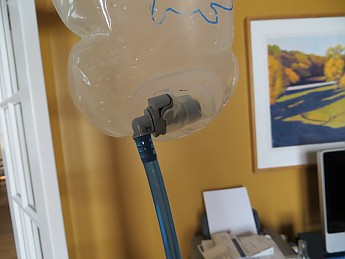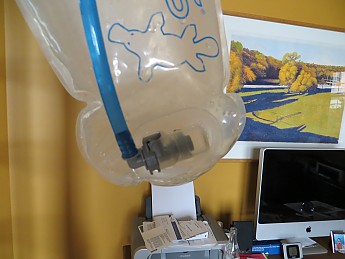 The hose attachment can detach from the bag.  So far, I haven't done that.  
Finally, perhaps the most important part of the process - how you get water out of this.  Platypus has a fairly big bite valve that is larger than others i have used.  It took me a little time to get used to it - you really have to bite the edge of the valve.  Water flow is very good, and the valve has not leaked or developed any drips, which is an issue than can develop with hydration bite valves.  The bite valve has a built-in twist valve to shut off water flow - important if you tend to toss your pack into a trunk without thinking whether the pack is pinching the bite valve.  With one competing brand, I had to purchase a separate shut-off valve.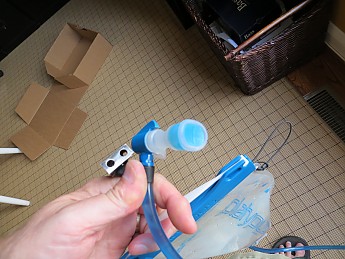 I also like that Platypus includes a clip to attach the hydration hose to your shoulder strap; with some other brands, I have had to purchase loops of velcro or other extras so the hose doesn't hang loose.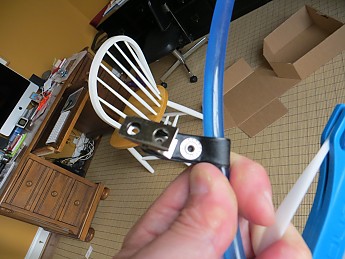 Overall, the Platypus Big Zip is a thoughtfully designed and well-executed hydration system. I have been very pleased with it.
Where to Buy
sponsored links
Help support Trailspace by making your next purchase through one of the links above.