User Review:
Primus EtaPower EF
Rating:


Price Paid: a lot!!! I live in Norway...

This is hands down the most efficient stove I've ever owned. Proof? 5 weeks on the trail with one big can of gas. Used for coffee in the morning, hot lunch, dinner and more coffee. I even heated water for a few showers!!!
There are some downsides to the stove. It weighs a bit more than a lot of others stoves out there, but for a longer hike it evens out since you can carry a lot less fuel. The frying pan/lid/plate is a bit too thin, and frying anything in it can be a bit of a challenge. Luckily you can turn the heat waaaay down so if you have the time it is not a big problem. The last problem is the size of it. I takes up quite a bit of space in your pack.
But I found a way to make it all worthwhile! If you bring a smaller pan, that fits into the EtaPower, but is still big enough for the burner to fit into it, you've got yourself an oven. I've used for making chocolate cake, bread and even pizza. Just put a few small pebbles at the bottom of the main pan, put the smaller pan on top of them, put whatever you're cooking in the smaller pan, put the lid on, and fire up the burner. Turn the burner way down, and let things cook. If you add a small amount of water in the bottom of the main pot things cook a bit faster. No crust on the top of what you're cooking though.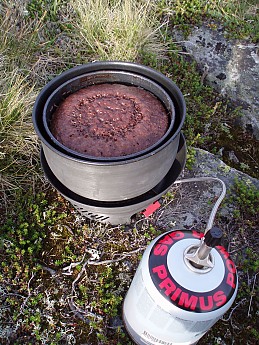 Where to Buy
sponsored links
Help support Trailspace by making your next purchase through one of the links above.