User Review:
Primus ExpressSpider
Rating:


Source: received for testing via the Trailspace Review Corps
Price Paid: Sample provided by Primus for testing and review

Primus's ExpressSpider is a small, lightweight (6.9 oz), affordable remote canister stove with manual ignition. It makes an excellent option for budget backpacking.
The ExpressSpider is easy and quick to set up and works well for simmering, boiling, and cooking meals like jambalaya and stir-fry.
The stove boils 1 liter of water in 4:30 minutes indoors (with a pot lid) and in 4:46 minutes outdoors (with windscreen and pot lid). It is easy to adjust to a simmer simply by turning the fuel valve knob.
The stove has one minor fault. The supplied aluminum ground protection disc/heat reflector that the stove sits on and folds for packing, is stiff and difficult to unfold flat, slowing down setup time and reducing stability.
Aside from the ground disc, the ExpressSpider is a great stove choice for backpackers on a budget who want a lightweight and efficient stove at an affordable price ($60 MSRP).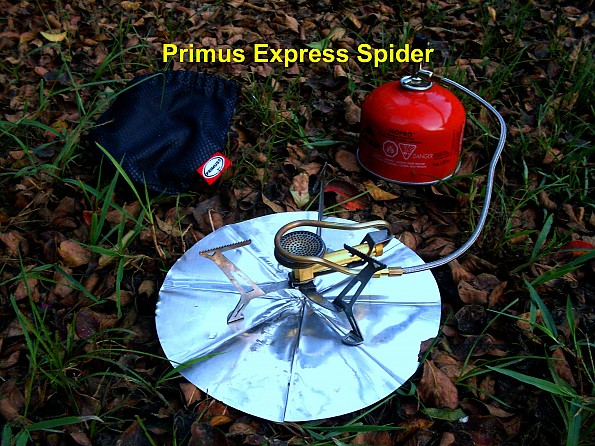 Pros:
Lightweight at 6.9 ounces (8.0 ounces with ground disc and stuff sack).
Packs small in the supplied stuff sack.
Fuel control knob is easy to operate and access.
Unfolding the legs and attaching the canister is quick and easy.
Affordable at $60 retail.
Cons:
No piezo ignitor.
The ground protection disc/heat reflector is stiff and if not unfolded completely flat does not allow the stove to sit flat and level.
After several uses the disc began to split along the fold lines.
Setup
Setup of the ExpressSpider was very easy, fast, and intuitive. You simply rotate the legs of the stove around until each leg stops on one of the three built-in tabs.
In almost three decades of backpacking and camping, I have used numerous white gas, multi-fuel, canister, and alcohol stoves, and the ExpressSpider is one of the easiest I've used. Setup can be done with gloves on.
The ExpressSpider has the same basic valve design as most remote canister stoves. Attaching the gas canister is simply a matter of first making sure the fuel valve is fully closed, then threading the canister onto the valve assembly. The stove is then placed on top of the supplied aluminum ground protection disc, which acts as a heat reflector.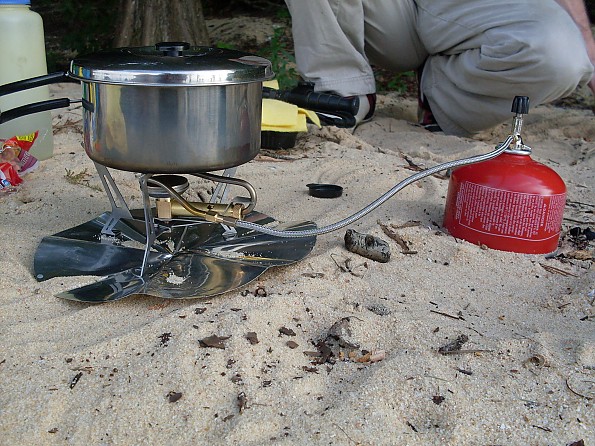 The remote canister design, which positions the burner assembly directly on the ground, instead of on top of a fuel canister, makes the stove stable, especially for large pots. However, using the supplied ground disc hampers this stability (see Ground Disc).
(Primus also makes the ExpressStove, a sit-on-top version in which the burner attaches directly to the canister, and that comes with, or without, a piezo ignitor.)
Flame Control
Lighting the ExpressSpider is a manual process that requires a lighter or match, since the stove does not come with a piezo ignitor.
The ExpressSpider is easy to light and adjusts smoothly from full flame to a steady simmer by simply turning the fuel control knob located on top of the canister and away from the stove. The fuel control valve is responsive and flame control is immediate.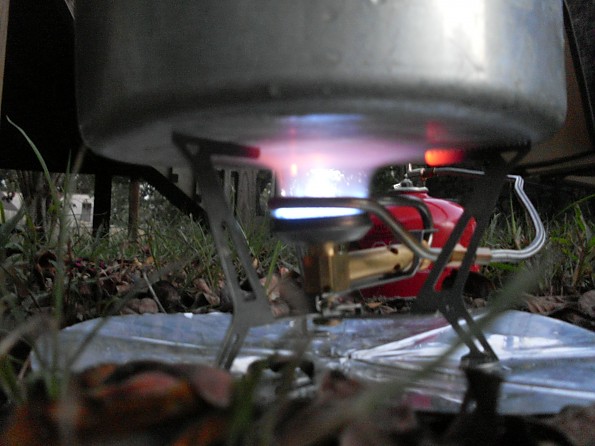 Boil Time
Primus claims a boil time of 4:30 minutes for one liter of water for the ExpressSpider and my indoor testing matched that exactly.
Outdoor times were more variable, as one might expect, but comparable.
Indoor Boil Time*: I found that the ExpressSpider met Primus's boil time of 4:30 minutes indoors for one liter of water, when using a pot lid, and just 17 seconds longer (4:47) without a lid.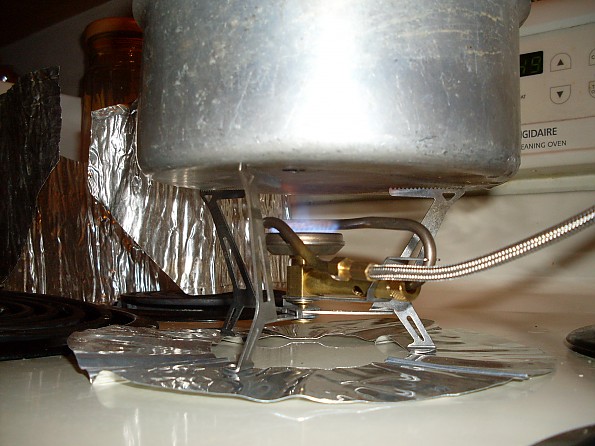 Outdoor Boil Time: In the field, I used the ExpressSpider on three separate day hikes and three separate camping trips in the warm and high humidity, low elevation summer conditions of South Carolina. Locations included forested areas and on the windy banks of a local lake.
I found the stove performed very well outdoors and close to, or under, Primus's claims during summer use. Field-testing with a lid resulted in boil times from 4:11 during an 84°F day, to 4:46 on a 65°F night.
Fuel Efficiency*
Not only does the ExpressSpider have an affordable purchase price, but it takes it easy on the fuel as well. I had good fuel efficiency with this stove by using a windscreen to block the wind and concentrate heat on the pot. (The version I tested did not include a windscreen, though Primus makes an ExpressSpider with windscreen.)
The ExpressSpider averaged 13.25g of fuel per 1-liter boil. That's 15 liters boiled per 200g fuel canister.
While I was unable to test the ExpressSpider in cold weather conditions, one potential advantage of this remote-canister design is that the canister can be inverted for better fuel efficiency in cold weather.
Cooking
The ExpressSpider performed very well both for boiling water and for preparing meals that required simmering. I cooked three lunches on day hikes, boiled several liters of water while in the field, and cooked several meals for two on camping trips.
The stove performed well with a variety of pots I cooked with, from my stainless steel mug up to 2-liter aluminum and stainless pots.
I did need to turn the heat down when using the small mug, and turn the stove off to avoid getting burned before reaching to grab the mug, but that would be typical of most stoves.
Aside from boiling water for tea, coffee, or freeze-dried meals I successfully cooked several meals including:
Salmon patties and jasmine rice
Fried Spam, eggs, and potatoes
Shrimp jambalaya
Pancakes and eggs with mushrooms
Stir-fry with brown rice
The stove was easy to adjust to a simmer by just turning the fuel control knob, which is located away from the burner.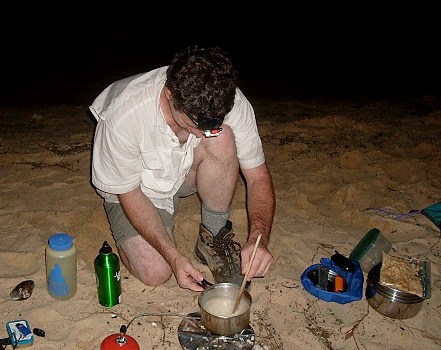 Packability
The stove fits in the palm of your hand and packs easily into its supplied drawstring bag. The stove also will pack into a Snow Peak 900 or similar size pot with room to spare. That's how I carried the stove securely in my backpack on hikes and backpacking trips.
Ground Disc
The only part of the stove that gave me any trouble was the aluminum ground disc mentioned above. The disc, which is stored folded in eighths, is difficult to unfold flat.
If not unfolded completely flat the disc remained wavy and did not allow the stove legs to sit flat and level, greatly reducing stability.
Placing a pot of water on the stove did not flatten out the disc. This caused the stove to move around or slip on the disc as a pot was placed on it, or as I started to stir the pot. This made the stove unstable and potentially dangerous.
I resorted to flattening the disc by gently stepping on it while it was on top of a solid surface. After doing so the stove would sit level and stable. However, after 20 uses the disc began to crack along the fold lines (see photo below).
Compared to a similar disc from my MSR WhisperLite, the ExpressSpider's ground disc is thicker (.09 mm versus .11 mm), heavier (19 g versus 15 g), and felt stiffer and less pliable.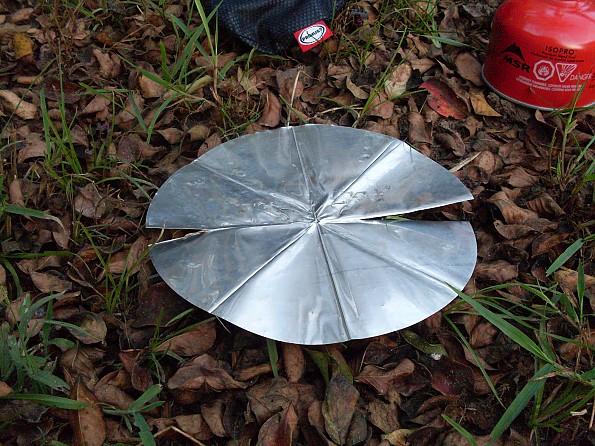 The ground disc is not necessary for the operation of what is otherwise a great little stove. In fact the ExpressSpider felt much more stable without the disc. Personally, I would just leave the disc at home or replace it with another model or a more flexible option, such as the aluminum from a turkey roasting pan.
Durability
With the exception of the non-essential ground disc, the ExpressSpider is well designed and sturdy enough for its intended backcountry use, especially for its light weight.
A redesign of the ground disc would make this an all-around excellent stove, especially for those concerned with weight and bulk.
I would recommend the ExpressSpider as a small, reliable, lightweight stove that won't break the bank for solo trekkers and small groups that want to boil water and cook meals.
* Testing Notes
Boil Times: To establish indoor boil times I performed several controlled indoor tests (68-70°F / 20-21°C), boiling one liter of 68-70°F (20-21°C) water in a 1.5-liter aluminum pot. I conducted three tests without the pot lid, and three with the lid, allowed the stove and pot to cool between tests, and averaged each set of tests.
Fuel Efficiency: To determine how much fuel the stove consumed per boil I performed 10 indoor boil tests with one liter of water, allowing the stove and pot to cool between tests. I started with a new fuel canister, and used a 1.5-liter pot and lid along with a windscreen.
Starting canister weight: 355g
Ending canister weight: 222.5g
Fuel consumed: 132.5g
Average fuel per boil: 13.25g
[Editor's Note: Primus provided a sample of the ExpressSpider for testing and review.] 
Where to Buy
sponsored links
Help support Trailspace by making your next purchase through one of the links above.