User Review:
Princeton Tec Apex
Rating:


Source: bought it new
Price Paid: $70

Summary
Using it caving.
Pros
Bright light
Semi-waterproof
Cons
Shorts out
Difficult to work with gloves
The Princeton Tec Apex is an adjustable headlamp providing 4 levels of brightness, 150 hours of useable lighting, and a maximum brightness of 200-lumen, reaching 380 feet. It runs off of 4-AA batteries, but can also be powered by Lithium or NiHM rechargeable batteries.
The lighting consists of four 5mm LED bubs (called "Ultrabright" by the manufacturer). Two are placed on each side of the center bulb, which is a 1-watt LED (called "Maxbright")
Princeton Tec provides the following burn times for each setting:
Maximum burn times: [5mm Blink] 200hr; [5mm Low] 150hr; [5mm High] 100hr; [Maxbright low] 96hr; [Maxbright high] 60hr
Maximum beam range: [5mm Low] more than 23m; [5mm High] 46.4m; [Maxbright low] 69m; [Maxbright high] 116m
In most caving situations, I find the 5mm Low setting to be sufficient. I only use the Maxbright High setting when I want to light up a big room.
The elastic adjustable head strap easily fits over a climbing helmet or directly on the head. [Due to the weight (and range of brightness), I would not recommend this headlamp for backpacking or camping. There are lighter, functional headlamps to throw into your pack.]
A few years ago, this was the best "affordable" light being used by cavers. Today, I'm one of the only in my caving club (called a "Grotto") still using it.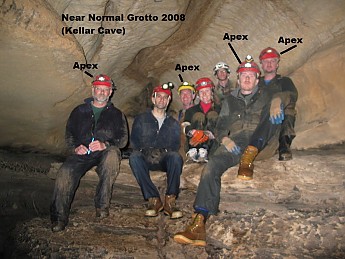 The problem is we've all encountered the light shorting out on us at one time or another. This usually occurs when the battery pack is bumped in some way. It doesn't happen often, nor does it last (a second bump always brings it back on). But it has happened to all of us using this light.
The buttons to adjust brightness are underneath the four 5mm LEDs. These are difficult to press when wearing gloves. I often have to remove my muddy gloves to switch settings.
Still, when everyone else in my Grotto switched over to $200-$500 lights, I stuck with my Apex. I don't cave as much as the other guys, and I hate putting that much money into a lamp.
While a decent headlamp, the Apex is a perfect example of why anyone entering a cave should have a minimum of 3 sources of light. I have a secondary lamp mounted to my helmet and a third one in my cave pack. I also carry a couple of glow sticks in my first aid kit. Should I become stranded, I can conserve battery life and still easily have a full 48 hours of usable light until help arrives.
The Apex is described by Princeton Tec as "Level 2 Waterproofing." Not knowing what that means, I quote from their product description.
The entire unit features Level 2 waterproofing, which means it will handle brief submersions under water but not at depth or for long periods of time
In the following video, you'll note my helmet is off, with the light attached to it. Several times, the light is completely submerged. You can see the glow of the light beneath the surface of the water.
I have submerged my headlamp dozens of times over several years, and I've never experienced any problems. I would note that I have seen condensation in the battery pack after trips like this. Therefore, it is important to remove the batteries and let the battery pack breathe to prevent corrosion.
Where to Buy
sponsored links
Help support Trailspace by making your next purchase through one of the links above.