User Review:
Sawyer Mini Filter

(SP128)

Rating:


Source: bought it new
Price Paid: $25 plus taxes

Summary
Very small, versatile, robust and high flow water filter system. This filter system fits in the palm of your hand, weighs nothing and has is rated to 100,000 gallons.
Pros
Small and lightweight
Robust
High flow rate
Easy to clean
Great with bladder/hydration packs
Cons
Pouch may develop leaks
Will freeze up in cold weather unless protected
No adaptor for Nalgene bottles
No carry bag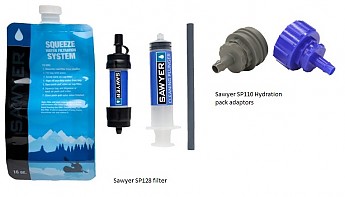 I'm writing to express my enthusiasm for a new Sawyer SP128 water filter device that I tested while hiking in the Adirondack mountains this past weekend.  I'm an avid mountain climber and my hikes will often consume 8-10 hours per day or take a full weekend with an overnight camp.  As such, I always take great care to be prepared.  
One of the elements I always carry is a water filter.  I have numerous types of Katadyn and MSR filters, all of which work great, but each takes up a good chunk of space in my pack and each requires effort to pump 2 liters of water (which is the size of my hydration bladder).  At times, after a lengthy hike, the effort to pump 2 liters can take quite a bit of energy.
On seeing the Sawyer SP128 system, I marveled at the size and the tech specs and wondered if it really could do the job that the packaging stated.  As I use a 2 liter bladder, I could not see how it could work for me until the EMS store clerk pointed out that the SP128 screwed onto most bladder systems or could be retrofitted to any bladder system with the SP110 adapters.  I quickly discovered that my "WLP" bladder system was not compatible but could do so with the SP110 adapters.  I bought the SP128 and SP110 adapters.
I flushed the filter out as per manufacturers instructions and then set about testing the filter before my ADK hike. I filled the 16 ounce bag with tap water, attached the filter and then squeezed the water from the bag into my Nalgene bottle. I was quite surprised at the high flow rate that the filter allowed.  I was able to squeeze the water out of the bag within 20 seconds.  Not bad for 16 ounces and faster than my other filter systems.  
I then attached the straw to the filter and then sucked the water from my Nalgene bottle.  Again, the flow rate was quite acceptable.  I then tested the black flushing mechanism - which was simply filling a syringe with water and then attaching it to the filter in reverse and then flushing.  Again, simple.  I could not tell whether this really worked - so I have to trust the manufacturers instructions for repeating the flushing two or three times with fast flushes.
With trepidation I did the unthinkable and cut the hose on my hydration bladder and then pushed the SP110 adapters into the tube ends.  This was quite hard and it told me that there was a good seal. I then screwed the SP128 filter onto the adapters, filled my bladder and tested by sucking through the tube.  I was very pleased to find that it did not added any more effort to suck water from the bladder system, nor did I see any sign of water leakage from the adapters.  
My ADK hiking trip this weekend targeted the "Lower Great Range" 27Km and 5 ADK peaks.  This trip took 10 hours and we experienced snow and chilling high winds.  Prior to our ascent to the peaks I filled the bladder from the stream at Lower Ausable Lake, knowing that I would drink lots of water as we climbed. I was now committed to using this new filter and I hoped that (1) The filter would do its job (for obvious reasons) (2) The adapters would not leak over the duration of my hike (didn't want wet clothes or food on this particular journey).
As we climbed and crossed each peak, I drank from my bladder - forgetting that I had fitted the SP128 filter inline on my bladder.  On Armstrong Mountain Peak I noted that my drinking tube was freezing.  In all my winter climbing, this was a first.  I then remembered the SP128 filter and was pleased that I had attached it at the lower end of my drinking tube and it was buried in my pack.  I believed that it would have likely iced up has it been exposed.  
At the end of my hike I checked the filter and adapters - no leakage and they had withstood being jostled around against all the other items that I had in my pack.  On returning to my motel I was able to easily and flush the filter and it dried overnight.
I was extremely pleased with this system.  I have now deleted a larger and heavier Katadyn / MSR filter from my pack.
After I returned from my trip, I disconnected the filter from the adapters and screwed them together and tested them for leakage.  I was pleased to see that they made a water tight connection.
My initial thoughts for the SP128 filter are:
PROS
Small and lightweight and appears to be quite robust.  All great values.

Quick to flush and quick to dry

Easily adapted for non compatible Hydration systems 
CONS
Though not experienced by me - several reviews indicate the pouch may develop leaks.  This is quite plausible as you have to squeeze the pouch while it is full of water.

I'd like to see an adapter for the Nalgene bottles with the small opening as this would allow you to carry a Nalgene bottle with the filter attached -  for me this promotes mobility and saves holding the filter and straw while holding a Nalgene bottle.  I do realize that the filter screws into the commercial plastic water bottles - but I will never carried these flimsy bottles on my hiking activities.

The SP128 system I bought contained a filter, straw and 16 ounce squeeze bag.  There was no carry bag.  This is a significant oversight in my opinion.  I will purchase a small bag from a local store to keep these items secure and together.
EDUCATION
I am a Scout leader and teach outdoor skills.  For the last three years I have been demonstrating to youth and adults how to make portable water from back country sources.  I have developed an educational program that covers (1) learning about pathogens in back country water and (2) Practical hands on experience with different filtration/purification devices for (3) Solo/Group activities.  
I have lots of different pieces of equipment for this program - but not a Sawyer water filter system.  After personally trying out this water filter, I am going to get another system and add it into my program as a teaching aid.
I bought my system from the EMS store in Lake Placid for $25 plus taxes. A very reasonable price. EMS did not carry the full line up of Sawyer filters, but were pleased to answer questions and order for me anything that I wanted. Because the clerk was able to help me figure out how to use the filter with my hydration system, it was clear that the staff knew their stuff.  Pretty good service.  
I checked on Amazon and note that the costs for Sawyer filters were slightly higher than EMS (not including shipping) - but more significantly, you could buy them in packs of two with better pricing.  This suits me as I can have an inline filter on my bladder system and then have another filter for a teaching aid or a portable system for filling up Nalgene bottles if I were hiking in a group.
SUMMARY
Very pleased with my new filter. I can see it becoming established as a filter of choice for my upcoming ADK hiking activities.
Where to Buy
sponsored links
Help support Trailspace by making your next purchase through one of the links above.