User Review:
Sawyer Squeeze Filter
Rating:


Source: bought it new
Price Paid: $46

Summary
The Sawyer PointOne Squeeze Water Filter System is taking the hiking world by storm as more and more hikers are beginning to realize that for potentially the first time ever, a hollow fiber membrane filter has been developed that offers an excellent weight level and a 1.0 Micron Absolute filter. It has faults with the bags, and the attachment points do not play nice with most other popular bags, so I removed one star for those two issue.
Pros
63.25 grams / 2.231 ounces!
1.0 Micron Absolute!
Indestructible (unless you let it get frozen)
Cons
The attachment points use an off-sized threading make it hard to use other popular water bags
Many people have discovered that the included bags are not very durable
Cannot buy just the filter — they force you to buy the bags
A lot of hikers place a lot of value in making sure that their water is filtered, and rightly so.
I have gone through a lot of different water filters, like most of us have I suspect, trying to find one that works for me. Forget trying to find "that perfect one"… these days I just try to find one that makes me happy and feel safe and does not weigh a lot.
I have bought the Sawyer Three-way filter, but it was way bigger than what I expected it to be and thus it never made it into my backpack. Plus I almost never drink directly from a storage bag and I am just not a fan of the whole gravity system. Nothing against those methods, I just do not care to go down those roads, done them both and just do not like either of them.
I have bought the SteriPen Adventurer Opti and really do love it. It has never failed me, something I hear happens to people here and there. It is also something that I do not have to worry about freezing in sub freezing conditions. If you have ever woken up and realized that your standard membrane filter is frozen and totally unusable, you know what I mean. Yes it requires batteries, but I do not care about that. It is really no different from carrying fuel for your stove, its just a necessary part of your overall total backpack weight.
Awhile back Sawyer released their "Sawyer PointOne Squeeze Water Filter System" which at first I neglected to take a close look at, but here a few weeks ago I came across it again and took a serious look at its technical specs and it jumped out at me as something that could be the finest – and lightest weight – membrane filter system available for hikers.
Technical Specs:
Filter Weight: 63.25 grams / 2.231 ounces (filter by itself without cap nor blue instructions label)
Cap Weight: 5.78 grams / 0.204 ounces (would be completely unnecessary if all you plan to do is filter water and than store the filter in a bag)
Filter Weight After Use: 82.26 grams / 2.90 ounces (filter by itself without cap nor blue instructions label, shaken and blown out as best as I can)
2 Liter Bag: 29.42 grams / 1.03 ounces (compare that to 36 grams / 1.269 for a standard 2 liter Platy bag)
1 Liter Bag: 22.4 grams / 0.79 ounces
0.5 Liter Bag: 17.98 grams / 0.63 ounces (I personally feel this size is pretty much worthless for any long distance hiker – but this could be very sweet for trail and endurance runners or a quick XUL overnight hike)
Filter Time:
It takes me exactly 1 minute and 10 seconds to filter a full 2 liter bag.
This is without the white bottle cap on the outlet. With the white bottle cap on the filter it takes me 1 minute and 50 seconds. As I do not carry the white bottle cap it does not make any difference to me. But still, under two minutes to treat two liters of water, that is pretty much untouchable by any other method out there.
Compare this to the SteriPen Adventurer Opti which takes takes three minutes to filter 2 liters of water.
Compare that to hours and hours for tablets and liquid chemicals. Read a great discussion talking about these two types of treatments.
How I Use It:
I typically carry no more than three liters of water, however some times a fourth liter of water just becomes necessary. That is maximum water carried. Realistically I tend to carry one liter of water, whatever my bottle holds. Again this is due to living in a wet/raining environment. Your situations may be different of course.
So for me what I have started to do is to carry my standard one liter bottle and than carry the 2 liter Sawyer bag and the Sawyer Squeeze Filter.
The total weight for the filter and the bag are 92.77 grams / 3.27 ounces.
My SteriPen Opti Adventure is exactly 100 grams / 3.52 ounces.
So by switching over to the Sawyer PointOne Squeeze Water Filter System I am able to save 7.23 grams / 0.255 ounces when the unit is fully dry. Not a whole lot of weight for a UL hiker but a worth wild amount for any SUL/XUL hikers to consider.
Now I am fully aware that the Aquamira Frontier Pro is much lighter than this at 57 grams / 2.0 ounces. However – and this is a big however – it only filters down to 3 micron. The CDC confirms that in order to properly filter Cryptosporidium, Giardia (the two biggest issues we face as hikers) you must have a filter that can do at least 1.0 Micron Absolute. Therefore the Aquamira Frontier Pro is realistically not even a viable single-treatment option for hikers. It is very important to understand the difference between Nominal Microns and Absoulte Microns.
Bag Durability:
There is a lot of talk on the internet about how durable the bags themselves will be — and rightly so. Given that the idea of this whole system is that you have to actually squeeze and crunch and abuse the bags, hopefully Sawyer had the foresight to actually make them tough enough to handle a thru-hike.
Given the fact that you can buy three of the 2-liter bags for around $10 bucks, whereas a 2 liter Platy bag usually costs around $12 bucks for one, if the bags are just as durable that will be very sweet, as they would thus be both less expensive and lighter weight than the 2 liter platy, which has become a mainstay in nearly every backpack these days.
Should you puncture a bag and you do not have another bag, you can always screw it onto the top of most plastic bottles out there that use a standard top connector, such as a 2 liter bottle that you can pick up from just about any trail town. It also fits on a few 1 liter bottles that I have tried, but I am not going to start listing each and every freaking 1 liter bottle and whether it fits on them or not, so do your own home work on this ;)
I cannot remember exactly when they came out, but it seems like it was the end of 2011 (Octoberish?), which means that the 2012 thru-hiking crowd will be the first group of thru-hikers able to really put them through the test, so if you are out there hiking in the 2012 season I would love to have you jump back to my website after your hike and share how they work out!!
Playing Nice With Other Bags By Using Alternative Washers:
One of the key issues facing all of us as hikers these days is that there are only a small handful of water bag containers out there – Platyus, Camelbak, and Hydrapak being the big three. So we would expect that when a water filter manufacturer releases a new product it will play nice with both of the big two companies that make water hydration bags.
For the most part the the Sawyer PointOne Squeeze Water Filter works not only on the provided Sawyer water bags, but they also work on most of the Platyus and Camelbak hydration water bags. There have been reports by some that a bag here or there does not properly seal – which is bad, as it could allow dirty water to drip down into your clean water.
The filter itself does fit onto a Platy 2 liter bag, with rare situations where it does not work, and for those situations it has been discovered that a simple garden hose washer totally solves the problem. ref
I have also been told by a hiker (Thumper) within the pct-l mailing list that Sawyer has released "a new adapter set that allows the Sawyer PointOne Squeeze Water Filter System (SP-131) to be used in-line with Camelbak by attaching the filter inline with the bladder and drinking tube inside the pack… the adapter set is SP-110 and costs $6.99 plus shipping" ref
So this will be awesome for those that like to go the route of a double bag gravity system and would like to go with this lighter weight filter rather than the heavier Three-way filter. This new adapter could (maybe?) also be used in a few different situations… such as doing a system such as hydration bag -> filter -> new adapter -> standard hose with bite-valve. It will be interesting to see if that combination could work out, and how much force it would take to pull water through the filter, I suspect it would not work all that well, but if somebody out there buys ones of these new adapters and tries this, please stop back by here and post whether or not this works!
The Sawyer bags are lighter and less expensive — if they prove to be just as durable, or even nearly as durable, it could be illogical to go with a more expensive and heavier water hydration bag.
I have tested the Sawyer PointOne Squeeze Water Filter on my 2 liter platy bag and can confirm that it does not work – the filter will not properly screw onto the bag, which kind of sucks that Sawyer was not willing to play-nice with the Platy bag.
I do not have a CamelBak hydration bag to test it on so I am unable to provide any solid and reliable personal details on how the two play nice with each other.
I received an email yesterday from a hiker by the trailname of "SomeGuy" who after reading this article he went to a local big-box-store and purchased both a 1/16th washer (think a washer for your garden hose) and while he was there he also picked up a couple of these to try. This second one could sort of be kind of neat if you are going to be somewhere that there will be a lot of small sticks and mud chunks and other debris in your dirty water source.
I myself have swapped out the original washer for a 1/16th and can confirm that it works perfectly on both the 2l platy bag and the original Sawyer bags. So for $0.49 cents, just go buy one of the 1/16th washers and throw it in there (replacing the original), as than should you find yourself needing to use a platy you will not have to wonder if it is going to work or not.
Backwashing:
I have had a few people message me about backflushing/backwashing this filter and if that crazy huge and heavy syringe is something all of us are going to have to lug around.
I had to go on a hunt to find some exact figures on how often Sawyer recommends you backwash this filter and they recommend doing so every 5 through 10 gallons of water. Many thru-hikers consider the 8 liter mark the mark to shoot for when it comes to water consumption per day (especially in desert regions) so that means that every 4 or 5 days you should consider backwashing it. That is perfect for those who use a bounce box from town to town. If you are not up for using a bounce box and want to carry the syringe, I just threw it onto my scale and the syringe is 33.34 grams (1.176 ounces).
Video:
This is the official promo video for the filter. It does not really highlight anything special for this filter, but I felt like I should include it within this review.
Photos:
Here are some stock photographs of the Sawyer PointOne Squeeze Water Filter System.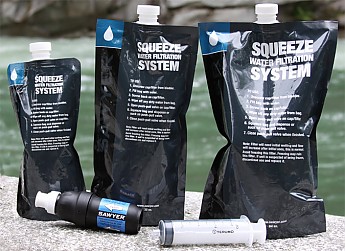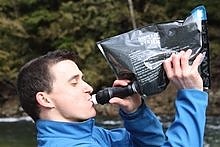 Final Thoughts:
Until something lighter comes along that provides full 0.10 Micron Absolute level filter that does not involve waiting hours and hours to have drinkable water, and is under the 2 ounce mark, the Sawyer PointOne Squeeze Water Filter System is going to be the only filter making it into my backpack.
It is fast enough for my needs, is light enough to justify carrying in those situations where I know I will need a filter, and while it is a bit expensive, it is far cheaper than a UV filtering system and far less expensive than buying the other filters out there that do not have a total gallons rating that this does. Every way I look at it, this is the winner in every category when it comes to a water filter for hikers.
Where to Buy
sponsored links
Help support Trailspace by making your next purchase through one of the links above.