User Review:
Sawyer Squeeze Filter
Rating:


Source: gift

Summary
If all backpacking equipment could be simplified and lightened with the excellent results Sawyer has achieved with the filter itself, people could "float" down the trail. The bag failure is the only reason I scored it down.
Pros
Compact
Quick to use
No moving parts
Easy care
Cons
The bags are not durable
Bags prone to failure
Bags are hard to use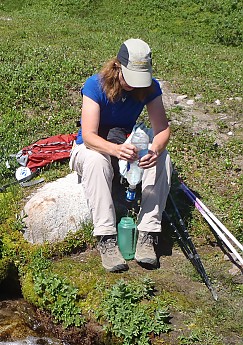 After reading several of the reviews on here, I mostly agree with the general consensus.
I got around the fill problem by using a plastic water bottle that fit the threads. The bottle was much more controllable, including not suffering from floppage and slippage when trying to fill other vessels.
I also figured out right away to keep my water filter clean, and keep water out of my pack from leakage, I just blew the water out from the clean side. It helped to "backwash" the filter, and left little water to drip.
After using the Katadyn Hiker and MSR Sweetwater filters, I found this filter to be faster and easier to use.
A bit of advice I got was in very cold temps to be sure to toss the filter into your sleeping bag, and to keep the filter from freezing so it doesn't split it open.
Good flavored water. Take all of the typical precautions of keeping the water filter clean (prefiltering murky water, letting the water settle, and use a dip cup to fill the bag or bottle to filter) and the filter should give you years of good service.
I used this for a party of four on Mt. Rainer, and found it to be adequate to handle our water needs.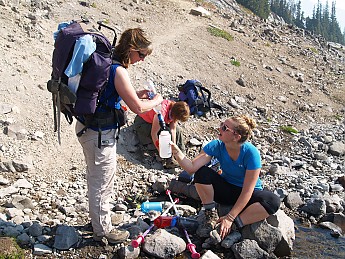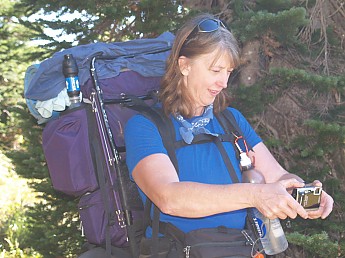 Where to Buy
sponsored links
Help support Trailspace by making your next purchase through one of the links above.