User Review:
Sawyer Squeeze Filter
Rating:


Source: bought it new

Summary
The Sawyer Squeeze filter system is a lightweight and effective alternative to traditional pump filters. It works well for long distance hikers or anyone wanting to reduce their pack weight and traveling in areas where filtering is desired (and sufficient).

While caution is required to avoid contaminating clean containers, it has worked well for me on several one to four-night trips as well as a 30-day trip in the Sierra Nevada of California. I recommend this system for those taking similar trips.
Pros
Lightweight compared to pump filters
Compact compared to pump filters
Quick operation
Cons
Bags have a short lifespan and are subject to leaking and breakage
Practically speaking, the system requires an additional container to fill the bags under some conditions
Unresponsive Customer Support
Preface
This review covers my experience with the Sawyer Squeeze filtration system, and does not cover the larger topic of of water treatment. For a thorough study of that topic I refer you to an excellent four-part series by Bill S.
Background
Years ago in the White Mountains of New Hampshire I drank freely from creeks and lakes while hiking and backpacking.  Many people still do that in some areas including the Sierra Nevada where I do most of my hiking now.  However given the risks involved with the seemly ever-increasing backcountry usage and potential contamination of water sources, I choose to be safe & filter my water. 
Up until recently I used an MSR Miniworks.  It weighs in at roughly a pound, and it works well in its own right.  However I always found it heavy and bulky in my pack, and it seemed like it took forever to pump a liter of water.
About a year ago while preparing for a 30-day John Muir Trail through-hike, I learned of the Sawyer Squeeze system. It is advertised as having a field weight of 3 ounces and taking "virtually no space in your bag". While these claims don't exactly match my experience, they come pretty close. 
In reality, when factoring in spare bags, the cleaning syringe, and water inside the filter on the trail, the whole kit weighs in at about 7.25 ounces.  The filter itself weighs 3.65 oz (wet).  Each 2L bag weighs 1.1 oz including its plastic cap.  If one chooses to omit the extra bags and syringe, they could get close to the advertised weight and size.  With everything below included, it fits nicely in a bag measuring approximately 9" x 6" x 2" (though rolling the bags around the filter might be more efficient, the flatter form factor fits well in the back pocket on my pack).
The Sawyer Squeeze consists of a small tubular filter in a plastic enclosure, and one or more heavy plastic bags used to hold the unfiltered water.  They are sold in multiple packaging configurations including various combinations of bags and adapters (for attaching the filter to various kinds of containers).  It also includes a plastic syringe used to backwash the filter (using clean filtered water!) to push out contaminants which may clog it, and a spare washer for the filter.
The kit I carry includes the following:
the filter

three 2L bags

the syringe

a spare washer for the filter

a spare bag cap

a lightweight bag to hold everything
Effectiveness
I have used this system in a variety of water sources ranging from minuscule slow-moving creeks, to larger fast-moving creeks, to small lakes (all of which were in the Sierra Nevada and Trinity Alps of California).  While some users suggest pre-filtering the water using a bandana or other means, I haven't found it necessary.  This may be beneficial if filtering from murky water. 
With the exception of a second or two of cloudy water at the beginning of each filtering session (which I assume has to do with something in the filter accumulating in the water between uses) the water comes out clean and clear.  The system adds no taste to the water as one would get with a treatment system (as opposed to a filter system like this one).
The filter is advertised to provide "0.1 absolute micron biological filtration, removing 7 log (99.99999%) of all bacteria...".  I don't have any way to validate these claims.
Speed & Efficiency, Ease of Use
Compared to my old Miniworks, I subjectively find the Squeeze to be very quick (I haven't actually timed the Miniworks).  The actual speed of filtration does vary depending on how long you've been out on the trail using it without a backwash session, as well as the state of the water being filtered, and of course how hard you squeeze the bags. 
With my usage in the Sierra, I find it helpful to backfush the filter every few days.  It could go longer, but I get spoiled by the quick operation of the system when it's clean.  When it is freshly backwashed, it takes me about 40 seconds to fill a 1 liter bottle using city tap water.  That is achieved by using two hands to hold a 2L bag and squeezing with what I consider to be moderate pressure.  
One concern with this system is around filling the bags with water to be filtered.  If you're lucky, you're in a spot where there's falling water — like a small waterfall, a creek on a steep slope, a creek with water rushing between large rocks, etc.  The bags fill very easily under these conditions.  However if you are someplace where the water is either moving slowly (like a small shallow creek) or if it's still - either a large slow river or a lake - the bags would be very difficult to fill. 
For this reason I carry a 1.5L SmartWater bottle as an accessory to the Sawyer system. I've been able to fill this bottle under all conditions I've encountered (though even this can be challenging in a tiny creek).  I then stand up the bags and fill them with water from the bottle. This approach has the added benefit of giving me a 1.5L supply of unfiltered water at my campsite for washing (and I've used it to put out the remains of campfires others had left unattended when breaking camp). One should just be careful to wipe any spilled water from the outside of the bag before using the filter near a clean container (to avoid dripping into the container).
There is one feature I wished for on several occasions. It seemed like if there was a way to hang the bags, then it could also be used as a gravity driven filtration system. Perhaps some strong grommets at the bottom of the bags would enable this. This isn't a big issue, though, since the filter works quickly anyway.  It would just be useful to enable filtering of the last remaining water from each bag (more on this later).
Capacity
The bags come in .5L, 1L, and 2L sizes.  I find the 2L size about right for my usage.  There's a certain amount of water you can't reasonably use from each bag since Sawyer recommends that users not wring the bags, but instead just squeeze them.  I haven't tried the smaller bags so I can't comment on them. 
Since I carry three of the 2L bags, I can fill them all once when I first set up camp, and that's enough water for my dinner and breakfast, as well as to top off the water bladder in my pack — so I only make one trip to the water source.  This enables me to avoid trampling water-side vegetation, and minimizes time spent at the water where insects tend to swarm.
Construction & Durability
So far I've used this system for roughly 40 days of backpacking.  The filter itself hasn't shown any signs of deterioration.
The bags, however, are a concern. I've had 2 bags spring leaks near the top where the plastic spout attaches.  One bag broke, but only because I dropped it while it was full. I try to treat the bags with the utmost of care, since a broken (or leaking) bag could contaminate a clean container (like a water bladder) that would be difficult at best to clean again in the backcountry.
While on my 30 day trip I had 5 stops to re-supply. I had shipped a new spare bag in each re-supply, so at each stop I cycled out and discarded one of the old bags. As a result I only had one minor leak during the trip. I did have a more major leak on a later trip.
As mentioned previously (but worth repeating), Sawyer does recommend that users only squeeze the bags and that they avoid wringing them. Apparently the wringing action is more likely than squeezing to cause bag breakage.
The bottom line is if you're careful (don't drop the bags, don't wring them, don't hold them by the spout when they're full, roll/fold them carefully) they should last for numerous filter sessions.  Sawyer advertises them to be "re-usable hundreds of times".  In my use I don't find that to be an accurate statement, and I consider them disposable.  I do also suggest being very careful when filtering into difficult-to-clean containers.  I have seen accounts from others of bags actually bursting in use (even when new).  Fortunately I have not experienced this (yet?).
Some users report using alternatives to the Sawyer bags.   Apparently some types of Platypus bags will work.  I have not tried any of these so can't comment on them.
Closing Comments
One final comment I will add is in regards to Sawyer customer support. I had some questions about the system after I bought it. I sent an email to the listed support address and there was no response. I find this unacceptable and this is reflected in my rating of the item.
In spite of the concerns mentioned, I have had mostly good experience with the Sawyer Squeeze filter system, and still rate it highly. I do recommend it for others looking for a lightweight and compact system to filter water.  

Here's the filter itself: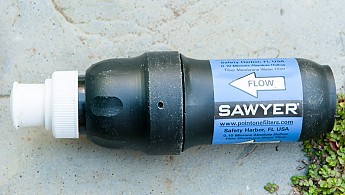 Filter attached to a full 2L bag (1L Nalgene bottle for scale)
Filter attached to 2L bag after filtering into the 1L bottle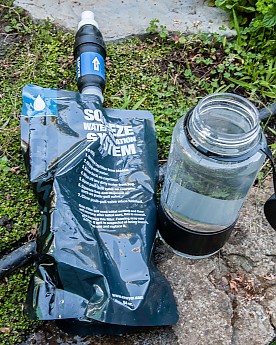 This is the kit I carry.  The white bag isn't part of the Sawyer supplied kit.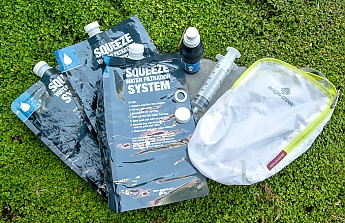 Here's the kit all packed up and ready to go. The Nalgene bottle just happens to be on the scale.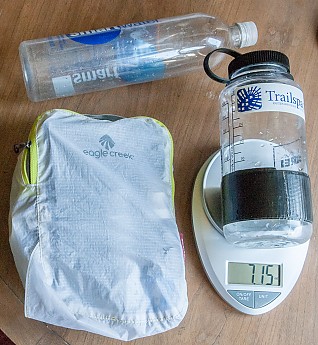 This shows the scale of the 1.5L SmartWater bottle next to the 1L Nalgene bottle.  It is taller and more narrow than the Nalgene bottle.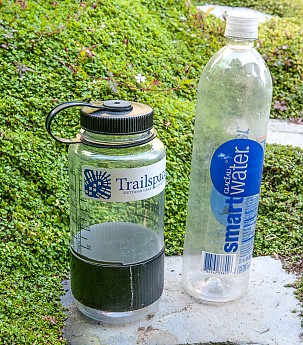 Here's the filter attached to a partially full 2L bag along with the rest of my mealtime supplies at a campsite on the trail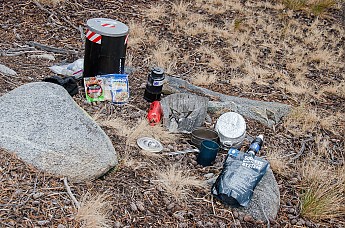 The 2L bags come folded lengthwise and rolled up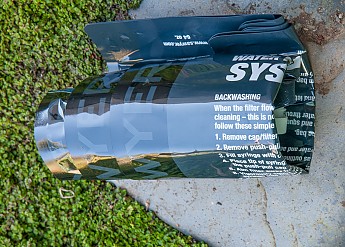 and they are packed 3 to a package

No instruction manual required — usage instructions are printed on each bag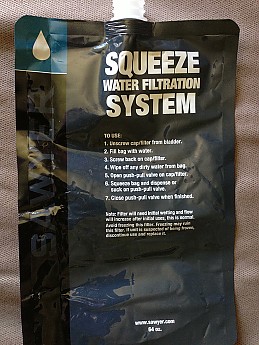 Backwash instructions are provided on the other side of each bag: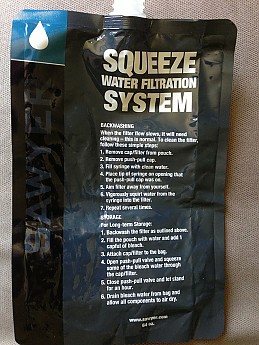 Where to Buy
sponsored links
Help support Trailspace by making your next purchase through one of the links above.