Scarpa
Rapid LT
1

review

5-star:

0

4-star:

1

3-star:

0

2-star:

0

1-star:

0
Reviews
A real challenger. Lightweight with minimalist comfort,…
Rating:


Source: received for testing via the Trailspace Review Corps (Sample provided by Scarpa for testing and review)

Summary
A real challenger. Lightweight with minimalist comfort, and modern design. An excellent light trail shoe with good traction and good foot protection.
Pros
Light and comfortable
Great traction on wet surfaces
Modern low-profile, 'minimalist' design
Planet-friendly
Good foot protection
No break-in or hot spots
Good ventilation
Stylish design
Cons
Not waterproof, but that's a trade off for coolness.
No ankle support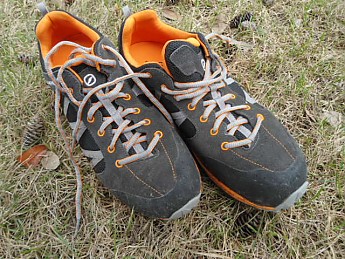 Introduction
Part of Scarpa's planet-friendly product line, the Scarpa Rapid LT is first and foremost a light and nimble alpine shoe. Like its cousin, the award-winning Spark trail runner, the Rapid LT offers a minimalist design for hiking, approach, and general trail use without sacrificing comfort or foot protection. It's a suede and fabric combination, with recycled rubber and synthetic components.
While I've had concerns with the narrow European lasts in that past, I found the shoe to be true to size and the toebox to be much wider than expected. Lots of wiggle-room for my toes, and the shoes were flexible and comfortable right out of the box. No break-in needed, always a plus. As general-purpose 'around town' shoes the Rapid LTs were good on pavement, gravel or grass and they were even nice for driving! Mine came in 'anthracite (dark gray)/orange', a stylish colour combination that looked great.
Performance Below Treeline
But the Scarpa Rapid LT is a light trail shoe (640 gms/1.4 lbs, Men's size 11) and the first step was to try them out on a few of the more interesting trails in the Edmonton area. As a hiker, I'm used to a heavy sole, high ankle and a solid feel to my footwear, so I was concerned about the apparent lack of protection offered by the light shoe. I've known for a while, though, that my big boots (Salomon MegaTrek 6) were overkill for many situations, and the weight penalty (1.7 kg/3.75 lbs per pair) gets to be a nuisance much of the time.
The first trail I hit was a mix of dirt and gravel on an Edmonton river valley trail used by runners and walkers.
As expected, they did well on that kind of surface, so I headed out for something a bit more challenging at the Chickakoo recreation area. Some minor bushwhacking and a bit of puddle-jumping near the lake.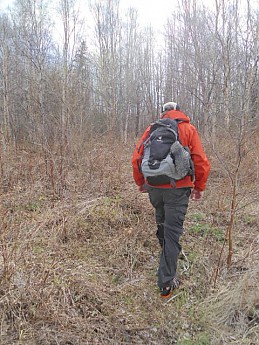 The lugs on the Scarpa Rapid LTs are quite shallow but also quite sticky. Especially on wet roots and rocks, I was impressed with how well they held and how solid my foot felt. I would be confident wearing these on wet limestone or cedar roots – frankly, not something I expected.

Made mostly of recycled materials, the Rapid LT has a low profile EVA midsole made of 25% recycled rubber and with an EcoPure additive to promote landfill disintegration. With 6 mm of drop from heel to the ball of the foot the midsole provides extra stability by keeping the foot closer to the trail. Unlike lighter shoes, I found no tendency to feel every pebble poking through, and a rubber toe rand prevented any damage to my toes. The lower foot position took some getting used to, but after a while I began to enjoy it.
I also tried these both with and without my orthotics. I found the insole that came with them to be much more supportive than what I'd expected, but I was pleased to find the larger toebox allowed enough room to wear my own if needed.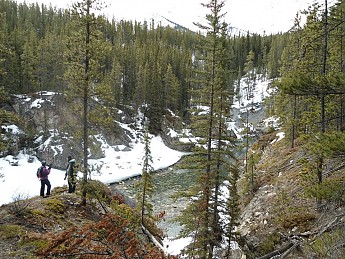 Performance at Elevation
My next project was a mountain day hike and while I've been leery about risking a new shoe at higher elevations, the Rapid LTs worked well on a mixed trail. I wore my boots when we hit colder elevations, but changed into the Scarpas for the approach and the return. A bit of mud and occasional snow patches, some slippery rocks, lots of walking and an occasional easy scramble – the Scarpas kept up just fine. They're not waterproof, of course (the webbed sections on the sides provide excellent ventilation) but the fabrics didn't take long to dry.
One thing I noticed was that there seems to be no stretch in the forefoot even after a soaking. It feels like there's an extra layer inside intended to hold the shape, a nice bonus. On the flatter portions, I even tried running a bit, and I was impressed with how good the shock absorption is; not much impact and a very natural foot position to help control fatigue.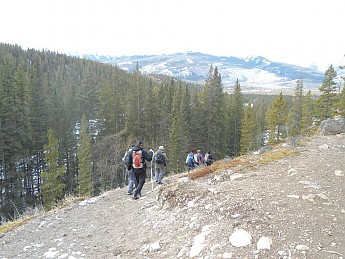 Materials/Design Features
The list of materials is impressive; from 29% recycled mesh to 100% recycled PC lining, Scarpa has made a serious effort to incorporate environmental-friendly materials. Overall, the amount of recycled content runs between 30 and 100% in keeping with Scarpa's planet-friendly guideline. Even the laces are Ecosensor recycled polyester, and Scarpa promises that the use of that kind of materials won't compromise either durability or performance. While it's still early in the game, so far I've seen no reason to doubt them.
Other design features include a heel that packs flat to fit in a pack and convertible heel pull loops to hang the shoes off a climbing harness. Lacing almost to the toe makes for a perfect fit, and coupled with the sticky soles, I could see these being used for scrambles, as I did, or even for easy climbs.
Conclusion

Frankly, I was concerned when I was told I'd be getting a 'Mountain Minimal' shoe to try. There has been a lot of discussion on Trailspace about the new designs and I was worried that the shoes would be too big a change for me. However, I discovered that not only are they comfortable, but they make a good compliment to my regular hiking boots.
I can't say they'll be perfect for everybody — people with foot or ankle problems might want to stick with the higher heel of standard trail runners or the ankle support of a boot — but I was surprised by how much I like them.  
Where to Buy
sponsored links
Help support Trailspace by making your next purchase through one of the links above.
Retailers' Descriptions
Here's what other sites are saying:
The Scarpa Rapid LT Hiking Shoe takes the minimalist mindset and puts it in an approach shoe. Sturdy enough to support you on the descent without weighing you down on the way up. Low profile midsole provides cushion and agility Rubber toe rand provides protection at any speed Packable heel design Convertible heel pull loop Planet friendly
- OMCgear
The Rapid LT is a minimal alpine hiking and approach shoe for moving light and fast in the mountains A lowprofile midsole with 7 mm of drop from heel to forefoot keeps the foot closer to the trail for stability and the toe rand gives solid protection when scrambling over talus scree and broken terrain Lacing to the toe provides even more intimacy for precision foot placements and the sticky rubber inspires confidence when covering slabby or rocky terrain Speedy peak baggers meet your new best friendFeaturesbull Convertible heel pull loopbull Low profile compressionmolded EVA midsole provides cushion agilitybull Packable heel designbull 29 recycled polyester mesh 100 PC recylced lining 70 recycled stroebel 25 recycled rubber outsole bull Midsole has EcoPure EVA additions to promote degradation in landfill conditionsbull Rubber toe rand
- Bentgate.com
On Sale. Free Shipping. Scarpa Men's Rapid LT Shoe FEATURES of the Scarpa Men's Rapid LT Shoe Low profile compression molded EVA midsole provides cushion and agility Rubber toe rand provides protection at any speed Packable heel design Convertible heel pull loop Planet Friendly HDR rubber for enhanced grip SPECIFICATIONS of the Scarpa Men's Rapid LT Shoe Upper: Suede, recycled polyester mesh Plate: H-EVA Plate Midsole: Compression Molded EVA Outsole: Speed Lite HDR Last: TR3 Weight: 1/2 per pair: 11.3 oz / 320 g
- Moosejaw
The Rapid LT Approach Shoe is a minimal alpine hiking and approach shoe to keep you light and fast in the mountains. The low-profile midsole keeps your foot closer to the trail for unmatched stability, while the toe rand gives solid protection when scrambling over talus fields. Lacing to the toe ensures an ideal fit, making it easier for precision foot placements, and sticky rubber keeps you confident while on slabby and rocky terrain.
- Mountain Gear
Scarpa Men's Rapid LT
currently retails for:
$86.94 - $109.95

where to buy: