User Review:
Sea to Summit Folding Bucket
Rating:


Source: bought it new
Price Paid: $25

Summary
Add some convenience to your trip by filtering water from camp. This piece of gear will help you do that.
Pros
Convenience
Small
Light
Simple
Every now and then, you seem to run across a piece of gear that makes you wish you would have thought of that. Well, that piece of gear for me was the Sea-to Summit Folding Bucket. How many times have you sat on a river or lake bank to pump water into your water bladder or 1L bottle? This piece of gear eliminates all that.
The Sea To Summit folding bucket holds 10 Liters of water from which you can filter water within the comfort of your own camp.  It measures about 3" X 3" X 1" thick when it's in the carry case and weighs in at 3.4 oz's. 
It's made from a treated heavy nylon (I assume), is extremely durable and fully seam sealed.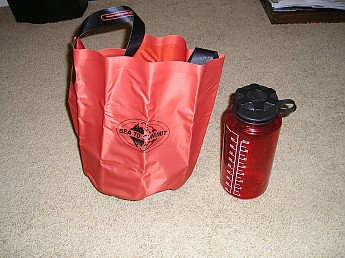 When you need it, unfold it, fill'er up with water, take it back to camp and start pumping. I've found with two to three people, the 10 liter size is just about right for recharging water bladders and filling several 1 liter bottles for use during dinner.  If you have excess water, Sea To Summit conveniently put a small handle on the back side to you can easily dump out the extra on a nearby tree.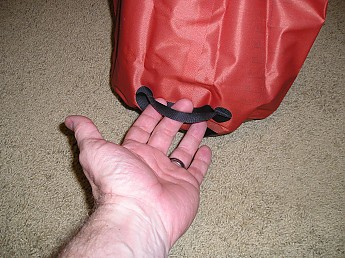 It does take a little finesse to fill since the sides are not rigid, but it's well worth the practice and effort. If you can find a deeper place in the river or lake in order to fully submerge it, it is easier to completely fill.  It is also self supporting when filled, but you do need to find a reasonably flat surface to set it on.  If you don't, it will collapse fairly easily.
One other item of note.  Be careful about leaving the bucket full of water over night.  On a recent trip into Kilpacker Basin near Telluride, Colorado, a friend of mine left some water inside the bucket over night so we could top off in the morning. When get got up the next morning, we found a small pika inside of the bucket desperately trying to get out. I still haven't figured out how he got inside, but after a little bath, I don't think he was any worse for the wear.
The only downside to the folding bucket is the cost (hence the 4 stars). In my non-business thinking mind, i'm guessing $10. If you were somewhere around there, both of us would be grossly wrong. Sea to Summit gets $25 big ones for this little gem.  I nearly choked when I saw the cost, but I did it anyway.  Since I doubt I'll wear it out, I figured I would do my part to help the economy.
For 3.4 oz's, I'm willing to trade some weight for a little convenience and yeah, I still wish I would have thought of the idea.
Edit: please note there is a difference between the bucket I reviewed and the picture shown by Trailspace.  in the picture from Trainspace, the ULTRA-SIL version is shown.  I don't own this version, but i believe the ULTRA-SIL version is much lighter, but its not free standing.
Where to Buy
sponsored links
Help support Trailspace by making your next purchase through one of the links above.