User Review:
Sierra Designs Convert 2
Rating:


Source: bought it new

Summary
This tent is very packable and totally weather proof regardless of what you're up against, and I've lived it all in this tent. The removable vestibule is ample for 2 packs, or to cook in, or for the dog and some gear (I've used it for all 3). NO condensation issues typical with some single wall tents, as its 2 upper vents provide ample ventilation. If you leave the vestibule at home to save weight, you still have total weather proofness and the advantage of star gazing from the comfort of your sleeping bag.
Pros
Light and packable
Totally weather/bomb-proof
Very easy and fast to erect
Great ventilation
Jakes Corners - WOW
Cons
Not the best for hot summer days unless you skip the vestibule
A little tight for 2 and gear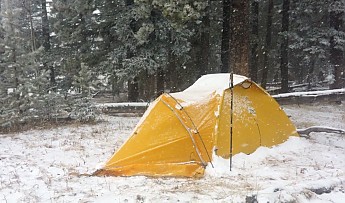 I've used my Sierra Convert2 mostly in the mountains and foothills west of Calgary, Alberta, Canada. This is an area of extreme temperatures and conditions, often in the same day. The Convert2 is at home wherever you decide to put it. Its small footprint and ease of use, makes this tent my go to shelter when the conditions are harsh or questionable.
The Convert2 comes with an awesome attachable Vestibule, Jakes Corners (small braces placed at each corner for ultimate stability when things really get hairy) a BRIGHT yellow DriZone breathable skin, and everything you need to make this shelter your home away from home - only smaller - much smaller.
The vestibule can be used or left in the pack (or home if you know the weather will be great). With the vestibule attached, the added square footage is welcome as you can store your packs, footwear or other gear with total confidence it'll be there safe and dry when you wake up.
The extended floor flaps on the vestibule allow you to flare the base and add weight with either wood/rocks or snow in the winter. The vestibule simply zips onto an already standing tent and adds a seamless extended profile. A pre-bent DAC Featherlite shock-corded pole adds some rigidity and form while a single adjustable stakeout-point pulls it to full length.
The Convert2 also has 2 upper vents that are protected from the elements by "dormers" created from a single crosswise positioned DAC pole with ballcap-type connectors at each end. These connectors provide for a hard-tensioned wing-type structure, impervious to anything in mother natures arsenal.  These ingenious "wings" catch refreshing breezes which not only bring fresh air into the tent, but also carry away condensation-causing body and breath moisture. The vents themselves are totally adjustable via netted and solid DriZone semi-circle flaps. The tents' DriZone skin is breathable so when tightly sealed, the tent can still manage some moisture control. I have yet to wake up to heavy condensation in this tent.
When fully staked out the you can add some extra shoulder room by utilizing the mid-height guy loops to pull the walls to a more vertical position. This does provide some additional space, and any additional space is welcome in this 2 person tent. With super bright reflectors located at various points around the tent, and its very cool reflector-material rimmed door, this tent is very easily spotted when things go dark.
I'm not a big fan of continuous sleeves when pitching a tent, but they do get the job done when superior structure integrity is required. This tent is designed for extreme conditions and all things being equal, the continuous sleeve system on this tent is the easiest I've seen.
Similar to some Hilleberg and other outstanding tents, the poles are fed into the sleeves from one end and fed through to an enclosed pocket at the far side. From here you to raise the tent by tensioning-bending the poles to create the final shape and locking the pole ends into the grommets at the front corners. As this is a single skinned tent, that's it! Simple. The Convert2 can even be pitched from the inside.
To add even more strength to the structure (rarely required but awesome to have), the Convert2 comes with Jakes Corners. (Don't ask me where the name comes from, I haven't got a clue). These ingenious little 2 section poles create a triangular structure at each corner of the tent providing incredible support to the main structural tent poles.
(Picture two ends of these shock-corded short poles locking into floor-pockets located a few inches from the corners of the tent on adjacent walls. The shock-corded center now meets at a 45 -degree angle where it is raised and locked onto the main structural tent poles with a special corner-forming clip. Voila, a Jakes Corner.)
Sounds complicated, but easy in practice.
This tent does not get the attention it deserves in my estimation. In reading all the reviews out there, I don't think I have come across any ratings less than excellent. After using this tent in all manner of conditions, I have to agree. What an awesome little tent. For the single user, its spacious and easy to carry. For a two person set up, it's a wee bit tight, but given what its intended use is, why would you want to make the footprint any larger?
It's not the best summer tent in low elevations as there is only the one door and 2 small vents, which will get the job done, but there are better solutions for that application out there. In my estimation, the Sierra Designs Convert2 is at the top of the food chain where it comes to single-wall 2-person, 4 season tents.
Where to Buy
sponsored links
Help support Trailspace by making your next purchase through one of the links above.