User Review:
Sierra Designs Superflash
Rating:


Design: 4-season non-freestanding expedition hoop design
Sleeps: 2
Ease of Setup: Very simple to set up (3 hoops + some stakes)
Weight: 6.2 lbs
Price Paid: $250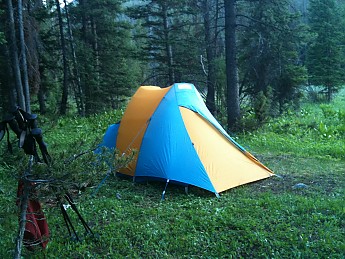 We (my wife and I) purchased the SuperFlash as our very first tent back in 1990. Twenty years and probably two-dozen tents later, it remains our grab-and-go favorite. The SuperFlash was apparently a short-lived design based on the North Face Westwind (a legendary 4-season performer) and neither tent has been available for several years.
While we currently have, and use, 10 other tents (and have owned and sold many more), none of them seems as versatile as this favorite little tent of ours. The SuperFlash is _just light enough_ (6+ lbs.), _just big enough_ (32 SF), _just spacious enough_ (the two tall hoops provides essential headroom for two people and a means of attaching a ceiling attic to throw essentials into, unlike the Clip/Flashlight), and is a 4-season "bomb-shelter" to boot. In other words, unless we have special requirements, such as wanting to travel ultra-light, or to have a lot of extra room, or unless we are going someplace //very// hot, the SuperFlash always goes with us.
Pro's:
- Very rugged and storm-proof design
- Reasonably light
- Reasonably spacious
- Easy to set up
- Pitches //extremely// taught (like the Tiros, Stretch Dome, etc.)
Con's:
- A bit small for big people or to be shared by casual acquaintances
- Heavier than modern single-wall and/or 3-season shelters
- Not freestanding
- Not for very hot places (we left this home during a recent trip to Zion NP, Utah)
- No longer available for purchase