Snow Peak
Titanium Mini Solo Cook Set
4

reviews

5-star:

2

4-star:

1

3-star:

1

2-star:

0

1-star:

0
If you build it...coffee drinkers will buy it...but…
Rating:


Source: bought it new
Price Paid: $50

Summary
If you build it...coffee drinkers will buy it...but will they stick with it?
As I found myself doing more and more backpacking a few years ago...I quickly realized that my cookware was too bulky and heavy for my purposes on the trail. When backpacking over several days I enjoy big and fast miles more often than not...and this leaves very little energy for cooking complex meals. So when I was looking for new cookware I wanted something that could boil water and make coffee.
The Snowpeak Mini-Solo is a great kit if coffee or hot beverages is important to you...for a little extra weight and almost no additional space (pot nest in mug) the Mini-Solo cook-set can boil up enough water to rehydrate a meal and make that first 8oz cup of coffee for the day.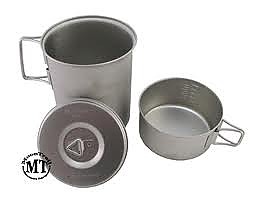 When backpacking big and fast miles I try to cut down on weight...and one of the ways I do that is by building fires to heat water and cook my food as often as possible...if the weather forecast reasonably clear weather I bring almost no fuel relying heavily on my skill to build a fire...or eat my meals cold. The Mini-Solo kit has stood up to more fires than I can count and I have never had a problem with the pot or mug warping or otherwise suffering in its performance due to exposure to high heat...if anything I really enjoyed watching the the colors change before becoming blackened by soot.
Speaking of soot (writing?)...a related issue I have with the Mini-Solo is insulation (the connection will become clear below)! While the Mini-Solo is all you need to boil water and have hot beverages...your beverages and food are not going to stay warm very long. So for this reason...I constructed a cozy made of reflective bubble-wrap for the pot (removed handles).
Why not the mug?...because the pot wrapped in bubble-wrap was unable to nest into the mug. I wanted to continue to use the bubble-wrap for insulation...since it allowed my food to continue cooking away from a direct heat source + made eating from the pot easier + kept soot from mucking everything up (told you I'd make the connection)...so ultimately I did away with the mug (I have it somewhere).
I could of course just used foil-bag cooking and used the pot as a HUGE coffe mug...and I might at some point. But for the moment...I still mainly cook in my pot (I find that food gets properly cooked more often that way)...so I purchased a chap 450 ml single walled mug by TOAKS that wrapped in the same reflective bubble-wrap nest neatly inside the 820 ml pot (removed handles on 450 ml mug too). With this set-up I have both a mug and a pot for boiling water...both are insulated...and everything (including stove and a small amount of fuel) nest neatly (also cleanly) inside the 820 ml pot.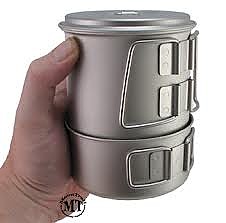 In the end the 820 ml pot turned out to be just what I needed...but the mug is no longer a regular part of my fast and light backpacking kit. If having an insulated mug and pot were not as important to me as they are...the Mini-Solo would be absolutely perfect for my needs...but ultimatly I found the mug and pot combo unworkable without an ability to insulate both...and would probably purchase the 820 ml pot separately if I had it to do all over again.
Well built and light (5.5 oz) cook set that can be…
Rating:


Source: bought it new
Price Paid: $60

Summary
Well built and light (5.5 oz) cook set that can be used for one or even two people. Works great for boiling water for dehydrated meals.
Pros
Very light and sturdy
Transfers heat well
Works for two MH meals
Cons
A little narrow for my MicroRocket stove
Opening the package the set comes with:
28oz Main Pot (3oz, 85g)

10oz Cup (1.7oz, 48g)

Stove Lid (0.7oz, 20g)

Mesh Stuff Sack (0.4oz, 11g)
Total Weight = 5.8oz, 164g
I use this set with just the pot with lid on solo trips to boil water for dehydrated meals and the whole set if someone else is coming along in case they want to make some tea in the cup. The pot holds can just hold 28oz with a bit of room to spare which is enough water to rehydrate two Mountain House meals. This is nice because then I don't have to boil water twice which takes time and fuel. 
The one thing bothers me though is that the pot only just stands on top of my MicroRocket stove. It rests right on the inside of the stoves legs (but is fairly stable with water in it). While I have not had this tip over on me because I have not used the pot extensively I suspect that it might one day if I get a strong wind.
It would be nice if the stove was wider at the base but the stove is so perfect in every other aspect that I will probably end up replacing my stove with a FireMaple FMS-300T Hornet which has a tighter support arrangement and would better support the pot.
Overall it is a perfect stove it you want the lightest possible pot for a mix of solo and duo outings and just need to rehydrate some meals of make tea.
Bought it in a REI garage sale for half price off.
Rating:


Source: bought it used
Price Paid: $30

Summary
Bought it in a REI garage sale for half price off. I have a Jetboil Sol cook set but use Snow Peak for additional container. Works great for noodles and rice. Fit for someone who loves outdoor but dislike eating instant noodles all the time.
Cons
Doesn't seal well
Gets dirty once cooked with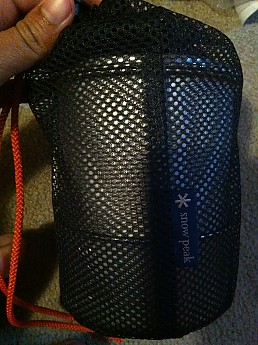 Bought it in a REI garage sale for half price off. I have a Jetboil Sol cook set but use Snow Peak for additional container. Works great for noodles and rice. Storage is nice for 2x 100gm gas tank.
I use it for noodles or fragile food ingredient just for the sake of sustaining the outdoor eating experience. Fit for someone who loves outdoor but dislike eating instant noodles all the time. 
This is by far the greatest solo set I have come across.
Rating:


Price Paid: $59

This is by far the greatest solo set I have come across. Light, durable, compact, fits on my Optimus Nova. Perfect for one, way to small to cook for two, unless you don't mind wasting fuel and waiting. I can hold a salt and pepper shaker, sponge, cheese grater, jay cloth and my Optimus folding titanium spork inside the pot.
I also love the fact that titanium does not hold heat; after boiling a pot of water you can dump it and the pot is cool to the touch.
Where to Buy
sponsored links
Help support Trailspace by making your next purchase through one of the links above.
Manufacturer's Description
Visit Snow Peak's Titanium Mini Solo Cook Set page.
Retailers' Descriptions
Here's what other sites are saying:
The Snow Peak Mini Solo Titanium Cookset is made for one man treks into the backcountry. Kit includes a 28 oz. Pot and 10 oz. Cup with a nylon storage sack. Super light titanium is used to reduce weight and speed heating times. Easy to clean titanium is also used for its great strength-to-weight ratio. The Mini Solo can also store certain models of Snow Peak stoves or two 210g Giga Power Canisters inside to save space. Snow Peak makes some of the best camp cookware and this backpacking cookware is a light-weight backpacker's favorite. Capacity: Pot - 830ml/28oz Cup - 330ml/10oz. Weight: 155g/5.5oz. Size: Pot - 3 3/4 in. diameter X 4 3/4 in. H Cup - 4 in. diamater X 1 1/4 in. H. Stowed - 4 1/4 in. diameter X 5 1/8 in. H. Material: Titanium
- Tahoe Mountain Sports
Lightweight and durable, Snow Peak's Mini Solo Cook Set will accompany you anywhere. This little cook set is the first choice of climbers throughout Japan. A pot for cooking and a cup for drinking. Designed to stow Snow Peak's GigaPower stove and fuel canister, this certainly is a dream-come-true for the bare minimalist backpacker.
- Ramsey Outdoor
Great light weight cook set. Can accommodate snow peak 110 g fuel canisters.Dimensions: Pot: D 4 in H 5.1 in; Cup: D 4.25 in, H 2 in (10 cm x 13 cm); (10.75 cm x 5 cm)Wt. 5.5 oz (156 g)Titanium Pot. Vol. 28oz. (828 ml), cup 10 oz (295.7 ml)Comes with a mesh stuff sack
- Campmor
Snowpeak Ti Mini Solo Cookset - This cook set comes with a pot which has a cup and mesh stuff sack. Both have folding handles and stack together with a lid. Sets come in non- stick aluminum or titanium. Perfect for the solo camper or hiker for drinks and food, easy to clean and carry. Specifications: Material Titanium Dimensions Pot: D 4" H 5.1" Cup: D 4.25", H 2" Includes Titanium Pot, Lid, & Cup Capacity Pot: 28 fl oz, Cup: 10 fl oz Size: Stowed D 4.25" H 5.2" Material: Titanium Made In JAPAN Weight 5.5 oz Additional Info: You can store 2 GigaPower Fuel 110g canisters upside down or 1 canister and the GigaPower stove w/o case.
- Massey's Outfitters
Snow Peak Titanium Mini Solo Cook Set
currently retails for:
$65.95
MSRP: $59.95

where to buy:
Specs
Weight
5.5 oz

Dimensions
4 in x 5.1 in (Pot), 4.25 in x 2 in (Cup)

Size Stowed
4.25 in x 5.2 in

Capacity
28 fl oz (Pot), 10 fl oz (Cup)

Material
Titanium

Includes
Titanium Pot, Lid, and Cup