User Review:
Snow Peak Titanium Mini Solo Cook Set
Rating:


Source: bought it new
Price Paid: $50

Summary
If you build it...coffee drinkers will buy it...but will they stick with it?
As I found myself doing more and more backpacking a few years ago...I quickly realized that my cookware was too bulky and heavy for my purposes on the trail. When backpacking over several days I enjoy big and fast miles more often than not...and this leaves very little energy for cooking complex meals. So when I was looking for new cookware I wanted something that could boil water and make coffee.
The Snowpeak Mini-Solo is a great kit if coffee or hot beverages is important to you...for a little extra weight and almost no additional space (pot nest in mug) the Mini-Solo cook-set can boil up enough water to rehydrate a meal and make that first 8oz cup of coffee for the day.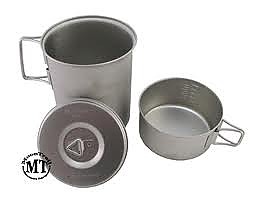 When backpacking big and fast miles I try to cut down on weight...and one of the ways I do that is by building fires to heat water and cook my food as often as possible...if the weather forecast reasonably clear weather I bring almost no fuel relying heavily on my skill to build a fire...or eat my meals cold. The Mini-Solo kit has stood up to more fires than I can count and I have never had a problem with the pot or mug warping or otherwise suffering in its performance due to exposure to high heat...if anything I really enjoyed watching the the colors change before becoming blackened by soot.
Speaking of soot (writing?)...a related issue I have with the Mini-Solo is insulation (the connection will become clear below)! While the Mini-Solo is all you need to boil water and have hot beverages...your beverages and food are not going to stay warm very long. So for this reason...I constructed a cozy made of reflective bubble-wrap for the pot (removed handles).
Why not the mug?...because the pot wrapped in bubble-wrap was unable to nest into the mug. I wanted to continue to use the bubble-wrap for insulation...since it allowed my food to continue cooking away from a direct heat source + made eating from the pot easier + kept soot from mucking everything up (told you I'd make the connection)...so ultimately I did away with the mug (I have it somewhere).
I could of course just used foil-bag cooking and used the pot as a HUGE coffe mug...and I might at some point. But for the moment...I still mainly cook in my pot (I find that food gets properly cooked more often that way)...so I purchased a chap 450 ml single walled mug by TOAKS that wrapped in the same reflective bubble-wrap nest neatly inside the 820 ml pot (removed handles on 450 ml mug too). With this set-up I have both a mug and a pot for boiling water...both are insulated...and everything (including stove and a small amount of fuel) nest neatly (also cleanly) inside the 820 ml pot.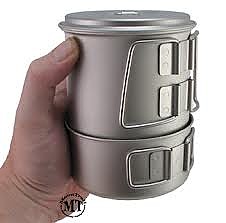 In the end the 820 ml pot turned out to be just what I needed...but the mug is no longer a regular part of my fast and light backpacking kit. If having an insulated mug and pot were not as important to me as they are...the Mini-Solo would be absolutely perfect for my needs...but ultimatly I found the mug and pot combo unworkable without an ability to insulate both...and would probably purchase the 820 ml pot separately if I had it to do all over again.
Where to Buy
sponsored links
Help support Trailspace by making your next purchase through one of the links above.